Historic Cross-Strait Meeting Jolts Taiwan Presidential Race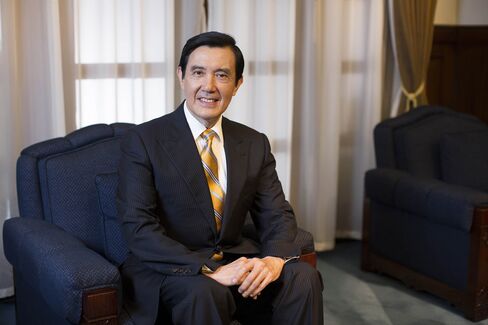 The leaders of China and Taiwan plan to meet Saturday for the first time since their civil war seven decades ago, shaking up the island's politics two months before an election that could lift the opposition to power.
The coming encounter between Chinese President Xi Jinping and his Taiwanese counterpart, Ma Ying-jeou, in Singapore would cap eight years of flourishing ties between the old foes under Ma's ruling Kuomintang. While the pair agreed to meet as "leaders" -- not "presidents" -- the event would provide a new high-water mark in a relationship that has long been at the center of tensions between China and the U.S.
The tete-a-tete, which Ma was seeking before he leaves office next year, ensures the politically divisive China issue remains at the center of Taiwan's presidential election. The meeting will appeal to those who see greater reconciliation with Asia's largest economy as necessary or inevitable, but it also risks driving some voters closer to opposition leader, Tsai Ing-wen, whose party officially supports independence.
"This is a major, major breakthrough in cross-strait relations," said Li Mingjiang, an associate professor at the S. Rajaratnam School of International Studies in Singapore. The meeting will be largely symbolic, an opportunity for Ma to leave his mark on history, Li said. Both sides said no new deals were expected from the encounter.
"For Xi Jinping to make this decision is already a major concession," Li said.
Taiwanese stocks rose the most in eight weeks after the meeting stoked optimism that improving cross-strait relations would boost the island's economy. The Taiex index of shares climbed 1.7 percent to 8,857.02 in Taipei, the highest close since July.
Mao-Chiang Toast
The meeting may help Communist Party leaders in Beijing secure gains that have seen the mainland become Taiwan's biggest trading partner. Top leaders from the two camps haven't met since Mao Zedong and then-KMT leader Chiang Kai-shek raised their glasses to toast the defeat of the Japanese in 1945 before resuming their civil war. Four years later, Chiang fled to Taiwan, beginning 66 years of separate rule marked by occasional flare-ups and no formal peace deal.
Since envoys from the Communist Party and KMT first met in Singapore in 1993, the two sides have engaged in a series of increasingly high-level exchanges under the principle that they're both part of "one China." Xi had earlier rejected Ma's invitation to meet at the Asia-Pacific Economic Cooperation, or APEC, summit in Beijing last year.
U.S. Reaction
The announcement follows remarks by Xi in October 2013, saying the two sides couldn't pass their conflict "from generation to generation." Ma followed three months later by telling the Taiwanese people in a New Year's Day address that the political stalemate with China had to end.
White House spokesman Josh Earnest said at a briefing on Tuesday that it was "too early" to call the meeting a turning point in relations, and reiterated U.S. support for a "stable and peaceful cross-strait relationship," as well as its one-China policy. Under the Taiwan Relations Act of 1979, the U.S. is bound by law to safeguard peace and security in the Taiwan Strait.
The meeting comes as the island of 23.5 million people prepares to select a successor for Ma in a presidential election on Jan. 16. Tsai, the chairwoman of the Democratic Progressive Party, or DPP, has enjoyed a comfortable lead in opinion polls for months, and the KMT last month abruptly dropped its nominee in favor of its chairman, New Taipei Mayor Eric Chu.
Presidential Election
"Xi is trying to bolster the KMT's election fortunes," Daniel Blumenthal, the American Enterprise Institute's director of Asian Studies, said in an e-mail. If Tsai wins, she should insist on presidential-level meetings with Xi, Blumenthal wrote.
Tsai led a three-way contest for president with support from 46 percent of respondents, according to a TVBS poll released Oct. 20. Chu trailed with 29 percent, while a third candidate, James Soong, received 10 percent.
While Taiwan's flagging economy and other local issues have dented KMT support, concerns about closer ties with China have also weighed on the party. Its original nominee, Hung Hsiu-chu, had suggested signing a peace treaty with the mainland. The DPP's Tsai says she supports maintaining the status quo with China, but has resisted calls to endorse the idea that both are part of a single China. The party has been cautious on agreements across the the Taiwan Strait, and has championed more military spending.
"This is a sensitive time for Taiwan's election right now and whether this meeting is intended to sway the vote will be a question for the public," Tsai said according to a DPP statement. "If every time the Kuomintang faces an election, cross-strait issues are subjected to manipulation, this will be a negative in the long run for relations and won't be accepted by the people."
Ma intends to explain the purpose of the meeting in a national address Thursday.
"A meeting of the two leaders has always been a goal," Ma spokesman Charles Chen said in a statement.
Before it's here, it's on the Bloomberg Terminal.
LEARN MORE