Disputed Web Profile Gives U.S. High Court Chance to Curb Suits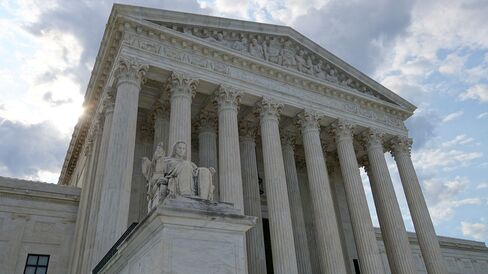 Virginia man says online errors give him right to sue

Internet companies seek legal shield under a dozen laws
Thomas Robins says the online profile he found under his name six years ago bore little resemblance to his real self.
The profile, according to Robins, inaccurately described him as being married and wealthy and as having a graduate degree and technical background. Robins, who was about 23 at the time, says he was listed as being in his 50s, undercutting his job search.
That dossier, compiled by the data broker Spokeo Inc., is now at the center of what may be the biggest business case of the U.S. Supreme Court's nine-month term. In arguments Monday, the justices will consider whether Robins can sue Spokeo, even though a trial judge concluded he wasn't harmed by the alleged inaccuracies.
The court's ruling next year will go a long way toward determining when companies can be sued under more than a dozen federal statutes, including the credit-reporting law Robins is invoking. The case may affect laws governing copyrights, real-estate settlements, employee benefits, disabilities and housing discrimination.
Internet businesses -- including eBay Inc., Facebook Inc., and Google Inc. -- and media companies led by Time Inc. are lining up in support of Spokeo, saying they are trying to ward off abusive litigation. Consumer, privacy and anti-discrimination advocates counter that a win for Spokeo would cut off longstanding avenues for people to vindicate their rights and hold companies accountable.
"If the Supreme Court accepts Spokeo's argument, it'll have a pretty profound effect on the rights of many, many Americans," said Robins's lawyer, Jay Edelson.
No Concrete Harm
At issue is a fundamental constitutional question: whether Congress can pass a law authorizing people to sue and win damages even if they haven't suffered any concrete harm.
In Robins's case, the law at issue is the U.S. Fair Credit Reporting Act, which requires credit-reporting agencies to adopt "reasonable procedures" to ensure against inaccuracies. The measure says victims are entitled to collect from $100 to $1,000 each.
Spokeo argues that the Constitution allows people to sue in federal court only if they suffered "real-world harm" beyond the mere violation of a statute.
"Any other rule would extend judicial authority beyond its proper sphere," the company's Supreme Court lawyer, Andrew Pincus, argued in court papers.
Robins's lawyers say the Constitution's framers incorporated the English understanding that judges could consider claims of an invasion of a legal right.
'Centuries-Long Tradition'
"A centuries-long tradition supports courts hearing cases that allege violations of legal rights without any showing of consequential harm," Edelson and his colleagues argued.
Spokeo pointed the court to 17 federal statutes, plus others at the state level, that it says raise the same issue. Its high-tech allies say some of those laws have been used to extract costly settlements from companies, including a $20 million Facebook accord over the use of subscribers' names and a $9 million Netflix Inc. agreement over the retention of information about former subscribers.
Those lawsuits "seek millions or even billions of dollars in statutory damages based on allegations of technical or trivial statutory violations and/or novel, untested legal theories," the technology companies said in their court filing.
Civil rights advocates say businesses are seeking to insulate themselves from liability by changing longstanding rules about access to courts.
"The business community is trying to radically -- and this is no exaggeration -- radically reshape the law," said Michele Jawando, vice president at the Center for American Progress, a Washington-based research group founded by associates of former President Bill Clinton.
Job Search
Robins's lawyers are also trying to steer the Supreme Court away from the core issue by arguing that the Virginia man actually was harmed. Edelson says the inaccuracies undercut Robins' job search. At the time, Spokeo was marketing itself to employers as a tool for checking up on applicants.
"When you are looking for a job, you don't want an employer finding information that is inconsistent with the facts as you are portraying them," Edelson said.
Spokeo admits it made mistakes in its online profiles, which it compiled by scraping publicly available information from other sites. In 2010, co-founder Harrison Tang told the Akron Beacon-Journal that "there's a lot of holes." Two years later, the company agreed to pay $800,000 to resolve Federal Trade Commission claims that it violated the Fair Credit Reporting Act.
Even so, the company says those errors didn't cause Robins any harm. A federal trial judge agreed that Robins didn't suffer any true injury and threw out the suit, which Robins had sought to pursue as a class action.
"He couldn't point to any job that he couldn't get as a result of the Spokeo profile," the company's general counsel, Jason Matthes, said in an interview. "He couldn't point to anything specific."
Spokeo, based in Pasadena, California, no longer offers the types of profiles Robins discovered. The company had $56 million in revenue last year, up 350 percent from three years earlier, Matthes said.
Before it's here, it's on the Bloomberg Terminal.
LEARN MORE