New York City Mayor Bill De Blasio Endorses Hillary Clinton for President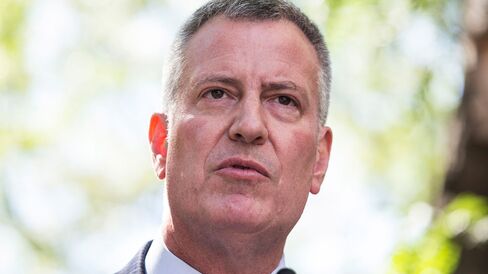 Clinton will fight economic inequality, de Blasio says

Praises her 1993 support for universal health insurance
New York Mayor Bill de Blasio endorsed Hillary Clinton for president after months of hesitation while organizing his own coalition to back progressive causes.
"The candidate who I believe can fundamentally address income inequality effectively and has the right vision and the right experience and the ability to get the job done is Hillary Clinton," de Blasio said Friday on MSNBC's "Morning Joe" program. "We've never had a president more experienced in foreign policy," he said of the former secretary of state.
The mayor was Clinton's campaign manager in 2000 when she won election to the U.S. Senate from New York. He worked in former President Bill Clinton's administration as regional director at the Department of Housing and Urban Development in 1997. She attended his Jan. 1, 2014, inauguration at City Hall, at which the former president swore de Blasio into office.
Yet as the presidential campaign unfolded, de Blasio withheld any endorsement as he traveled the U.S. advocating taxing the wealthy, boosts in the minimum wage, trade laws that protect American workers and government investments in infrastructure to create jobs. He had said he wanted to hear more details about Clinton's tax, trade and economic policies before making an endorsement.
Not Impressed
Clinton's team greeted the endorsement without enthusiasm. It listed de Blasio among more than 135 other mayors who back her candidacy. The statement quoted the mayor of the biggest U.S. city but only after noting endorsements from Mayors Rahm Emanuel of Chicago, Annise Parker of Houston and Michael Nutter of Philadelphia.
"As senator, I worked with mayors from across New York who were committed to finding creative ways to help families get ahead and stay ahead," Clinton said in a news release.
De Blasio, 54, the first Democrat to run City Hall in two decades, has vowed to use the presidential campaign to raise the nation's awareness of income inequality. He organized a group called Progressive Agenda that invited several of the presidential candidates to a Dec. 6 forum on economic inequality in Iowa. In the past several weeks, he's limited his involvement in the event to merely appearing, without plans to speak there. Earlier this year he traveled to the Midwest and Washington to promote his views, calling income inequality the defining issue of the 2016 presidential race.
This month, U.S. Representative Hakeem Jeffries, a New York Democrat, criticized de Blasio for declining to endorse Clinton, and this week her campaign produced a list of home-state supporters that included Governor Andrew Cuomo, U.S. Senators Charles Schumer and Kirsten Gillibrand and scores of other elected officials. De Blasio's name was conspicuously absent.
Earlier this week, close advisers to the mayor said he intended to endorse Clinton before the Iowa forum, saying her stands on universal child care, higher wages and taxes that favor the middle class were consistent with de Blasio's views. Clinton spelled out most of these views during a speech at Roosevelt Island in June, which de Blasio praised while continuing to be demure on the question of endorsing her.
Before it's here, it's on the Bloomberg Terminal.
LEARN MORE