Hillary Clinton Vows to Fight Profiling as Black Protesters Chant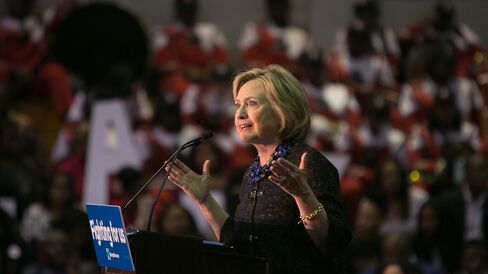 Demonstrators target former secretary of state at rally

Candidate speaks at Clark Atlanta University in Georgia
Speaking to several hundred black college students in Georgia, Hillary Clinton on Friday promised to fight racial profiling, private prisons and the practice of asking about criminal records on initial job applications.
The former secretary of state and Democratic front-runner spoke over loud chants of "black lives matter" and opposing cries of "let her talk" as protesters interrupted the event at Clark Atlanta University.
"Yes they do, yes they do," Clinton said in response to the "black lives matter" chants. "And I'm going to talk about that. I have some issues to discuss and some proposals to make if our friends will allow me to do it."
It wasn't the first time Clinton has clashed with the Black Lives Matter movement. During a campaign swing through New Hampshire in August, she disagreed with the members of the group over how to best advance their cause. She urged the activists to focus on changing policy rather than hearts, saying leaders must have a "positive vision and plan that you can move people toward."
The rally Friday at the historically black college was part of Clinton's two-part trip through the southern city and the start of a push to register black voters. She spoke to a group of black ministers at a luncheon earlier in the day.
The black vote is crucial to Clinton and her fellow Democrats as the number of eligible U.S. voters continues to shift toward nonwhite groups that overwhelmingly favor the party. In 1996, 79 percent of the electorate was white and 21 percent nonwhite. In 2016, 69 percent of eligible voters will be white and 31 percent nonwhite, according to U.S. Census data.
Likely Voters
Blacks aren't only the largest subset of nonwhite voters but also the most likely to actually vote, despite recent political attention to Hispanics. In 2012, blacks were 12.5 percent of the eligible electorate and had a 66.2 percent turnout rate, the highest of any race. Hispanics made up 10.8 percent of the electorate but had only a 49.9 percent turnout rate.
Clinton's main challenger, U.S. Senator Bernie Sanders of Vermont, has stumbled with black voters, particularly after he argued with members of the Black Lives Matter movement at a Netroots gathering of progressive Democrats in July.
Young blacks need to do for Clinton what they did for Barack Obama in 2008 and 2012, Atlanta Mayor Kasim Reed told the cheering Clark Atlanta crowd before Clinton arrived.
"In 2008, we made history because 60 percent of young people stepped up and voted to make Barack Obama president," Reed said. "It's Hillary's turn, everybody."
Banning Box
Clinton drew huge cheers as she reeled off a list of black citizens killed in police custody. She also said she would ensure that federal funds weren't used by law enforcement to "buy weapons of war," and make sure every police department in the country has body cameras.
She also said she wants to "ban the box" on job applications for the federal government and its contractors. The box refers to the part of hiring forms that require applicants to check if they have ever been convicted of a crime, which has been criticized as keeping ex-felons out of job market. Advocates want to reserve that question for later in the hiring process.
"If you see the unfairness, you have to come together to work for reform," Clinton said.
Before it's here, it's on the Bloomberg Terminal.
LEARN MORE