Role Reversal
Establishment Candidates Strike Back at Colorado's Republican Debate
Feisty insurgents take a back seat to the political pros.
Donald Trump refused to attack his closest competitor and U.S. Senator Marco Rubio dialed up the heat on his one-time political mentor during a Republican presidential debate on Wednesday that showed the party's increasingly desperate establishment candidates getting more aggressive while the insurgent outsiders took a more cautious approach.
Trump, who has led most Republican polls for the past three months thanks to his combative style, this time around played the role more typical of a leader of the pack. Easing off the gas, he did not target Ben Carson, a retired neurosurgeon who has overtaken him in Iowa public-opinion polls and in a recent national survey. The soft-spoken Carson, who, like Trump, has never held elected office, also took a kid-gloves approach, using his closing statement to extol the entire Republican field.
While the front-runners did not engage, it was the two neighbors and supposed political allies from Florida—each of whom needed a breakout performance—who turned on each other. The fireworks between former Florida Governor Jeb Bush and his one-time protege, Rubio, became one of the most talked-about moments of the Republicans' third presidential debate, one in which the insider candidates seized the spotlight from the outsiders.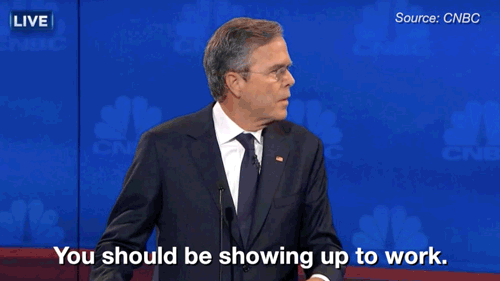 Bush started the fight with an attack on Rubio, whose political rise he blessed when both were in state government. He criticized the 44-year-old for repeatedly missing votes in Congress. "The Senate, what is it, like a French work week?" said Bush, who was under pressure to turn in a strong performance after dropping in the polls and cutting back his campaign staff. He suggested the senator should "be showing up to work" or resign.
Positioned on stage between Trump and Bush, Rubio performed a deft piece of political ju-jitsu, turning Bush's attack against him and suggesting that the former Florida governor is a puppet of his advisers. Bush never made an issue of U.S. Senator John McCain's absenteeism when the Arizonan was running for president in 2008, Rubio said. "The only reason you're doing it now is because we're running for the same position, and someone has convinced you that attacking me is going to help you," he added, earning applause from the audience. "My campaign is going to be about the future of America, it's not going to be about attacking anyone else on the stage."
Bush got the worst of another exchange when one of the moderators asked about regulation of fantasy football. After joking about his own 7-0 record in his fantasy league, the former governor inveighed against recent reports of abuses by fantasy sports gambling operations, equating them to "day trading without any regulation at all." He suggested the government might have to intervene. New Jersey Governor Chris Christie, a former federal prosecutor, shouted down the idea. "Wait a second. We have $19 trillion in debt. We have people out of work. We have ISIS and al-Qaeda attacking us," Christie said, his voice rising in incredulity. "And we're talking about fantasy football? Can we stop?" His put-down, like Rubio's, was rewarded with applause.
Other elected officials, who have taken a back seat to the outsider candidates in the polls and previous debates, racked up some highlight reel moments.
Ohio Governor John Kasich tore into both front-runners, calling Carson's tax plan, modeled on the Biblical tithe, "fantasy" and accused Trump of promoting an immigration plan that would amount to "splitting families" by ordering the parents of American-born children deported.
"We are on the verge, perhaps, of picking someone who cannot do this job," Kasich said. Trump immediately shot back at Kasich, zeroing in on his tenure as an investment banker, a job he held after leaving Congress.
"He was a managing general partner with Lehman Brothers when it went down the tubes," the New York real estate mogul said.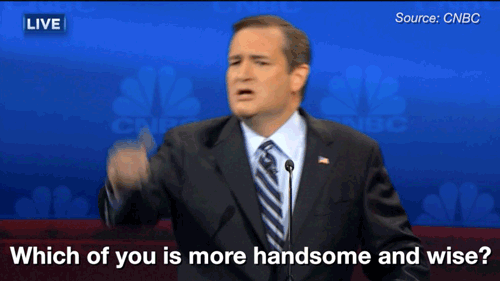 U.S. Senator Ted Cruz earned applause from the conservative audience for attacking the press. The Texan joined U.S. Senator Rand Paul in calling for an audit of the Federal Reserve and ending the federal bond-buying program known as quantitative easing.
"You look at on Wall Street, the Fed is doing great. It's driving up stock prices. Wall Street is doing great," Cruz said. "If you look at a single mom buying groceries, she sees hamburger prices have gone up nearly 40 percent."
"She sees her cost of electricity going up," Cruz said. "She sees her health insurance going up. And loose money is one of the major problems. We need sound money. And I think the Fed should get out of the business of trying to juice our economy and simply be focused on sound money and monetary stability, ideally tied to gold."
Hosted by CNBC, the debate focused on economic issues, but on those, the candidates offered few policy differences.
While they all bemoaned the nation's growing debt, most have offered tax plans that would significantly add to the federal deficit. They argued around the margins on whose tax plan would spark the most growth, all agreed on the need to rein in entitlement programs, and all positioned themselves as the best representative of middle America in the fight to close the gap between rich and poor.
"When CEO income has risen 90 percent above the average worker, when the bottom 90 percent of this country's economy has had stagnant wages for the past 40 years, somebody is taking it in the teeth and it's not the folks on Wall Street," former Arkansas Governor Mike Huckabee said.
Carly Fiorina, another candidate who has never served in elective office, enjoyed a short-lived rise in the polls after standout performances in the first two debates and seemed less amped up in this one. In her closing statement, she seemed to acknowledge the long-shot nature of her bid. "I may not be your dream candidate yet, but I can assure I am Hillary Clinton's worst nightmare," she said.
There were a few unexpected revelations. Asked about gun control, a hot topic in a state that has been the scene of two major gun massacres, Trump noted he has a permit to have a gun and sometimes exercises that right. "I do carry on occasion, sometimes a lot," he said. He declined to answer the moderator's question about whether he was packing heat in Colorado. "I like to be unpredictable," Trump said.
Before it's here, it's on the Bloomberg Terminal.
LEARN MORE