Marco Rubio Lands Punches at Republican Debate in Colorado
Outsider front-runners Trump and Rubio are pressed on their plans and lack of government experience.
U.S. Senator Marco Rubio, who has slowly risen in the polls thanks to strong performances in the first two Republican presidential debates, on Wednesday delivered another pugilistic performance in the third, pushing back against Jeb Bush, relating his personal story to downtrodden Americans, and hammering away at the media.
Throughout the evening, Rubio showed a knack for parrying attacks to his benefit. Asked about his reliance on super-PACs to support his campaign and the support of one billionaire donor in particular, former Philadelphia Eagles owner Norman Braman, Rubio quickly shifted to an attack on the media. "Democrats have the ultimate super-PAC, it's called the mainstream media," the Florida senator said, as the partisan audience erupted in applause.
On Thursday, Rubio sent donors a recap of the debate asking them to "chip in $25" to the campaign, and took a victory lap on morning television programs.
"We felt good about it," Rubio said about the debate on CNN. "The election wasn't decided last night and we're going to have another debate in 14 days, and that will replace in people's memory this one. So it's part of a process."
Rubio's dominant performance—he clocked the second-most talking time of the candidates, according to NPR's count—came on an evening that saw the two top performers in the polls, Donald Trump and Ben Carson, come under intense scrutiny over their ability as outsiders to lead the country while more experienced politicians such as Senator Ted Cruz, New Jersey Governor Chris Christie, and Ohio Governor John Kasich turned in aggressive performances. Carly Fiorina insisted, as she has throughout her campaign, that she'd be the best able to beat Hillary Clinton.
The biggest punching bag of the night: the media, as candidates complained about the debate format, the moderators' questions and journalists' coverage of the Democratic presidential candidates.
"CNBC should be ashamed of how this debate was handled," Republican National Committee Chairman Reince Priebus said in a statement the RNC issued after the debate. He called the moderators' questioning "exceptionally unfortunate."
Despite what some Republicans saw as an unfair playing field, Rubio proved adept at turning potential negatives into debate points. Asked about using a Florida Republican Party credit card a decade ago to pay for home improvements, Rubio, who repaid the party, declined to answer the question. Instead, he pivoted to a story about his upbringing as the son of a bartender and hotel maid and arguing that it gave him authority to speak for the middle class. "I didn't read about this in a book," he said.
But Rubio's standout moment was his exchange with Bush, the former Florida governor and the senator's one-time political mentor.
Under pressure to perform after being displaced in the polls by his Miami neighbor, Bush struck first, echoing an editorial earlier this week in which the Fort Lauderdale Sun-Sentinel called on Rubio to resign from the Senate for missing votes.
"You ought to show up for work," Bush said, noting that he is one of Rubio's constituents. "The Senate, what is it, like a French work week?" he added, referring to the chamber's habit of working Tuesday through Thursday. "You get like three days where you have to show up?
"You can campaign, or just resign and let someone else take the job," Bush told Rubio, who served as speaker of the Florida state House when Bush was governor. "There are a lot of people living paycheck to paycheck in Florida as well. They're looking for a senator that will fight for them each and every day."
But Rubio got the better of the exchange, judging by the audience reaction. The senator earned applause for blaming the newspaper editorial on a "double standard" for Republicans in the media, again when he dismissed Bush's attack as a one of political expediency, and a third time after criticizing Democratic front-runner Clinton.
"The only reason you're doing it now is because we're running for the same position and someone has convinced you that attacking me is going to help you," Rubio said to Bush. "My campaign is going to be about the future of America, it's not going to be about attacking anyone else on the stage."
Outsider front-runners Carson and Trump came under fire early in the debate, which turned combative as moderators and some of their opponents pushed for details of the outsider candidates' tax and budget proposals and raised questions about their inexperience in government.
Kasich warned that his party was on the verge of "picking someone who perhaps cannot do this job," and after Carson defended his tax rate, exploded. "This is the fantasy that I talked about at the beginning," he said.
Kasich also attacked Trump for his proposal to deport an estimated 11 million undocumented immigrants. Trump immediately shot back at Kasich, zeroing in on his tenure as an investment banker in between his terms as a member of Congress and Ohio governor. "This is a man that was a managing general partner with Lehman Brothers when it went down the tubes," Trump said.
The debate took place at a volatile time in the race, as Trump's grip appeared to be loosening on the front-runner status he he's enjoyed until now. The session was the first since several polls showed the lead in the Republican race may be changing, with Carson moving up. The retired doctor led in several recent polls of Iowa Republicans, including one by Bloomberg Politics and the Des Moines Register. This week he dislodged Trump from the top spot in a national poll. A New York Times/CBS News survey released Tuesday showed Carson as the choice of 26 percent of Republican primary voters, compared to 22 percent for Trump, a difference within the margin of error.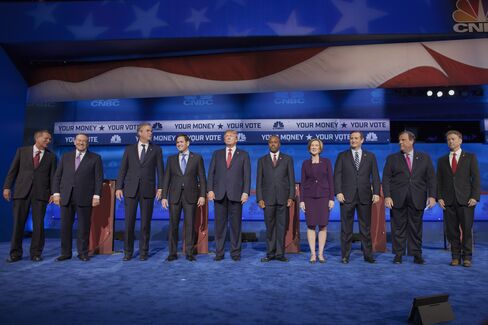 The debate, hosted by CNBC and focused on the economy, seemed to be a golden opportunity for Trump, a billionaire businessman. Polls show voters trust him as much—or more—as other Republican presidential candidates on economic issues. Trump defended his business use of the nation's bankruptcy laws in his businesses, specifically in Atlantic City, New Jersey, as he noted that he's never personally filed for bankruptcy protection. "I used the laws of the country to my benefit, I'm sorry," he said.
Trump was not alone among those on the debate stage with business experience. The nine other contenders in the prime-time debate included: Fiorina, the former Hewlett-Packard chief executive officer who regularly touts her business experience, and Bush, who has built his campaign around made a promise of 4 percent economic growth. He's spent much of the decade since he left office in the private sector, consulting for Lehman Brothers and Barclays Plc. Bush has also served on the boards of companies including Tenet Healthcare Corp., Rayonier Inc., Empower Software Holdings, and Geo Fossil Fuels LLC.
The debate was held hours after Federal Reserve policy makers indicated that they would consider raising the benchmark interest rate at their next meeting in December, as the economy has recently logged a slower pace of job gains, and hours after the U.S. House of Representatives approved a budget deal negotiated by President Barack Obama and leaders of the Republican Party but opposed by many conservative Republicans.
Cruz called for an audit of the Federal Reserve and a bipartisan commission to study "rules-based" monetary policy. "On Wall Street, the Fed is doing great," he said. "I think the Fed should get out of the business of trying to juice our economy."
The Texas senator received perhaps the most rousing applause of the night when he sidestepped a question about his opposition to the budget deal reached by Congress and President Obama, and instead launched into a critique of the media.
"You know, let me say something at the outset. The questions that have been asked so far in this debate illustrate why the American people don't trust the media," Cruz said. "This is not a cage match, and if you look at the questions—Donald Trump are you a comic book villain, Ben Carson can you do math, John Kasich will you insult two people over here, Marco Rubio why don't you resign, Jeb Bush why have your numbers fallen—how about talking about the substantive issues people care about."
Held in a state that swings back and forth between Republicans and Democrats—electing a Republican senator two years after handing its Electoral College votes to Obama—the debate's venue in many respects represents the political cross-currents in the country. It was held in the Coors Events Center, named for a family that has financed conservative causes and candidates, on the campus of the University of Colorado in a town that locals affectionately dub the "People's Republic of Boulder." Located about 35 miles northwest of Denver, Boulder was a destination for participants in 1960s counterculture. It was among the first communities in the nation to issue same-sex marriage licenses in the 1970s, and is known to be the site of clothing-optional bike rides. One of the town's unofficial mottos is "Keep Boulder Weird."
Colorado is one of the first states to legalize recreational marijuana use, and it's a state where one in five residents is Hispanic, a voting bloc that Bush and Rubio are especially trying to attract to the party. It's also a state that has seen two of the most horrific gun massacres in recent history, and where two state lawmakers were recalled for supporting stricter gun control laws.
Other candidates on stage were former Arkansas Governor Mike Huckabee and Senator Rand Paul of Kentucky.
Earlier in the evening, the undercard debate featured four presidential candidates lagging in the polls: Louisiana Governor Bobby Jindal, Senator Lindsey Graham of South Carolina, former New York Governor George Pataki, and former Senator Rick Santorum of Pennsylvania. All four have been stuck in the so-called happy hour debate for all the previous debates with no sign of an uptick on their polling.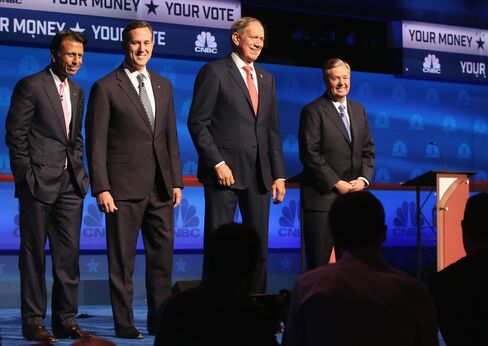 The candidates in the earlier debate attacked both Democrats and Washington. "We need an outsider," said Pataki, who served as a mayor, assemblyman, state senator and New York governor. Graham wisecracked at the expense of his fellow senator, Bernie Sanders, a socialist who is running behind Clinton in the race for the Democratic nomination. "The No. 2 guy went to the Soviet Union on his honeymoon and I don't think he ever came back," Graham said.
One or more of those on the main stage tonight may not make the prime-time show at the next gathering on Nov. 10 in Milwaukee. For that session, candidates will have to earn 2.5 percent or higher support in the four newest national polls prior to the debate.
The first two Republican debates attracted record-breaking audiences for the cable networks that aired them, a landmark for which Trump has taken credit. But even the one-time reality TV star may be trumped by this competition: The debate aired at the same time as game 2 of Major League Baseball's World Series match-up between the Kansas City Royals and the New York Mets.
(An earlier version of this story misspelled Norman Braman's name.)
Before it's here, it's on the Bloomberg Terminal.
LEARN MORE