Senate's Republican Presidential Hopefuls Come Out Swinging Against Budget Deal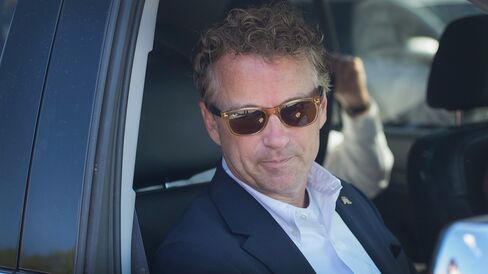 Three Republican senators running for president have come out swinging against a bipartisan budget deal as an emblem of everything that's wrong in Washington, making it a likely piñata in the party's third debate on Wednesday evening in Boulder, Colorado.
"This is not a 'grand bargain' or negotiation—it is complete and utter surrender," said Texas's Ted Cruz. It's a "severely flawed deal" that "irresponsibly increases the debt ceiling" without cutting safety-net programs, said Florida's Marco Rubio. "Horrible," said Kentucky's Rand Paul, adding, "It's hard for me not to use profanity describing it."
In a primary race dominated by political outsiders Donald Trump and Ben Carson, any hint of compromise with Washington power brokers is dynamite for the conservative base. The deal provides an opportunity for presidential candidates to assail a party establishment that voters have soured on—a tricky needle to thread for establishment-oriented hopefuls such as former Florida Governor Jeb Bush and Ohio Governor John Kasich, an ex-chairman of the House Budget Committee chairman, who will both appear on stage with the three senators, Trump, and Carson on Wednesday night.
An AP-GfK poll last week found that 62 percent of Republican voters nationally say outgoing House Speaker John Boehner's successor should stick to conservative principles, even at risk of government shutdowns, while 37 percent said the next speaker should compromise with President Barack Obama and Democrats to pass a budget.
The budget accord struck by the White House and Republican congressional leaders lifts spending caps by some $80 billion over two years in an effort to ward off automatic cuts to defense and domestic spending. The deal also extends the debt ceiling until March 2017, reducing the risk of fiscal crises before the presidential election. It is likely to pass Congress with strong Democratic support.
"The irony of this deal is some people will criticize it that are going to benefit from it," said Representative Tom Cole, an Oklahoma Republican.
Cruz, in trademark fashion, positioned himself as an insurgent, calling the deal "a victory for the Washington Cartel."
"For anyone wondering about the source of the American people's volcanic frustration with Washington, one need look no further than so-called 'Republican' majorities in both houses of Congress increasing the budget and our debt by more than $400 billion. It's ridiculous, deceitful, and a disgrace," he said in a statement.
Rubio, also characteristically, didn't attack party leaders but lamented the lack of entitlement cuts. "This deal does nothing that future generations of Americans will be proud of us for; instead, it postpones tough decisions until after the next election," he said in a statement.
At a campaign rally on Tuesday in Denver, Paul said the deal shows "careless disregard" for fiscal responsibility and pledged to filibuster it. Unfortunately for him, it's unlikely he can stop a vote in the Senate—even if he takes to the floor, the rules limit his allotted speaking time if 60 senators vote to move forward.
Opposing budget agreements is standard for the three ambitious first-term senators, who rode into Congress on anti-establishment Tea Party strength. A fourth Republican senator running for president, Lindsey Graham, has traditionally supported budget accords and is "reviewing the deal" that's pending, a spokesman said.
Graham, who pulls between 0 and 2 percent in recent national polls, will be relegated to the undercard debate on Wednesday before the main event, which CNBC will host.
(Contributing: Michael C. Bender)
Before it's here, it's on the Bloomberg Terminal.
LEARN MORE