Proposals
Hillary Clinton Brings Tough Wall Street Talk to Stephen Colbert's Show
"Yes, yes, yes, yes, yes."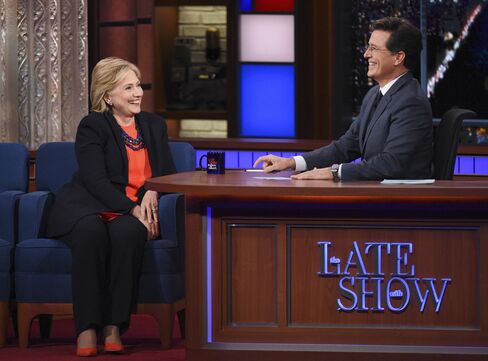 After weeks of testing out her positions on income inequality and Wall Street regulation in the financial press, Democratic presidential candidate Hillary Clinton brought her message to an unlikely venue: the late-night comedy circuit.
On her first visit to Stephen Colbert's new Late Show, the host asked Clinton what she would do if a recent recession-era scenario were to play out again. If Clinton were president, Colbert asked, "and the banks are failing, do we let the banks fail this time?"
"Yes," the former secretary of state replied. "Yes, yes, yes, yes, yes."
Three weeks ago, Clinton published an op-ed on Bloomberg View outlining her plan to "prevent the next crash." On Tuesday, she returned to financial matters, focusing on the need to bolster the middle class.
"We have to raise the minimum wage," Clinton said. "It's a poverty wage now. It's disgraceful that people are working full time and can't get out of poverty. We need to incentivize for profit sharing—we need to continue to rein in the abuses in the financial system and particularly on Wall Street because it did contribute to the problems we had in the economy."
Colbert retorted, "You put forth a plan for Wall Street and Wall Street embraced it—is that a good sign?"
Clinton singled out New York Times columnist Paul Krugman's approval of her plan before adding, "Look at what happened in '08, we had a big insurance company that had to be bailed out, we had an investment bank, Lehman Brothers, that failed. We have to look at the whole financial system and my plan does that."
Her stated refusal to bail out the big banks—to let them fail, if a 2008 scenario were to repeat itself—was a crystallization, a hardening, of her economic position. "First of all, under Dodd-Frank, that is what will happen because we now have stress tests and I'm going to impose a risk fee on the big bank if they engage in risky behavior," she said. "But they have to know, their shareholders have to know that, yes, they will fail. And if they're too big to fail, then, under my plan and others that have been proposed, they may have to be broken up."
Sitting in matching orange-red and black, perhaps a nod to Halloween, Clinton laughed as Colbert displayed pictures of Clinton in various earlier stages of life: Halloween costume ideas, he said. But "if you really want to achieve the costume," he joked, "you can go to the party but they have to stay for 11 hours." It was a nod, the host's second, to the time Clinton spent testifying last week to the House Select Committee on Benghazi.
Correction: An earlier version of this story's headline incorrectly described Clinton's comments, and incorrectly quoted Clinton in the second-to-last paragraph.
Before it's here, it's on the Bloomberg Terminal.
LEARN MORE