Police Debate Shouldn't Be Divisive, Obama Tells Chiefs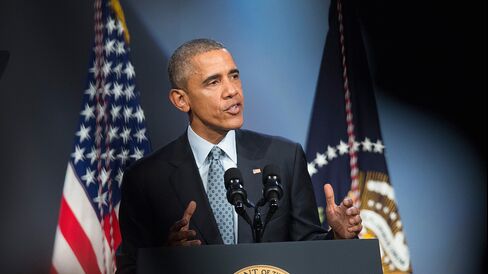 Obama speaks To International Association of Chiefs of Police

FBI director warned of `Ferguson effect' on law enforcement
The "Black Lives Matter" protest movement against excessive use of force by police shouldn't divide law enforcement officers from their communities, and strengthening U.S. gun laws would save the lives of cops as well as citizens, President Barack Obama told police chiefs on Wednesday.
Obama also sought to persuade law-enforcement officials that punishments for non-violent drug offenses should be reduced, arguing that would free resources to address more serious crimes. While violent crime is on the decline in the U.S., several cities have seen a spike in shootings, including Chicago, where the president will speak to the International Association of Chiefs of Police convention.
"Too often, law enforcement gets scapegoated for the broader failures of our society and criminal justice system," Obama said. "We can't expect you to contain and control problems that the rest of us aren't willing to face or do anything about," including failing schools, too few jobs, a shortage of drug treatment programs and ready access to firearms, he said.
Policing Protests
Obama's speech to more than 14,000 law enforcement officials comes in the wake of protests across the country in the past year after shootings of unarmed black men by police. The incidents have given rise to Black Lives Matter and heightened scrutiny of police officers, a phenomenon that the FBI director, James Comey, said may be to blame, in part, for a recent rise in crime by discouraging aggressive enforcement. He called it the "Ferguson effect," after the Missouri city where the protests began in 2014.
Before Obama's speech, the White House released a report on police tactics that advises the use of "community policing" to heal the growing rift between minorities and officers. White House spokesman Josh Earnest said there is no evidence to support Comey's "Ferguson effect" theory, which has also been embraced by Chicago Mayor Rahm Emanuel, Obama's former chief of staff.
"I refuse to believe that the only choice we have is to either ignore circumstances of racial bias or make it impossible for police officers to do their job," Obama said. "We've got to reject that false choice."
Sentencing Reform
Obama last week defended the Black Lives Matters movement, which arose after an unarmed black teenager was shot and killed by a white officer in Ferguson. It gained steam after several subsequent police shootings of unarmed black men were captured on video.
Some Republicans have criticized the movement and Obama's support for it. Republican presidential candidate Chris Christie, the governor of New Jersey said on Sunday that Obama is encouraging lawlessness.
"He does not support the police, he doesn't back up the police. He justifies Black Lives Matter," Christie said of Obama on CBS's "Face the Nation" program Sunday.
Before his speech on Wednesday, Obama met with spouses and children of law enforcement officers who were killed in the line of duty. He also met with the families of bystanders killed during shootings in Chicago.
"Everybody should understand that police officers do a dangerous job. Nobody wants to see police officers hurt," he said. Crime-stricken communities "have to give police officers the benefit of the doubt," he said.
Obama cited one viral video of a police encounter in his speech. In December 2014, a woman named Helen Johnson was caught shoplifting eggs from a Dollar General in Tarrant, Alabama. She later told the Alabama Media Group that her children and grandchildren had gone two days without food. The police officer who responded, William Stacy, bought her a dozen eggs instead of arresting her.
"That's America at its best," Obama said. "That's some good police work."
In addition to calling for changes in police tactics, Obama has pushed for a broader review of the criminal justice system, focusing on drug sentencing laws that disproportionately impact minorities. The U.S. Senate is considering a bill that would reduce some mandatory minimum sentences for drug offenses.
Jim Pasco, executive director of the National Fraternal Order of Police, said that while law enforcement officials generally support many of Obama's recommendations, local police agencies lack money to implement them.
"The most important areas they touched on are the most expensive," he said in a phone interview.
Earnest has said Obama wants to sign a major criminal justice bill before the end of the year. The Senate legislation is "a good start," he said.
Chicago Guns
The president has regularly invoked his time in Chicago as a community organizer when pushing for more lenient punishment for non-violent drug offenders and stricter gun legislation.
Obama's opponents have pointed to Chicago, which has some of the country's toughest gun laws, as an example of the futility of further restrictions on firearms.
The city has seen gun violence spike in recent years, with more than 400 homicides in 2015, according to a tally by the Chicago Tribune. Some of the shootings took place near Obama's old neighborhood on the city's South Side.
Earnest said Chicago is "a pretty good illustration" of the need new national gun laws, because people looking to evade local restrictions can buy guns more easily outside the city limits. Sixty percent of guns used in crimes in the city come from "out of state," Obama said.
The White House is studying current laws to determine if Obama can enact new regulations on firearms without congressional action.
"We know that more guns on the street do not make you or your communities safer," Obama said.
Senator Charles Schumer, a New York Democrat, has said the federal government should use its purchasing power to force major gun manufacturers to increase safety standards. A $580 million Department of Defense contract for new handguns should be used as leverage on the industry, he said in a statement on Friday.
More than 700 vendors are exhibiting at the police conference in Chicago, including gun manufacturers Glock Inc., Beretta USA Corp. and Smith & Wesson Holding Corp.
TASER International Inc., which has seen sales of its body-worn police cameras increase after Obama called for more police departments to us the devices, is exhibiting at the conference. The company's shares rose more than 5 percent on Monday after it announced a partnership with Microsoft for cloud storage of images recorded by body cameras.
Before it's here, it's on the Bloomberg Terminal.
LEARN MORE