Gay Rights
Hillary Clinton Accused of Revising History on Defense of Marriage Act
Bernie Sanders and gay-rights activists are not buying her claim on why her husband signed the now-defunct DOMA into law.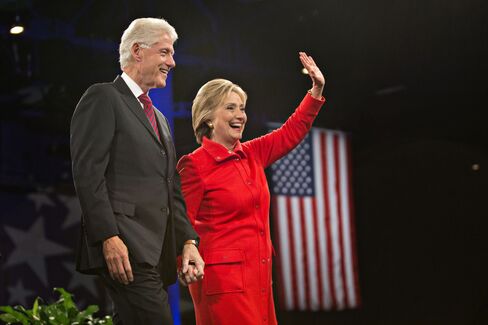 When the Defense of Marriage Act passed in 1996, Bernie Sanders was a member of the House and Hillary Clinton was first lady. Nearly two decades later, they're battling for the Democratic presidential nomination and have very different recollections of how the law that prohibited federal recognition of same-sex marriage came about.
On Friday, Clinton told MSNBC's Rachel Maddow that her husband, President Bill Clinton, signed DOMA into law as a "defensive action" to stave off a constitutional amendment that would have defined marriage as between a man and a woman. "DOMA was a line that was drawn that was to prevent going further," said the Democratic front-runner.
Sanders, who voted against DOMA, remembered it differently. "Today, some are trying to rewrite history by saying they voted for one anti-gay law to stop something worse. That's not the case," the Vermont senator said Saturday at the important Jefferson-Jackson dinner in Iowa. "There was a small minority opposed to discriminating against our gay brothers and sisters. Not everybody held that position in 1996."
But is this true, or is it revisionist history?
Bill Clinton's aides and confidants admitted to the New York Times in 2013 that he knew DOMA was wrong and discriminatory toward gays and lesbians. His former press secretary Mike McCurry said, "His posture was quite frankly driven by the political realities of an election year in 1996." Democratic consultant and Clinton ally Hilary Rosen added, "In my conversations with him, he was personally embarrassed and remorseful."
Neither said it was a strategic move to prevent something worse. And indeed, that might have been difficult. The Federal Marriage Amendment wasn't introduced until 2002. It didn't become part of the Republican Party platform until 2004.
In 1996, Americans opposed legal same-sex marriage by a margin of 68 percent to 27 percent, according to Gallup. Today, they support it by 60 percent to 37 percent.
A group of senators who voted for DOMA wrote in a brief to the Supreme Court in 2013 that they thought its passage "would defuse a movement to enact a constitutional amendment banning gay marriage, which would have ended the debate for a generation or more."
Prominent figures in the LGBT community, meanwhile, rejected Clinton's recollection of history.
"Hillary's version of DADT and DOMA is so wrong. The only 'defensive posture' was for their personal politics not LGBT," activist David Mixner said on Twitter. He added: "The LGBT community should NEVER allow any politician to revise our noble and courageous history for political purposes."
Radio host and HuffPost Gay Voices editor-at-large Michelangelo Signorile called Hillary Clinton's version "" and said on Twitter that it was "simply not true that DOMA was signed to stop something worse." He continued, "Hillary doesn't need to re-write Bill history to make her better. She's fine, has promised a lot."
DOMA was poised become law with or without Bill Clinton's signature. It passed 85-14 in the Senate and 342-67 in the House, margins easily big enough to override a presidential veto. The question to gay rights advocates was whether Clinton would stand on the right side of history and force Congress to override his veto. To their dismay, he signed the bill.
https://twitter.com/hilaryr/status/658110744928612353
In retrospect, the practical consequence of Democratic support for DOMA can be spun as having delayed that push, or it can be portrayed as emboldening social conservatives to go further. The alternate course of history is not knowable.
Seventeen years later, in March 2013, Bill Clinton had changed his mind and argued in a Washington Post op-ed that the law he enacted was unconstitutional. That summer, the Supreme Court struck it down, concluding that its "avowed purpose and practical effect" was to impose a separate status "stigma" on gays who want to marry. This past June, the court went further and made gay marriage legal in all 50 states. Democrats, including Hillary Clinton, rejoiced.
Before it's here, it's on the Bloomberg Terminal.
LEARN MORE