Glorious He
Donald Trump Huge on Ego in Bloomberg Politics/Des Moines Register Iowa Poll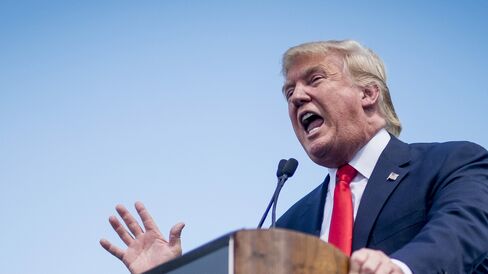 Republicans planning to attend the Iowa caucuses are still sorting out their presidential preferences, but there's one decision they've overwhelmingly made: Donald Trump is the most ego-driven in their party's crowded field of candidates.
The billionaire and former reality television star is huge on that measure, to borrow one of his favorite words. Asked to select which of the presidential candidates has the biggest ego, 78 percent of likely Republican caucus attendees in the latest Bloomberg Politics/Des Moines Register Iowa Poll named Trump.
"When he speaks, it's 'I,' 'I,' 'I,' 'I,' instead of what we as a country need to do," said Cynthia Ament, 63, a retired office and assembly line worker from northeast Iowa who is trying to decide between former Florida Governor Jeb Bush and retired neurosurgeon Ben Carson.
"He thinks that he can solve every problem himself and that's just egotistical," Ament said. "There is the Congress and the judiciary, not just the president. He would need to work with everybody and I don't believe that would."
Read the questions and methodology here.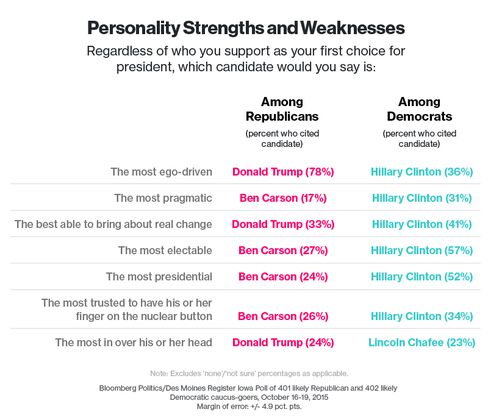 Gerald Zeller, 51, a farmer in north-central Iowa who plans to caucus for Trump, said he sees the candidate's ego as having both advantages and disadvantages. "There will be times it would get in the way because sometimes you need to be quiet and not tell it like it is, too," he said. "But he's got the confidence to do the job. He knows how to get people to do stuff and he's not afraid to tell you that."
Trump, who fell into second place among Republican candidates in the latest poll, got the most support—33 percent—on a question about who is best able to bring about change. Those likely to attend the Feb. 1 Republican caucuses also most commonly picked him as the candidate from their party most in over his or her head, with 24 percent giving him that unflattering designation.
Carson, another political rookie up against a field that includes numerous past and present senators and governors, wins the highest marks for being most pragmatic, most electable, most presidential and most trustworthy to have his finger on the button of the nation's nuclear arsenal. Buoyed by Iowa's powerful evangelical vote, he has surged into first place in the Republican race, the poll showed.
On the question of who is most presidential, Carson is picked by 24 percent. Among limited-government Tea Party activists, he gets an even higher score: 32 percent. Bush, whose brother and father are former presidents, ranks second in the "most presidential" category, with 18 percent, but he took first place among first-time caucus-goers, 25 percent of whom, rated him most presidential in the field, and first place among moderates. In that group, 30 percent rated Bush the most presidential of Republican candidates.
On the Democratic side, likely caucus-goers give the advantage to Hillary Clinton on virtually every candidate trait tested. She's tops for most presidential, electable, best able to bring about change, most pragmatic and most trustworthy to have her finger on the nuclear button.
The former secretary of state, senator, and first lady is also picked as the most ego-driven on her side of the race, although at a much lower level than Trump. She's selected by 36 percent of likely Democratic caucus attendees on that score.
The only trait where Senator Bernie Sanders of Vermont comes close to Clinton is on being best qualified to bring about real change, a theme that's been a centerpiece of his campaign.
Former Rhode Island Governor Lincoln Chafee's decision Friday to drop his presidential bid was probably the right one, in the eyes of Iowa caucus-goers. Likely Democratic participants gave him the top score on one category: Asked which candidate is most in over his or her head, 23 percent of likely Democratic caucus-goers picked him.
The Iowa Poll, taken Oct. 16-19, included 401 likely Republican and 402 likely Democratic caucus participants. Each of those full samples has a margin of error of plus or minus 4.9 percentage points; the margin is higher for subgroups.
Before it's here, it's on the Bloomberg Terminal.
LEARN MORE