Family Plan
Jeb Bush Aims to Win Over His Brother's Backers
What many saw as a bug of his candidacy—his brother's presidency—is, remarkably, now among its central features. Will that closeness cost him later?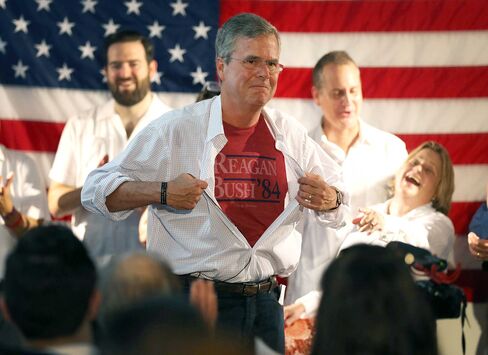 Sam Wilson loves George W. Bush. A loyal Republican voter in Iowa, Wilson spent a chilly caucus night 15 years ago arguing with neighbors about why the then-Texas governor should be the presidential nominee. He calls Bush "one of best presidents this country has ever had," and recently made a pilgrimage to visit the ex-president's library some 860 miles away.
"I got goosebumps when I walked in there, because I just think he was absolutely top notch," Wilson said.
It's a much different sensation when the 75-year-old former energy company lobbyist thinks about Jeb Bush, the former president's younger brother, who is struggling in the polls amid his own bid for the White House.
"He may be a little too reserved," Wilson said in an interview this month outside a Jeb Bush campaign event in Bettendorf, Iowa, shrugging his shoulders when asked to consider the latest Bush presidential candidate.
"When George W. Bush stood there after 9/11 saying he can hear us, boy, that was leadership. People remember that," Wilson said. "The question is whether that can rub off on Jeb. Can Jeb do it like George did it? Probably not. But would Republicans listen to George in support of Jeb? That's going to be interesting."
The problem of how Jeb Bush's candidacy should deal with his brother's presidency and, more generally, the family legacy has metastasized in an interesting way. As Bush and his top donors descend this weekend on Houston, a key city in family history, his campaign is desperately trying to figure out how to win over his brother's supporters. In a difficult Republican primary, they're the most obvious source of excitement and early-state votes. But the struggle is to seduce them without alienating independents he's promised to reclaim from Democrats, who have won the popular vote in five of the past six presidential elections.
In a sense, Jeb Bush has come full circle on how to handle his brother. The donor summit in Texas's most populous city is a rare campaign event with Jeb Bush and both his brother and father. And while receptions on Sunday and Monday with the former presidents will be private, it's clear that what was once the biggest threat to his presidential ambitions—questions about his brother—has now become its central feature.
In Plano, Texas, this week, a crowd of 7,000 stood and cheered at Prestonwood Baptist Church when Pastor Jack Graham told Bush, "George W. Bush did keep us safe, no matter what anybody says." It was one of the few standing ovations during a four-hour presidential forum that included five other GOP candidates.
That reaction explains why Bush, after torturing himself for a week in May over a question about whether he still supported the Iraq invasion his brother authorized, spent the past week invoking his brother in a battle with Donald Trump, the billionaire New York real estate mogul who has been atop most Republican primary polls since July.
Trump attacked Jeb Bush in an interview on Bloomberg TV last week for saying during the Sept. 16 debate that George W. Bush kept the country safe. Bush has defended the point vigorously, both because his team believes the front-runner's implosion will come from a lack of credibility on national security and because he's increasingly finding ways to align himself with his brother.
In Reno, Nevada, on Wednesday, Bush referenced his brother's famous verbal gymnastics after someone praised the former governor's "commonsensical" approach to federal land use. "Is that like mis-underestimating?" Bush said. Later that night in Las Vegas, he praised George W. Bush for expanding aid to Colombia as president to help fight drug-funded insurgents, saying the plan has increased economic prosperity and should be replicated in Central America to stem illegal immigration.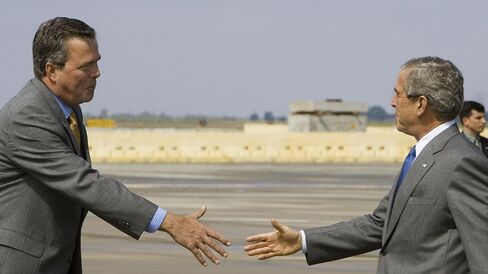 But the polling math regarding W.'s time in the White House makes for complicated politics. While just 39 percent of Americans approve of Bush's presidency, the number jumps to 80 percent among only Republicans, according to a HuffPost/YouGov poll taken Sept. 19-20. A plurality of Republicans—43 percent—said they would back him for a third term, compared to just 13 percent of independents and 6 percent of Democrats.
This arithmetic suggests that in the current primary season, when Jeb has struggled to create excitement, his brother would be an indispensable surrogate. "He's an asset," Mike Murphy, a longtime Jeb Bush confidant who is running a super-PAC supporting the candidate, said about George W. Bush in an interview with Bloomberg Politics published this week. "I'm hoping to see him on the campaign trail."
When Jeb Bush was asked at a campaign event earlier this month whether he'd have his brother join him for public campaign events, he said only, "I'm happy that he's supporting me."
Other than an awkward admission from Jeb's mother, who said in 2013 that there had been "enough Bushes" in the White House, the entire family has appeared eager to help.
George H.W. Bush and his wife, Barbara, attended a Houston event earlier this year for Right to Rise USA, the pro-Jeb Bush super-PAC, and met with their son and his donors at the family's Kennebunkport, Maine, vacation home in July. George W. Bush and his wife, Laura, have hosted about 10 fundraisers for the campaign.
In Palm Beach, Florida, this month, Columba Bush, Jeb's wife, gave a "touching speech" about how the couple met in Mexico and their first years together living in Venezuela, said former U.S. Senator George LeMieux, who attended the event. Jeb Bush has joked on the campaign trail that he's worried his son Jeb Jr. ignores his day job to help on the campaign.
In a surprise speech to the Federalist Society at his library last month, George W. Bush urged patience on his brother's campaign, telling the crowd that his brother was still learning to be a national candidate, according to two sources who were in the audience. The former president added that their 91-year-old father had circled Jan. 20, 2017—the inauguration of the next president—and intends to see it.
"My campaign has lifted his spirits," Jeb Bush said in Iowa this month about his father. "He's not watching CSI reruns anymore. He's watching Fox, getting mad at people that attack me and stuff like that. I feel like I'm making a contribution to keep him strong."
When George H.W. Bush, who wears a neck brace after falling this summer, heard about a regular conference call Jeb Bush has from the campaign trail with his closest supporters, he insisted on being included, said Jim McGrath, George H.W. Bush's speechwriter and spokesman.
"He was offered a private briefing, but he wants to hear the chatter on the call, the information going back and forth and the observations," McGrath said.
The elder Bush surprised Jeb Jr. at the end of one call by telling his grandson, "That was a fine report, and you're a fine lad," McGrath recalled.
"Gampy, is that you?" Jeb Jr. responded.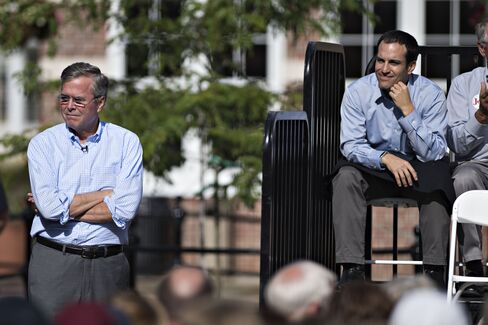 The Bushes are a ubiquitous feature of Jeb's campaign, whether physically present or not. At events, as Jeb Bush spends 10 or 15 minutes shaking hands and smiling for selfies with his audience, what the men and women in the crowd invariably want to talk to him about is the family: How's your dad feeling? Tell your parents I said hello. I was a delegate for your brother in 2000.
But that extensive network has not yet transferred its political allegiance to Jeb Bush. While his supporters insist that he's still introducing himself to voters, his poll numbers have dropped in the eight months since he started visiting the early presidential primary states. A month-long barrage of TV advertising on his behalf has failed to reverse the trend.
"Jeb is his own cat," Marc Stern, one of Bush's top donors and chairman of TWC Group, a Los Angeles-based investment firm, said in an interview. "He really is very, very different."
Thus far, however, a frustrated Republican electorate hasn't been receptive to Bush's style. He's introduced himself as a successful conservative governor who's something of a wonk on the issues—and a fluent speaker of Spanish—as voters have gravitated more to Trump's cheerful wisecracks and angry venting and confrontational style.
This year, Trump is the candidate voters would want to have a beer with. Back in 2000, of course, it was George W. Bush.
"W. was maybe a little more—what do I want to say?—huggy, more emotional," said former Iowa state Senator Maggie Tinsman, one of Jeb Bush's top supporters in the state, pointing out how the older brother wore a big belt buckle and posed with tractors and hay bales while campaigning in 2000. "Jeb Bush isn't like that. I think Jeb has a cooler demeanor."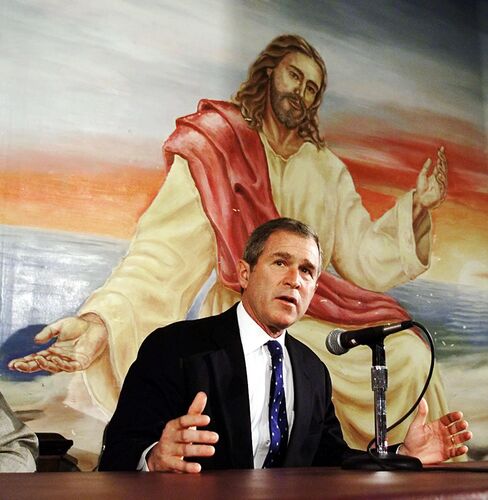 Given these challenges, Stern argues that the family should be decentralized in the campaign. For Jeb Bush to win the presidency, he says, he'll have to successfully introduce himself to voters and tell his own story in a compelling way that shows he deserves the office for reasons unrelated to his brother and father.
"As I found out what he is as and found out how substantive a person and sensitive a person he is, I think as he introduces himself to the American people, that's the key," Stern said.
Of course, Jeb Bush is having a problem common to younger siblings: it's difficult to make your own way, even as people insist you need one. Comparisons are inevitable, and seldom favorable. Ken Langone, a billionaire investor who co-founded Home Depot and is backing New Jersey Governor Chris Christie's presidential bid, equated a third Bush in the White House to a monarchy.
"If you're telling me that there's a gene pool that unless you're in that gene pool you can't be president of the United States, there's something inherently wrong with the country," Langone said during an Oct. 13 interview on Bloomberg TV.
"Now," he quickly added as way of a disclaimer, "I love his brother."
Before it's here, it's on the Bloomberg Terminal.
LEARN MORE