Democrats to Stay on Benghazi Committee After Clinton Testimony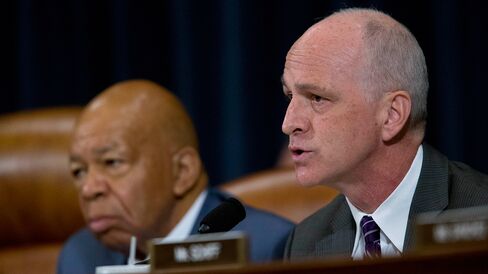 Republicans politicized Benghazi investigation, Democrats Say

Hillary Clinton testified before panel for 11 hours Thursday
Democrats will stay on the U.S. House Benghazi committee even though they accuse Republicans of politicizing the investigation in a partisan attempt to undermine Hillary Clinton's presidential candidacy.
The five Democrats on the 12-member committee announced their decision Friday, a day after Clinton's marathon testimony before the panel. They called on House Speaker John Boehner to shut down what they described as an "abusive, wasteful and obviously partisan effort" to target the Democratic frontrunner rather than investigate the deadly attack on a U.S. diplomatic compound in Benghazi, Libya, in 2012.
"If the speaker rejects our request, Democrats will continue to participate at this point in order to make sure the facts are known and the conspiracy theories are debunked," said the Democrats.
Clinton was the sole witness at Thursday's hearing, and she answered questions from 10 a.m. until past 9 p.m., with breaks. Her demeanor and responses to the pointed questions from the panel's Republican majority were widely viewed as a public-relations victory for the Democratic presidential candidate.
The panel's top Democrat, Elijah Cummings of Maryland, repeatedly clashed with Representative Trey Gowdy of South Carolina, the committee's chairman, about whether the investigation was politically motivated.
Another one of the committee's Democratic members, Adam Schiff of California, suggested during the hearing that staying on the panel would prove futile.
Democrats' Decision
"It's unlikely the majority here will even consult with us on what their final report looks like," he said.
House Minority Leader Nancy Pelosi, a California Democrat, said earlier Friday that the decision was up to the Democrats on the panel to decide whether to continue. The other party members on the committee are Adam Smith of Washington, Linda Sanchez of California and Tammy Duckworth of Illinois.
House Republicans created Gowdy's Benghazi committee in May 2014 to investigate the attacks, which killed U.S. Ambassador Chris Stevens and three other Americans. Seven other congressional committees have previously investigated the incident. House Democrats have said the panel's work has cost millions of dollars and lasted longer than the investigation of Watergate.
Before it's here, it's on the Bloomberg Terminal.
LEARN MORE