Washington Scene
Hillary Clinton Keeps Her Cool as Benghazi Hearing Devolves Into Political Theater
She deflects questions about confidant Sid Blumenthal's embarrassing e-mails.
This time, Hillary Clinton kept her cool.
The Democratic presidential front-runner maintained a somber, reflective tone Thursday in the face of hours of hostile questioning from Republicans during her long-awaited testimony before the House Select Committee on Benghazi. Members of the panel began by squabbling over whether it is a legitimate inquiry into the deaths of four Americans at diplomatic facilities while Clinton was secretary of state, or, as Representative Elijah Cummings contended, an "abusive" effort to submarine her campaign.
In sharp contrast to a 2013 hearing before the Senate, when a moment of lost cool created a sound bite that launched a thousand opposition videos, Clinton remained calm, responded to sometimes pointed questioning from Republican members of the committee, more in sorrow than anger, speaking in warm, personal terms about Ambassador Christopher Stevens and the idealism embodied by him and the other three Americans who died.
"I would imagine I've thought more about what happened than all of you put together. I have lost more sleep than all of you put together," Clinton said. "I have been wracking my brain about what could have been done or should have been done. When I took responsibility, I took it as a challenge."
Despite solemn opening vows by both Clinton and committee chairman Trey Gowdy, a South Carolina Republican, to keep the focus on the four dead Americans, the hearing almost immediately degenerated into a lively piece of Washington political theater, complete with a VIP-studded audience, blast e-mails from outside groups deconstructing various statements minutes after they were made, and political charges and counter-charges from committee members, especially Gowdy and Cummings.
Chaotic Day
Outside the hearing room during the lunch break, the hallway of the Longworth Office Building had the feel of a post-campaign debate spin room, with lawmakers and aides from both parties milling with reporters to offer instant analyses of how things were going and suggest what they felt were key moments.
Republican members of the committee, under sharp criticism including from some fellow Republicans about veering away from the original focus of the Benghazi inquiry, for most of the first round of questioning kept their focus intently on the details of the attacks. Unintentionally, they provided Clinton with a forum to tout her foreign policy authority and commander-in-chief credentials, potentially turning the hearing into a net plus for a female candidate who, as Iowa pollster J. Ann Selzer noted, spent much of her 2008 presidential campaign trying to "prove her bona fides to have her finger on the button."
"I have been in Situation Room discussions," Clinton said. At another point, defending herself against what some committee Republicans described as a dearth of e-mail traffic on Libya, she noted that much of her work was not done over e-mail. Sometimes she said, it was through reading documents that were "so top secret" they were delivered to her in locked briefcases that she had to read them and return them immediately to the courier.
After a week in which Vice President Joe Biden, before definitively taking himself out of the Democratic presidential race, indirectly criticized her for calling Republicans "enemies," Clinton seemed to go out of her way to be friendly to her interrogators, including Martha Roby, a 39-year-old Republican from Alabama, who appeared nervous as she asked a question. "I get what you're saying, Congresswoman," Clinton said as she launched into an explanation of plans for diplomatic facilities in Libya.
Toward the end, in a rare moment of laughter, Roby asked Clinton if she was "alone the whole night" of Sept. 11, 2012, when the attacks took place. The room burst into laughter. Roby, unamused, said it wasn't funny. Clinton answered that she was alone all night.
Focus on Blumenthal
Gowdy focused on undercutting Clinton's claims of competence and judgment with two words: Sidney Blumenthal, a longtime Clinton confidant and embarrassing pen pal who—according to testimony that committee Democrats released this week—had been banned by the White House from getting a State Department job.
Gowdy made Blumenthal the focus of his questioning, reading uncovered e-mails from him to her that included petty attacks on members of the Obama administration, such as calling former Defense Secretary Robert Gates "a mean, vicious little" vulgarism that Gowdy said he would not repeat, as well as questioning President Barack Obama's commitment to Libya and describing his national security adviser, Tom Donilon, as "babbling." Clinton tried to deflect attention from Blumenthal's e-mails. "I don't know what this line of questioning does to help us get to the bottom of the deaths of four Americans," she said..
Though it's unclear whether the focus on Blumenthal would echo with the average Americans, the decision likely won Gowdy some political points on the right given that Blumenthal has been a frequent topic of ire on conservative talk-radio and blogs.
Adding to Clinton's presidential aura: The hearing opened with all the pomp and circumstance and faux politeness of a mini-State of the Union address as Clinton entered the room, waving to a packed audience that included included members of Congress (Republican Louie Gohmert and Democratic civil-rights hero John Lewis), political pundits (Frank Luntz and Maureen Dowd), and former members of Congress (Tom Davis). Before taking her seat at the witness table, Clinton approached the dais with a wide smile and pressed the flesh with all of her inquisitors.
The most contentious moment came at the end of the first round of questioning when 17 months of tensions between Gowdy and Cummings, the panel's top ranking Democrat, exploded. Cummings angrily demanded that Gowdy release the full transcript of the committee's interviews with Blumenthal. It ended with Gowdy resisting and saying that if Democrats want to focus more on Blumenthal he'd be happy to, before adjourning for a break.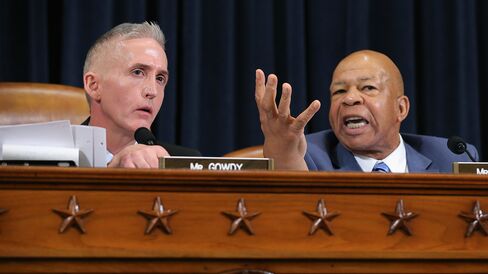 Rubio Tweets
It wasn't the only moment that will fuel critics who consider the investigation a partisan exercise. Representative Susan Brooks, an Indiana Republican, admitted that "most of us really don't know much about Libya" or its geography, despite investigating the attack there for nearly a year and a half. On Twitter, Republican Senator Marco Rubio tweeted from his presidential campaign account petition enlisting supporters to "stand with Trey Gowdy as he uncovers the truth about Hillary Clinton's actions as Secretary of State."
Clinton seemed determined to avoid another perilous blow-up like the one in 2013 when, goaded by a Republican, she raised her voice and stammered, "What difference, at this point, does it make?" when referring to the reason behind the Benghazi attack. She remained calm, even during a testy exchange with Representative Peter Roskam, who interrupted himself several times to note that Clinton was being passed notes from her staff.
In one notable exchange, the former secretary of state sat expressionless, one hand on her cheek, her eyes betraying a patient boredom, as conservative Representative Jim Jordan of Ohio ripped into her in an extended soliloquy with the insinuation that she lied about the nature of the attacks to cover up a lack of effort to provide the necessary security to save the four Americans who died in Benghazi.
"I'm sorry that it doesn't fit your narrative, Congressman," Clinton said. "I can only tell you what the facts were."
Gowdy worked on several occasions to counter the perception of the select committee as a partisan hit-job on Clinton's presidential hopes, a claim Republican leaders have rejected from the start but which recently gained traction after House Majority Leader Kevin McCarthy touted the panel's success at driving down Clinton's poll numbers.
"You are an important witness," Gowdy told her in his opening statement, "but you are just one important witness, among half a hundred important witnesses." Later, when a Democrat accused him of making conclusion at the outset, he protested, "I've reached no conclusions."
(Contributing: Billy House)
Before it's here, it's on the Bloomberg Terminal.
LEARN MORE