New Hampshire Republicans Don't Want a Hardliner as House Speaker: Bloomberg Politics/Saint Anselm Poll
Likely Republican primary voters in the Granite State say they prefer pragmatism to principle.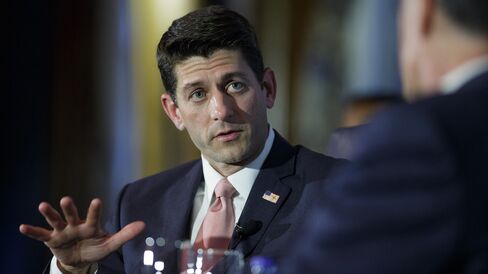 With House Republicans continuing their drawn-out debate over who should succeed outgoing Speaker John Boehner, likely New Hampshire Republican primary voters by a two-to-one ratio say they want a successor who's willing to compromise.
Sixty-six percent of likely GOP primary voters in a new Bloomberg Politics/Saint Anselm New Hampshire Poll say the next speaker must be able to "negotiate" with the president, Democrats, and other Republicans to keep the country fiscally solvent and on the right track because shutting down the government "isn't good for the Republican Party or for the country." Just 30 percent say the next speaker should be "a true conservative who will stand on principle" on matters such as Planned Parenthood funding1 and the debt limit "even if it means shutting the government down or putting it into default."
Read the questions and methodology here.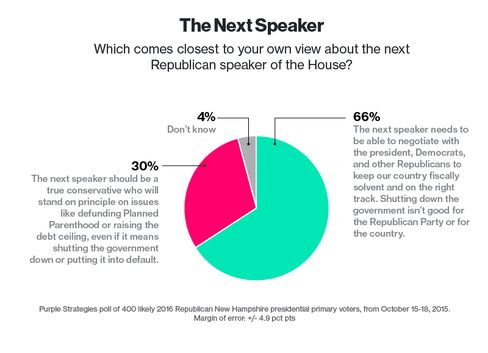 Boehner, who announced his retirement last month, was undone by hardliners in his tent who didn't think he fought enough for their principles. House Majority Leader Kevin McCarthy abruptly dropped out of the running in the face of opposition from the same faction. Representative Paul Ryan, the party's 2012 vice presidential nominee, has been resisting efforts to recruit him for the position in part because he doesn't want to accede to those same forces.
New Hampshire, where the first primary of the 2016 presidential election will be held in February, is a swing state whose Republican voters may reflect its centrist political tradition.
An NBC News/Wall Street Journal survey released Monday found that Republican voters nationally are less interested in compromise. By a margin of 56 percent to 40 percent, they say they prefer a speaker who will stand up for conservative principles as opposed to seek compromise, even if it means less productivity in Congress.
Almost two-thirds of Republicans in the NBC/WSJ poll said they'd be "comfortable and positive" about Ryan being speaker. He's seen as someone who has married the ideological conservatism of the hardliners with the political pragmatism of the establishment wing.
QuickTake Speaker of the House
It's unclear when House Republicans will vote on Boehner's replacement. He has indicated he'll stay on until a successor is in place.
The Bloomberg/Saint Anselm New Hampshire Poll, conducted by Purple Strategies, surveyed 400 likely Republican primary voters from Oct. 15-18. The poll's margin of error was +/- 4.9 percentage points.
Before it's here, it's on the Bloomberg Terminal.
LEARN MORE