John Boehner Says Paul Ryan Would Be 'Great' Successor as House Speaker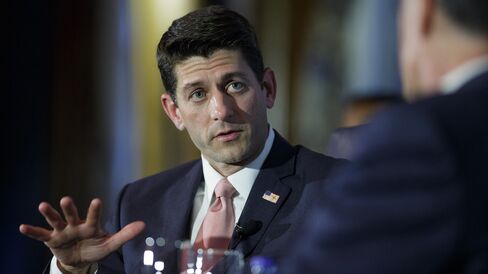 Ryan meets with members of conservative Freedom Caucus

All House Republicans meet late Tuesday to discuss way forward
Outgoing U.S. House Speaker John Boehner said Representative Paul Ryan would be a "great speaker" and that he expects the Wisconsin lawmaker to disclose later Tuesday whether he will seek the job.
"He's got the skills to do the job," Boehner said in an interview on Fox News. "He also has the credentials to reach out to traditional conservative organizations to help bridge the gap that we have in the House today."
Boehner said he'll announce in a day or two when Republicans will choose their nominee for speaker. The full House, including Democrats, would take a final vote later.
Ryan spokesman Brendan Buck said in an earlier e-mailed statement that he didn't expect Ryan to announce on Tuesday whether he will run. All House Republicans are holding a closed-door meeting to discuss their plans for the coming weeks, including a vote to raise the U.S. debt limit.
House Republicans have been in chaos over the speaker's position -- second in line to the presidency -- as Congress nears the Nov. 3 deadline to raise the debt limit or risk default.
Tuesday Meetings
Ryan, the chairman of the House Ways and Means Committee, initially said he didn't want the job but has been urged by many fellow Republicans to reconsider after House Majority Leader Kevin McCarthy's stunning withdrawal from the race to succeed Boehner.
Ryan met Tuesday with leading members of the House Freedom Caucus, a group of almost 40 hard-liners whose opposition to Boehner drove him to announce that he would give up the speakership and leave Congress.
Freedom Caucus leader Justin Amash of Michigan said afterward that the group still supports its candidate for speaker, Representative Daniel Webster of Florida.
Amash said meeting was an "informal discussion" with Ryan and that no specific demands were made in return for the caucus's support. Ryan seemed "amenable" to some of the changes in House procedures being sought by the caucus, "much more so than the current speaker," he said. Even so, Amash said, "We still support Daniel Webster."
Inclusive Process
Mark Meadows of North Carolina, another Freedom Caucus member, said the group's members are seeking "an inclusive process that really allows every member to have the same influence over the legislative processes as anybody else."
Asked whether the caucus would consider backing a Ryan candidacy, Meadows said, "It really depends on his proposal to the conference and how he can bring unity."
"If he makes a compelling case -- certainly you can get behind somebody with a compelling case," said Meadows.
Also attending the 35-minute meeting were Freedom Caucus leader Jim Jordan of Ohio and caucus members Mick Mulvaney of South Carolina and Raul Labrador of Idaho, according to Ryan aide Doug Andres.
McCarthy Exit
The Freedom Caucus played a big role in McCarthy's decision to drop out of consideration for speaker. Freedom Caucus members chose Webster as their candidate on Oct. 7. McCarthy quit the race the following day, saying Republicans needed to find a candidate who could unite the party.
Boehner of Ohio announced Sept. 25 that he would leave Congress by the end of October, following years of clashes with conservatives who most recently threatened to shut down the government in an effort to defund Planned Parenthood. After McCarthy dropped out of the race, Boehner said he would stay on until a new speaker is chosen.
Before it's here, it's on the Bloomberg Terminal.
LEARN MORE