Decision Time
Not So Fast But Getting Closer: Biden Announcement Likely This Week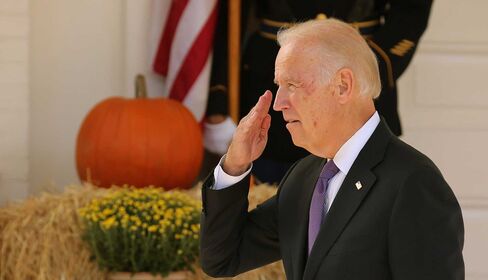 Vice President Joe Biden is still weighing a decision on running for president, and isn't expected to make an announcement until the end of the week, people close to him said.
That timing would put the decision just before a major Democratic political dinner next weekend in Iowa, where organizers said the vice president can be accommodated at the last minute should he jump into the race.
As of Monday morning, Biden had not decided whether to run, said one person familiar with his plans, who spoke on condition of anonymity to tamp down expectations amid reports his announcement is imminent. Another person familiar with the vice president's planning, who also spoke on condition of anonymity, said that if Biden decides in the next couple of days he is likely to share it first privately, with family, close friends, and a small circle of staff and supporters.
A potential factor in Biden's decision on timing: Thursday is the day Democratic presidential front-runner Hillary Clinton is set to testify before a congressional committee investigating the 2012 attacks in Benghazi, Libya, and Clinton's use of private e-mail while she was secretary of state.
Speculation mounted on Monday that Biden will get into the race, following his stepped-up contacts with union officials and other prospective backers in recent days. It intensified with a Twitter message Monday morning from Representative Brendan Boyle, a Democrat from Pennsylvania, the state where Biden was born, saying "I have a very good source close to Joe that tells me VP Biden will run for Prez." Boyle has strong ties to labor groups, a key Biden constituency.
https://twitter.com/RepBrendanBoyle/status/656124056572444672
Biden loyalists expect more clarity by the weekend. Clinton, Vermont Senator Bernie Sanders, and the other Democratic candidates are scheduled to speak at the Iowa Democratic Party's Jefferson-Jackson dinner set for Oct. 24, which attracts thousands of Democratic activists in the first-caucus state.
As speculation about Biden's intentions surged on Monday, Clinton's campaign announced they were pulling out a big gun: Former President Bill Clinton, still hugely popular among Democrats, will speak at his wife's pre-dinner rally. It's the former president's first trip to Iowa for the 2016 campaign and the first time he'll be speaking at one of her events.
Biden's staff has neither signaled nor ruled out an appearance at the dinner in Des Moines. Sam Lau, a spokesman for the Iowa Democratic Party, said Biden has always been invited to attend and that "that invitation is obviously still open. We would be able to accommodate him if he decided to enter the race and decided to attend."
The first deadlines for getting on states' primary ballots start in early November. Biden, 72, who unsuccessfully sought the Democratic nomination in 1988 and 2008, planned to decide in September whether to run again. He postponed that decision saying that he and his family needed more time to decide whether he could make the emotional commitment so soon after the death of his son Beau of brain cancer in May.
Amid all the rumors, Biden is maintaining his normal public White House duties. Monday night, he's hosting military service members at his official residence. On Tuesday, he will twice deliver public remarks during a daylong tribute event in Washington for former Vice President Walter Mondale, participating in a moderated discussion with the former vice president about the Mondale legacy and delivering a dinner speech.
John McCormick in Chicago contributed to this report.
Before it's here, it's on the Bloomberg Terminal.
LEARN MORE