Supreme Court Justice Hears Case Unaware of Stock Conflict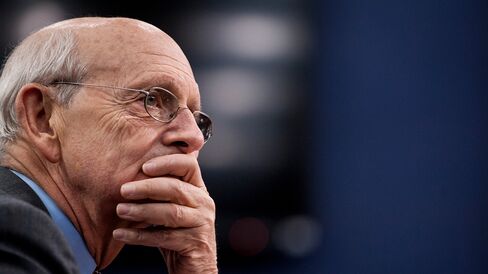 Breyer's wife sells company stock after reporter inquires

Alito's Johnson Controls stake may decide fate of energy rule
A seat was empty Wednesday when the U.S. Supreme Court heard arguments in a case with important ramifications for the power industry. Justice Samuel Alito didn't take part, apparently because he or his wife owns stock in Johnson Controls Inc., whose EnergyConnect subsidiary is a party in the case.
Six chairs over, Justice Stephen Breyer was hearing the case unaware that he had the same issue because his wife also owned Johnson Controls. She sold her 750 shares for about $33,000 the following day, only after a Bloomberg reporter inquired.
The case is the latest example of a recurring phenomenon: a Supreme Court fight proceeding under a cloud because of judicial stock holdings. Recusals and last-minute stock sales are fueling calls for the justices to shift into investments less likely to pose a conflict of interest, while underscoring the complications that can arise in a system that gives the justices broad discretion to decide when to step aside.
In Wednesday's case, Breyer's office did a regular check for potential conflicts that failed to turn up the connection between the case and the stock, a top court official said in a letter released Thursday night. Breyer plans to remain on the case following the sale, the official said. Alito's absence, meanwhile, could swing the outcome, raising the prospect of a 4-4 split. That would leave intact a lower court ruling invalidating an administrative order aimed at cutting electricity use.
"We don't begrudge the justices for wanting to invest," said Gabe Roth, executive director of Fix the Court, which seeks more accountability and transparency from the justices. "It's just when you look at their holdings, a lot of the stocks they own are in the blue-chip companies that often have cases before the justices. And nobody wants a tie."
Breyer, Alito and Chief Justice John Roberts -- or a close family member -- each owned shares in at least a dozen companies as of Dec. 31, 2014, according to their most recent financial disclosure reports. Roberts's family held Microsoft Corp. and Nokia Oyj; Breyer disclosed stakes in Pearson Plc and International Business Machines Corp.; and Alito listed Exxon Mobil Corp. and Target Corp. Each justice declined to comment for this story.
Those holdings have proven troublesome over the years. In 2008, Roberts recused himself from a case involving Pfizer Inc., leaving the court in a 4-4 deadlock that let product-liability suits against the drugmaker go forward.
That same year, Alito was absent when the court ruled on the punitive damage award against Exxon over the Valdez oil spill. Although Exxon won a $2 billion reduction in the award, the court split 4-4 on a separate line of argument that might have meant a new trial.
In 2008, the three justices' stock holdings, along with a family conflict affecting Justice Anthony Kennedy, left the court unable to muster a quorum to review an appeal by companies accused of helping South Africa's former apartheid regime repress blacks.
Breyer's misstep in the energy case isn't the first time a justice has overlooked a potential conflict. In 2009, Alito took part in a case involving Walt Disney Co.'s ABC Inc., even though his children held Disney stock. Alito, who voted against ABC in the case, later said in an interview that a staff oversight was to blame.
No Explanation


The justices typically don't give reasons when they step aside, so tying a recusal to a stock holding usually requires comparing a disclosure report to the list of parties in a case. The annual disclosure form lists investments held by the justices, their spouses and any dependent children.
By law, the justices can't participate in a case when they own stock in a company that is a party. They don't step aside as a matter of course when a company files a friend-of-the-court brief in a case involving other entities.
To varying degrees, the stock-holding justices have taken steps to alleviate the problem. In 2008, Breyer and his wife began selling some of their stocks so the justice could take part in more cases. They retained stock in 17 companies as of last year, down from about three dozen. Much of Breyer's wealth comes from his wife, Joanna, the daughter of an English lord.
Roberts has also sold stocks, twice enabling himself to take part in a case that otherwise would have involved only seven justices. Alito has shed individual stocks as well, including some that he or his wife inherited after the death of a parent. The other six justices have few if any individual stock holdings.
Still, conflicts remain. Breyer's stake in Cisco Systems Inc. kept him out of a patent case the court decided in May.
And Roberts, Breyer and Alito all disqualified themselves at least once when the court opened its new term Oct. 5 by rejecting appeals in more than 1,000 cases. The impact of those recusals isn't clear because the court typically doesn't disclose the vote on rejected appeals. The court accepts a new case only if four justices vote to consider it.
Minimizing Recusals
Some experts in judicial ethics say that, while justices should try to minimize recusals, they shouldn't have to totally abstain from holding stocks. That's in part because of the tax implications of a forced sale.
"This in-between view has not been disruptive, so I see no reason for change," said Stephen Gillers, a professor at New York University School of Law who has advised Breyer on ethics questions.
Others disagree, citing this week's energy case as a prime example. Power generators are challenging a Federal Energy Regulatory Commission order that would give financial incentives to large electricity consumers to reduce use during peak hours.
Johnson Controls' EnergyConnect unit, which helps those customers cut usage, would benefit from the rule and is helping to make the case in its favor.
A federal appeals court ruled on a 2-1 vote that FERC was overstepping its authority. Should the Supreme Court divide 4-4 -- something Wednesday's argument suggested was at least a possibility -- the appeals court ruling stands to become the final word.
"You could have a result where the agency can't put out a rule because the court of appeals said they couldn't promulgate the rule, and four justices of the Supreme Court said they can't," said Richard Painter, a University of Minnesota law professor who served as President George W. Bush's chief ethics lawyer and advised on the nominations of Roberts and Alito.
"That has major implications for the public interest," Painter said. "We really would be much better off if Justice Alito were in the case."
As for Breyer, Supreme Court Clerk Scott Harris said in the letter that "the ordinary conflict-check conducted in Justice Breyer's chambers inadvertently failed to find this potential conflict."
Johnson Controls itself isn't a party to the case. Its ownership of EnergyConnect was noted in one of the two petitions the court accepted for review in January.
Supreme Court spokeswoman Kathy Arberg said Breyer learned of the possible conflict when a Bloomberg reporter asked about the stock ownership Thursday.
Harris's letter pointed to the code of conduct that federal judges follow, citing a provision that lets jurists take part in a case after they have divested their financial interest.
Harris wrote that Breyer "has devoted substantial judicial time to this case" and "has no reason to believe that the financial interest could be substantially affected by the outcome of this case."
Before it's here, it's on the Bloomberg Terminal.
LEARN MORE