Digital First
How Bernie Sanders Raised $1.3 Million in Four Hours
The Vermont senator's outsider campaign is powered by grassroots support—and near-instantaneous mobile donations.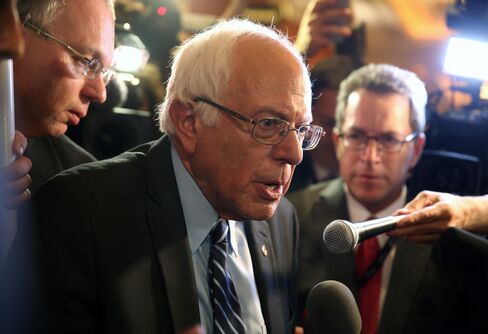 Bernie Sanders may rail against Wall Street, but like the savviest trader, his presidential campaign has a talent for making millions off a moment.
The Vermont senator, who is seeking the Democratic presidential nomination, pulled in $1.3 million—much of it coming in from cell phone donations—in the four hours after sending an e-mail fundraising plea during Tuesday night's debate.
"We spiked [at] over 75 percent of our contributions coming in via mobile," said Nate Thames, executive director of technical services for ActBlue, a political action committee that powers Sanders's digital fundraising efforts and has worked with Hillary Clinton and former Maryland Governor Martin O'Malley. Usually, about 30 percent of people giving on ActBlue donate using a mobile device. Many those giving through ActBlue on Tuesday, Thames said, donated under $10.
ActBlue was taking donations from about 800 people per hour on Tuesday evening, a fairly standard pace. At one point, though, after Sanders told the media to focus on issues and knock off its fascination with Clinton's e-mail usage as secretary of state, his campaign blasted out a fundraising appeal quoting the exchange.
"We went from that level to over 10,000 contributions an hour in the space of just a few minutes," Thames said.
The organization said it wouldn't speak about specific campaigns and that the 10,000 contributions reflected their overall fundraising efforts Tuesday evening.
Still, Sanders was raising nearly $5,500 a minute and continued getting donations after the initial four-hour spike: He has brought in $1.9 million since the debate, according to CNN.
Sanders's campaign raised $26 million in the quarter that ended Sept. 30, only $2 million shy of what Clinton brought in. The exact composition of his donor base won't become clear until the Federal Election Committee begins releasing third-quarter filings on Thursday, but his haul in the previous quarter came from a grassroots network that relied on small-dollar donors giving online.
In the long run, that model could prove cheaper than traditional fundraising with big bundlers that candidates like Jeb Bush have favored.
When a campaign reaches out to people on their mobile phones, it can catch them wherever they are, sweeping them up in a moment of excitement, said Erin Hill, ActBlue's executive director.
"They're fired up during the debate and they want to give," she said. At that point, giving $2 or $3 is a way of staying engaged in a campaign rather than some financial commitment requiring "perseverance," according to Hill.
To get to people whose blood is still pumping fast, the 10-year-old organization keeps a database of nearly 1.7 million people who have given to Democratic causes and candidates, a number that grew 100,000 in September during the push to close the quarter strong. The result is would-be donors are slowed only as much as is necessary to choose an amount and press a button.
"They were all watching the debate with their phones, but they probably weren't watching the debate with the credit cards," Hill said.
Before it's here, it's on the Bloomberg Terminal.
LEARN MORE