Chris Christie's Dead Tunnel Gives Way to One Costing Billions More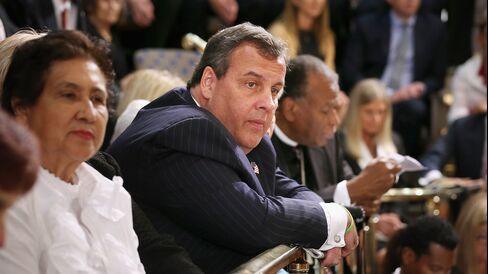 Amtrak's $20 billion link to Manhattan has 2030 finish date

Seattle's borer breakdown shows risks of drilling in muck
Digging a train tunnel is one trick. Try navigating bedrock and muddy funk, tremendous water pressure and a 19th-century bulkhead that keeps the Hudson River more or less out of Manhattan. Mind the pollutants and politics.
That's the challenge ahead for the Gateway, a new underground crossing that still needs funding, may cost at least $20 billion and will finish in 2030 at the earliest. New Jersey Governor Chris Christie is backing the project -- five years after canceling a $12.4 billion replacement of a crumbling rail link to New York City that would have opened in 2017 -- as he runs for president and feels the wrath of commuters frustrated by delays and rising fares.
Gateway coming in on time and on budget would be near-miraculous. On Manhattan's East Side, a similar Long Island Rail Road project is 13 years behind schedule, vexed by sinkholes, bad weather and inter-agency squabbling, while costs are more than double the original $4.3 billion estimate. In Seattle, attorneys are assessing overruns while a tunnel-boring machine called Bertha, brought to a halt in December 2013 by a snoot full of grit, remains disabled under the city.
"Numbers are being tossed around, but nobody's saying how those numbers related to which project," Sandy Hornick, former deputy executive director of strategic planning for New York City, said of Gateway. "If we spend $20 billion, do we get everything? Some of those things?"
Gateway is more complex than the project Christie killed: It's a tunnel, plus upgrades to Pennsylvania Station and, on the New Jersey side, expanded track capacity and replacement of a 105-year-old bridge in the swampy Meadowlands region.
Christie's cancellation of Access to the Region's Core, the biggest U.S. infrastructure project at the time, freed $3 billion that the Republican redirected to state transportation needs, easing pressure to raise gasoline taxes. The decision -- criticized by the late U.S. Senator Frank Lautenberg, a Democrat, as "one of the biggest public-policy blunders in New Jersey history" -- snuffed the potential for 44,000 jobs and $375 million in annual property-tax revenue, according to congressional investigators.
Commuter Headaches
Today, Christie, 53, has key Gateway project allies in two Democrats, President Barack Obama, whose administration says it's the most urgent federal infrastructure need, and New York Governor Andrew Cuomo, who has pledged to help shoulder costs. Financing isn't yet in place.
Nicole Sizemore, a Christie spokeswoman, said it's premature to comment on the potential for overruns.
"The design for this project has not even been completed yet, making it entirely unproductive for this office to begin examining planning or design issues that are purely hypothetical given where we are in the process," she said in an e-mail.
The two existing tunnels, the only rail link to Manhattan for Amtrak and New Jersey Transit, are at capacity while peak commuter demand is expected to grow 20 percent from 2010 to 2020. Ferries are expensive and difficult to reach for inland residents, and buses feed into a Manhattan depot that's been overcrowded since 1966.
Tunneling emerged as the best of 137 trans-Hudson alternatives proposed in 1995 in a major investment study. More than a century after trains first zipped between New Jersey and Manhattan, and long after custom-made boring machines replaced work crews called sand hogs, the task is fraught with risk, said Nasri Munfah, a New York-based professional engineer and chairman of tunnel services for HNTB Corp.
The ground is a mix of solid rock and soft silt, and though test boring and ground radar are guides, conditions change with drilling, he said. Water pressure will be a constant torment, and engineers must maintain integrity of the granite wall separating the Hudson from Manhattan.
"This is one of the probably most iconic projects in the world," Munfah said in an interview. "The entire industry will be monitoring and interested to see the project in terms of technology."
Meanwhile, corrosives deposited in 2012 by Hurricane Sandy floodwaters are cracking the existing tunnels' interior, and a power failure in July may be a sign that decay is compromising hard-to-reach electrical cables. The tubes have less than 20 years of service left, Joseph Boardman, chief executive officer of Amtrak, said last year. That's cutting it close with Gateway, which isn't expected to open for at least 15 years.
In a Sept. 15 letter to Obama, Christie and Cuomo said they want the federal government to pay half of the estimated $20 billion cost, and that the Port Authority of New York and New Jersey, under their direction, "is prepared to take the lead in this effort." The states and the Port Authority would finance the other 50 percent.
Craig Schulz, a spokesman for Amtrak, said the railroad can't declare a detailed estimate without a "sufficiently developed cost structure."
"Much will depend on the findings determined through the environmental review and design process and, just as importantly, the year the work is accomplished," Schulz said in an e-mail. "Inflation and the year of construction become a very large influence on costs when considering a program as large as Gateway."
Last month, an extension of the No. 7 subway line in Manhattan opened at 34th Street. That project came in 21 months late and $300 million over its $2.1 billion budget -- "not bad for these kinds of things," said Hornick, the former New York City official.
In Seattle, the borer named Bertha, for the city's first and only female mayor, stalled after drilling about 1,000 feet of the 2-mile-long tunnel that had been scheduled to open this December. Former Mayor Mike McGinn, a tunnel critic, said he doubts the project will ever finish.
A highway viaduct, the structure that all the digging was meant to replace, remains vulnerable to a repeat of a 2001 earthquake, and construction costs are certain to escalate, McGinn said in an interview.
"The price tag was always how much they thought they could raise," McGinn said. "Not what they thought it could cost."
Christie, Cuomo Ask U.S. to Pay Half of $20 Billion Tunnel (2)
Christie's Political Ambitions Confront Need for U.S. Tunnel Aid
Stuck in Seattle: The Aggravating Adventures of a Gigantic Tunnel Drill