Political Shots
Bernie Sanders Adviser: Hillary Clinton Attacks on Gun Record 'Unfair'
An idealist on economic issues, the Vermont senator sounds a pragmatic note when it comes to guns.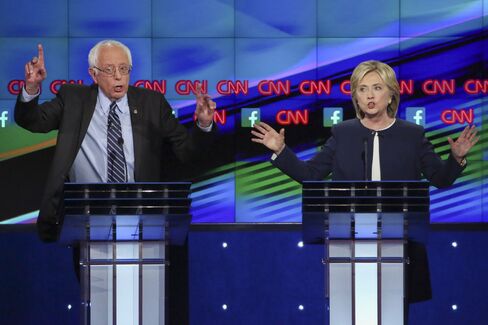 It's not often that a candidate's top adviser brags about getting a D-minus rating from a major national organization, but guns can do funny things to Democrats.
In the aftermath of the first Democratic presidential debate of the 2016 race, Tad Devine, a senior adviser to Bernie Sanders's campaign, was touting the Vermont senator's near-failing grade from the National Rifle Association to argue Hillary Clinton's attack on Sanders's gun record was unfair.
"I think the characterization—to say Bernie Sanders has a lousy record on this issue, yes, I think it's unfair," Devine told Bloomberg after the debate at the Wynn Las Vegas. "I understand that people are critical of some of his votes. But the truth is this is a guy who's always supported an assault weapons ban. ... He's always supported closing the gun show loophole. He's always supported commonsense measures like limiting the size of cartridges. That's why he's got a lifetime D-minus rating from the NRA."
Devine's remarks came after Sanders, who has ben the darling of the party's left wing, found himself on the defensive on the subject of guns on Tuesday night.
When asked if Sanders was tough enough on guns, Clinton responded swiftly, "No, not at all." She proceeded to catalogue his heresies: five votes against the Brady bill requiring background checks for gun buyers, and a vote in favor of a 2005 bill to immunize gun makers and dealers if their firearms are used criminally (a measure that the former U.S. senator from New York was happy to point out that she voted against).
"We have to look at the fact that we lose 90 people a day from gun violence. This has gone on too long and it's time the entire country stood up against the NRA," she said, referring to the National Rifle Association. The crowd applauded. It echoed her recent call to "build a movement" to take on the gun lobby.
On gun control it's Clinton, the establishment-minded candidate traditionally mired in realpolitik, who is calling for an uprising to take on entrenched interests and upend the status quo. Sanders, the insurgent candidate calling for a revolution to turn politics on its head, was now speaking of bipartisanship and moderation.
"As a senator from a rural state," Sanders responded Tuesday, "what I can tell Secretary Clinton, that all the shouting in the world is not going to do what I would hope all of us want, and that is keep guns out of the hands of people who should not have those guns and end this horrible violence that we are seeing."
Guns are a rare issue where Sanders is out of step with the progressive base, and the topic has been elevated in the national dialogue as mass shootings become something close to a daily affair. But the greater irony is that his stance and rhetoric on gun laws departs from the message that has powered the democratic-socialist's impressive campaign: that politics as usual won't work and that Americans need a "political revolution" to fundamentally change the way government functions.
Martin O'Malley, who enacted gun control measures as governor of Maryland, chimed in to needle Sanders with a harrowing story about a couple who lost their daughter in the Aurora, Colorado, shooting, and had their lawsuit against an allegedly negligent seller of ammunition thrown out of court while they were stuck with legal fees. "You want to talk about a rigged game, senator?" he said. "The game was rigged."
Sanders acknowledged "weaknesses in the law" and said he's willing to "take another look at it."
It's a modest backtracking—his campaign wouldn't say if he regrets his vote or wants to scrap the law protecting gun makers—that began within one week of Clinton calling for repeal of the immunity law. But an appearance of changing positions out of political expediency could imperil Sanders's core strengths: conviction and consistency. Unlike Clinton, he was raising hackles about inequality and inadequate financial regulation long before they became vogue in the Democratic Party.
Similarly, many Democrats have avoided the gun issue for years because the politics were not on their side: The Senate in 2013 failed to pass a modest bill to close the private seller background check loophole that was backed by Sanders and about 90 percent of Americans but opposed by the NRA; gun control hasn't been attempted since.When Sanders told O'Malley that Congress won't "simply go forward and pass something tomorrow" on guns without a national consensus, he was correct.
But the same could be said of Sanders's aspirational proposals to break up the biggest banks, enact single-payer health care, and make college tuition-free.
Before it's here, it's on the Bloomberg Terminal.
LEARN MORE