Previews
What to Watch For in the First Democratic Debate
It may be the candidates' best chance to make their case to voters before the Iowa caucuses.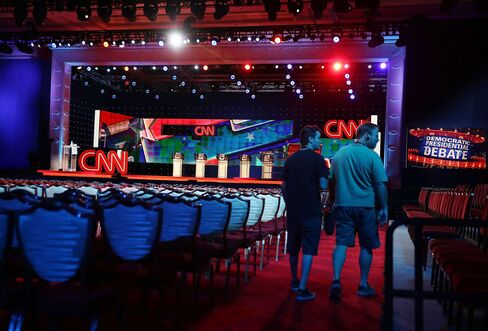 The first Democratic presidential debate Tuesday in Las Vegas is the only one of six scheduled that won't take place on a weekend or occur after both Iowa and New Hampshire have finished voting next year.
It may be the candidates' best chance to make their case to voters.
Former Secretary of State Hillary Clinton leads the field by nearly 20 points in an average of recent polls, remaining the strong favorite for the nomination. Senator Bernie Sanders is in second, having generated extraordinary enthusiasm with his avowed democratic-socialist platform and calls for a political revolution. The prospect of a Joe Biden candidacy looms over the field as the vice president remains coy about his intentions.
Here are five things to watch for in the debate.
How will Clinton handle Sanders?
It's a challenge. Going negative is a bad look for her given Sanders's strong appeal to the left. An appearance of punching downward also risks strengthening him. Her task will be to draw contrasts without alienating his supporters, whom she'll need in a general election. One way she has been doing this is by portraying her policy ideas as pragmatic and her budgetary proposals paid for (unlike somebody else, wink wink).
Issues like income inequality, cracking down on Wall Street, and resisting free trade are friendlier terrain for Sanders, who has been stressing them for years. But she can stand out by touting gun control, where Sanders' progressive credentials are weak, and her proposals for equal pay for women and family leave.
When she attacks, expect Clinton to focus most of her fire on Republicans.
Can Sanders broaden his appeal?
For all the enthusiasm Sanders has generated, his appeal is narrow even within the Democratic Party. A recent Quinnipiac survey finds that he leads Clinton among "very liberal" voters but trails her among self-described somewhat liberal, moderate, or conservative Democrats.
Look for Sanders to try and expand his appeal by painting himself as a more authentic candidate. Recently he noted that he has long held positions that Clinton has come around to recently, like rejecting the Keystone XL pipeline and the Trans-Pacific Partnership trade deal.
Sanders is also trailing Clinton by huge margins among black and Hispanic voters, a large portion of the Democratic base. He's strong in small, overwhelmingly white states like his own—he leads in New Hampshire, he's gaining in Iowa. But he's weak in larger states with significant minority populations—a new CNN poll finds Clinton crushing him 70 to 20 percent in South Carolina and 58 to 36 percent in Nevada (her lead narrows if Biden jumps in). That's a major vulnerability.
If his recent rhetoric is any indication, Sanders will attempt to make inroads by touting his promises to reform the criminal justice system, overhaul the immigration system, and fight to end institutional racism.
Is this Martin O'Malley's last chance?
The former Maryland governor seems to be doing everything right—from making frequent campaign stops in early primary states to rolling out policy ideas praised by progressives—but can't seem to rise above 1 or 2 percent in the polls. He has been raising hackles about the limited number of debates, accusing the Democratic National Committee of attempting to "circle the wagons" around Clinton.
This is his chance to shine.
O'Malley can be an energetic or a dull speaker, depending on the day and the issue. Expect him to tout the one thing he has that Clinton and Sanders don't: executive experience as governor enacting liberal priorities like same-sex marriage, gun control, and in-state tuition for undocumented immigrants.
If taking his case directly to a national audience doesn't give O'Malley a boost with less than four months until the first ballots are cast, it's not clear anything will.
Will Jim Webb and Lincoln Chafee wreak havoc?
Many Democratic voters will learn for the first time on Tuesday that Chafee and Webb are also running for president.
Both are soft-spoken men running bare-bones campaigns; they come into Tuesday's debate with zero expectations and nothing to lose. So, what will they do?
Chafee, who served as a U.S. senator and governor of Rhode Island, has emphasized his 2002 vote against authorizing the invasion of Iraq—as a Republican senator—as one rationale for his bid. Will he go after Clinton on her vote to permit the costly war that Americans broadly say wasn't worth it? It helped torpedo her 2008 bid and she apologized for the vote in her 2014 book "Hard Choices."
Webb, a former Secretary of the Navy under Ronald Reagan who quit the U.S. Senate in 2013 after one term amid his dislike for politics, has criticized the modern Democratic Party for not paying enough attention to white working class voters. It could make for an interesting conversation if he revives that criticism on a presidential debate stage.
A post-Obama policy consensus?

Income inequality. Wall Street reform. College affordability. Social Security. The Black Lives Matter movement. Immigration reform. Gun control. Wars abroad. These have been the predominant issues in the Democratic primary season.
Expect the first debate to provide important clues about the future policy direction of the Democratic Party as the clock ticks on President Barack Obama's administration.
Before it's here, it's on the Bloomberg Terminal.
LEARN MORE