Interior Monologues
What Is Hillary Thinking?
The state of mind in HillaryLand, stream-of-consciousness style, based on interviews with those closest to her.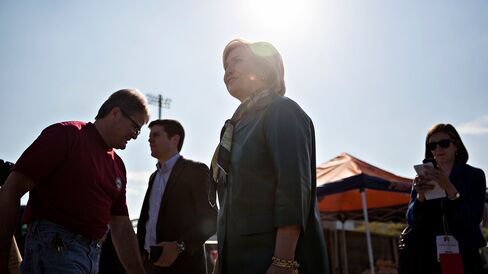 After all the trips to Iowa and New Hampshire, the endless stream of fundraisers, the talk show appearances and speeches, the scandals (real and synthetic), the constant attacks from left and right, the antagonistic media, and the polls suggesting untrustworthiness, finally, the debate on Tuesday night is an inflection point for Hillary Clinton's campaign. It sometimes seems as if she's been interred in bad news the entire year—except for the fact that she remains the most likely next president of the United States, leading substantially in national and state Democratic polling (everywhere, that is, except Iowa and New Hampshire). Tuesday's debate could solidify her front-runner status—or it could provide new ammunition for those who say the wheels are coming off of her campaign.
The following internal monologue is an invention—but one informed by numerous interviews with Clinton's close advisers and confidants in the past several weeks, who provided a window into the concerns and ambitions of Clinton and her husband as she prepares for the most important moment of the campaign so far. What is she thinking? In all likelihood, it is something like this:
One mistake.
If I make ONE mistake in the debate, that's all the media will focus on. I'm used to pressure and I'm used to tough scrutiny, but this is absurd. I get that I'm always treated differently than EVERYONE else, but still….
In 2008, I dominated every debate but one. And that wasn't like dominating against the kids' table. Obama, Biden, Edwards, Dodd, Richardson. Serious candidates. And I stepped up and won them all. Except for that debate in Philadelphia, where I flubbed a question about driver's licenses for illegal immigrants, and the press never let anybody forget it. That was also an October debate.
The same thing could happen in Vegas. I know full well my margin of error is zero. That's why I have been prepping even more than usual. But all that work won't matter if I get thrown by a single question and give an answer the media decides is a gaffe. Or if I cross some imaginary line trying to contrast myself with Bernie on policy, the press will cast me as a negative and desperate combination of Lee Atwater and Alex Forrest.
Still, I can't complain right now, at least not much. Given Kevin McCarthy's blunder of a lifetime on the Benghazi committee (ha ha!), the disarray in the Republican House leadership, and the Trump-Carson-Fiorina circus, I feel closer to being back in the White House than I have in a long time. McCarthy did more for me in that one 10-second sound bite than Carville and Begala have done in 25 years of having my back.
Republicans might see Paul Ryan as a savior. Right. MY savior. On the one hand, the nuts in the House probably won't let him become speaker. On the other hand, if he sucks it up and accepts the job, his past budgets will give me even more to run against.
There's not a Republican in this race I can't beat in November. Strongest Republican field in a generation? Try the most overrated. If they pick Trump, Carson, or Cruz, it will get me to 350 electoral votes minimum. Bill used to be worried about Bush, but we are way over that now. I don't know who is more discombobulated: the voters rolling their eyes at another Bush presidency or Jeb struggling and failing to manage his own last name. (I'm uniquely sympathetic, sure, but there are ways to handle it, Jeb. Jeb!) Plus, he's gone so far right on immigration and women's health, he's making Mitt Romney look like a profile in courage.
And Rubio? Mr. Avatar of the Future opposing abortion even in cases of rape and incest? Good luck with that position in Colorado and Virginia, Marco. A lot of my Democratic friends tell me to worry about Kasich, but John seems to have about as good a chance of winning the nomination as Christie does now.
Given the overall Republican brand and the centrifugal Trump force, some members of my team say I can coast into the Oval Office next November on demographics and the Electoral College alone. As always, though, I'm not taking anything for granted. Obama's third term is there for the plucking, as long as I distance myself just enough. Appear more hawkish on foreign policy, reform ObamaCare, and stoke the gender gap like never before.
That is, if I get to the general election. Can't take that for granted either. Beating Bernie (and maybe Biden) is not going to be as tough as trying to beat Barack in 2008. But no matter what I do, the press will root against me. Saturday Night Live was fun, and it raised the morale in Brooklyn, but the credit I got from the media barely lasted through midday Monday.
I don't know what it is about these journalists. I've given up on the editors. They all remember the '90s and are permanently soured on me and Bill. What baffles me is these younger reporters. I mean, I like them personally. But they've never even heard of the Lyons report, and yet, somehow, by media osmosis, they have been trained to look at everything I say and do through eyes as cynical and reflexively anti-Clinton as those of Bill Safire (who they have also never heard of...).
Bernie, Bernie. Bernie has turned out to be a real problem. I sensed unease from my New Hampshire folks when I was up there last week. I can tell they think I might be dead in the water. In New Hampshire! The state that saved me in 2008! (At least temporarily.) Robby swears I can survive stumbles in Iowa and New Hampshire. We've got a lot more organization in the later states than we did in '08. But I can't help worrying. And I'll be forced to spend a lot more time before February in two states that I could end up losing. I still hate caucuses!
Is the press ever going to scrutinize all the loony things Bernie says? I mean, we are not a socialist country. In the end, Bill is positive the party will realize it is risking full Republican control in D.C. if they vote for this guy. But I worry. As much as I've tried to protect my left flank on Keystone and trade, I'm not gonna be for single payer or crippling Wall Street or massive tax increases. And that is where a lot of the party is. In my head, I know I can't possibly lose to Sanders. In my gut, I worry.
And what the heck is Joe doing? I know he wants to be president, but he can't beat me, he can just make my life miserable if he runs. Bill is really curious about whether Joe is going to get in. He's been working the phones trying to figure out if he is actually going to do it. Bill worries a lot more about Biden than I do. We might have to drop a little oppo on Joe, but then again we might not. But if we do, there's a lot for the press to look at.
But, boy does the press loves Biden. Everybody loves Biden. Axelrod and all those other Obama White House guys used to complain about Joe all the time, and they know I'm the best bet to win. Yet they trash me behind my back. Hell, they trash me on Twitter and TV too.
So far, my team is a lot more cohesive than it was in 2008. Plus, they are doing a good job keeping Bill briefed and busy and feeling involved, including feeding him the poll numbers he loves. Although there is something going on with the Obama folks I brought in. I can't put my finger on it, but I get the sense I'm not quite as "no drama" as they're used to. And they still haven't adjusted to the length and frequency of our conference calls. Hey, hard choices are called "hard" for a reason, kids. It takes time to talk them through.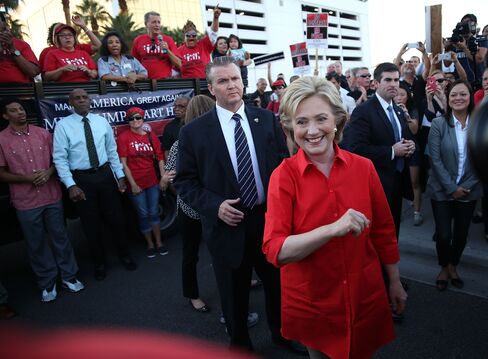 So, Vegas. I will be ready for the debate. Smile, sound sincere, sound tough, don't sound too canned, be ready to strike back, smile. Employ my two favorite gerunds: listening and fighting. The press pays so much attention to what I say about my private server they have failed to notice just how sharp I've gotten on the stump talking about issues voters actually care about.
Bernie probably won't hit me directly. Maybe Martin will. I've got plenty to push back on there if he comes at me. Oh, the ingratitude. But I'm used to that, too.
If I perform well, that's one down and five to go. Chafee and Webb will make this thing a bit of a snoozefest, and that will ratchet down the pressure going forward.
Mandy and Podesta warned me that winning the nomination wouldn't be a cakewalk. Bill's always said the general will be easier. Right now, I'm basically running against myself—but starting in the spring, I can run against an extreme Republican Party.
Sure, the e-mail thing has been kind of a mess. But if it hadn't been that, it would be something else, believe me. If I ace this debate and trounce Gowdy and company at the Benghazi hearing next week, everything will start looking up. I won't be home free. But I'll be a heck of a lot closer.
But if I make just one mistake, the press and the Republicans will be all over it. One mistake. One mistake.
No matter what, I wouldn't change places with anyone else in the race. Bill and I agree: I'm the most likely next president of the United States. And thanks to Donald Trump, Jeb Bush, and Kevin McCarthy, I'm now even more likely to be Madame President come 2017 than I was when the year started.
---
(Corrects spelling of Chafee's name in 21st paragraph.)
Before it's here, it's on the Bloomberg Terminal.
LEARN MORE