Bill Clinton Returns to the Campaign Trail
The ex-president has shown himself to be a double-edged sword, often an invaluable surrogate but at times a liability.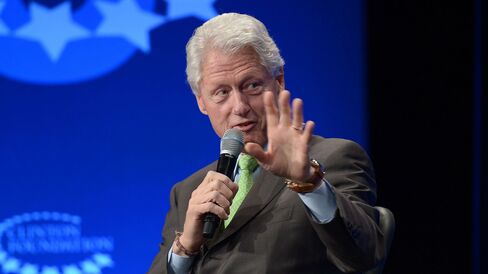 The Big Dog is back, though he said Friday that he worries he's become an "old horse."
"I told somebody the other day, I'm not sure I'm very good at this anymore," former President Bill Clinton said Friday at the start of a 45-minute speech to 2,000 attendees at the West Virginia Democratic Party's Jefferson Jackson Dinner in Charleston.
"I'm kind of like an old horse that you keep at a stable and an election comes along and they come and give you a few extra oats and brush you down and take you out to the track and slap you on the bum and see if you can get around just one more time," he said.
There were jabs at Donald Trump and the rest of the Republican field and more than a little boosterism for his wife Hillary Clinton's presidential campaign, though he did it by talking about her platform more than the candidate herself.
But as he spoke about coal and health care and the "sugar high" from which the U.S. economy was coming down when he took office, it was clear he still keep pace with the other horses on the track.
"The role of government is to give you the tools to make the most of your own life," he said. "The responsibility of the national government is to give every person in America the chance they need to succeed and every region in America a reasonable chance to get over its problems and to seize its opportunities."
The next president, he said, needs to be able to "stop big bad things from happening and make as many good things happen as possible."
Friday's appearance was Clinton's first public political speech since his wife's campaign launched in April, an unveiling of the Hillary Clinton's not-so-secret weapon off the beaten track of presidential campaigning and away from the glare of most national press, with only two national print reporters in town for the speech.
Clinton hasn't always been a potent weapon, showing himself to be a double-edged sword, often an invaluable surrogate and validator but at times a liability.
"Like anyone who cares deeply about someone, Bill Clinton doesn't like to see his wife take the kind of hits she's been taking," said Democratic strategist Donna Brazile. "But few people understand better than he that politics, especially at this level, is a contact sport. But no one knows her better and has the benefit of knowing what it takes to do this job and do it well. He's an asset."
In 2012, Clinton was a top surrogate for President Barack Obama's re-election campaign, delivering the best-received speech at the Democratic National Convention and hitting the road as the "secretary of explaining stuff," talking about Obama's economic achievements in a way that broke through to voters. And in 2014, he was more in demand on the trail than Obama, campaigning for senatorial and gubernatorial candidates in purple and red states where the president wasn't welcome (still, most of those races did not go Democrats' way).
On Friday, he offered some praise of Obama but didn't mention the sitting president by name. "I think that the administration in Washington doesn't get as much credit as they deserve for avoiding a depression," he said. He was slightly less generous on the Affordable Care Act, saying: "Look, this health care law's not perfect. It needs some fixes. But it's the worst thing we could do to go back."
He attacked the Republican presidential field for campaigning without substance while his wife and Vermont Senator Bernie Sanders have "laid out their programs and what the costs are." Trump, he said, repeating a line he used in an interview last week, is a "master brander."
"We can send Bill Clinton back to the White House. We can send Hillary Clinton to the White House," Senator Joe Manchin said on Friday as he introduced the 42nd president, who he described as "the best president we've ever had."
But Clinton's behavior during the 2008 Democratic primary highlighted his weaknesses, as he lashed out at the Obama team and at a media he saw as aggressively pro-Obama.
Obama's record on Iraq was "the biggest fairy tale I've ever seen," he said in January 2008 in New Hampshire. Accused of playing the race card against Obama, Clinton insisted in an interview that the race card was actually being used against him, and got angry the next day at a 20-something embed who tried to ask about the comments.
In 2008, "the benefit of Bill Clinton far outweighed the negatives," said Mo Elleithee, Hillary Clinton's 2008 traveling campaign press secretary. What got through to voters was that Clinton "has a way of connecting with everyday Americans that is almost unparalleled in modern American politics," he said said. "He was a way of breaking complex issues down. Voters know this is someone who's fighting for me and who's got my back."
For all the coverage of the former president's criticisms of Obama and the press, "we never saw that stuff penetrate and pop with real people," Elleithee said.
Still, aware that what he says and can create major complications for his wife's campaign, Clinton has shown some restraint—at least thus far.
"I shouldn't be making news on this," he told reporters trailing him at a Miami community service project in March, just days after his wife's reliance on a private e-mail server during her time at the State Department became public. "I have an opinion, but I have a bias," he added, making his views clear without providing cable news with a sound byte. (On Friday, the press were seated up a level in the arena where he spoke, making it tough to get to him as he greeted the crowd after his speech.)
In the handful of interviews for which Clinton has sat over the past six months—generally linked to Clinton Global Initiative events—he's shown a defensive streak.
In interviews this week timed to CGI's annual meeting, Clinton blamed Republicans and the media for launching and stoking the e-mail controversy. "This is just something that has been a regular feature of all of our presidential campaigns, except in 2008 for unique reasons," he said in an interview with CNN released last Saturday, bringing up the Whitewater scandal that began during his 1992 campaign and escalated and dragged on through his presidency.
"Ever since Watergate something like this happens," he added. "And so I'd rather it happen now than later. And it was always going to happen. The other party doesn't want to run against her. And if they do, they'd like her as mangled up as possible."
Asked about Clinton's comments, Hillary Clinton seemed to acknowledge that her husband sometimes gets defensive of her. "I love my husband, and you know, he does get upset when I am attacked. I totally get that," she said Sunday on NBC's Meet the Press.
When it comes to scrutiny of the Clinton Foundation's donors and operation, the former president also gets defensive, asserting as he did earlier this week that "even our critics will say we're much more transparent than similar organizations."
"It's a big country you can't be everywhere at once. I don't care how skilled you are as a candidate, you want to deploy as many of your best assets as you can. Having him out there is a big asset," Elleithee said.
Clinton slowly ramped up to Friday's speech after being been almost completely out of public view to a degree that's unusual for presidential candidates' spouses. He appeared at his wife's campaign launch rally on Roosevelt Island in June but otherwise only existing in the campaign's iconography alongside his wife, as a long-haired Yale law student and a glowing new grandfather.
In the late summer, Clinton started attending some of his wife's Hamptons fundraisers and appeared solo in Chicago in September after she was unable to headline a fundraiser. He's since done a few others, including two this week. He'll appear at another in Michigan later this month.
He started making his presence known to campaign staff back in August, visiting Brooklyn headquarters and drawing flocks of aides who were in elementary school when he was in the White House. On Wednesday, as the fundraising quarter wound down, the campaign sent three e-mail asks in his name in hopes of eking out contributions before the midnight deadline.
As he closed his speech on Friday, Clinton again poked at his rustiness, telling the crowd, "look, you know, I haven't run for office in a long time and I don't think I'm very good at this."
Some filling the cavernous Charleston Civic Center laughed. And when he finished several minutes later, they stood and cheered as the former president approached the rope line with his 1992 theme song "Don't Stop Thinking About Tomorrow" blaring, ready to greet the loyal Democrats who'd come to see him.
Before it's here, it's on the Bloomberg Terminal.
LEARN MORE