Senate Plans Spending Bill Vote as House Conservatives Balk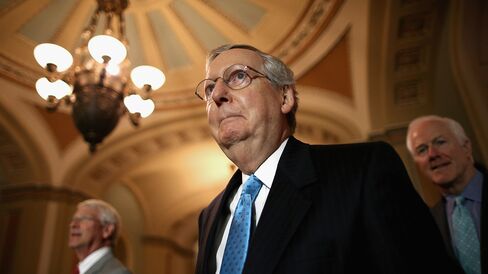 Senate Republicans are proposing a new stopgap spending bill that would avoid a U.S. government shutdown while dropping conservative members' bid to defund Planned Parenthood.
Majority Leader Mitch McConnell, a Kentucky Republican, offered the measure after some Republicans joined Democrats Thursday in blocking a short-term spending plan that would strip Planned Parenthood funds. McConnell scheduled a procedural vote on the new proposal for late Monday, two days before government financing is set to run out Sept. 30.
"It's certainly not my preference, but we don't want to fail to keep the government operating, so that's what this is about," said second-ranking Senate Republican John Cornyn of Texas.
There was no immediate decision from House Republicans, where conservatives insist on defunding the women's reproductive health system, on whether a bill that allowed such financing would be brought to a vote.
Republican leaders of the House and Senate have said they won't shut the government down over Planned Parenthood. The party was stung by public opposition to a 16-day partial shutdown in October 2013 over an unsuccessful Republican attempt to defund Obamacare.
House Speaker John Boehner, an Ohio Republican, has been unable to resolve a dispute with several dozen conservative party members who say they are willing to force a shutdown if defunding of Planned Parenthood isn't linked to a federal spending bill. Many of those lawmakers met in Boehner's office late in the afternoon.
'Bunch of Republicans'
Afterward, Representative Mick Mulvaney of South Carolina and others, including Ohio's Jim Jordan and Arizona's Matt Salmon, wouldn't say if the speaker had said he would put a measure that included Planned Parenthood funding on the floor for a vote.
If he did, "I think he would lose a bunch of Republicans," said Mulvaney, predicting the number could be "about 50." In such a case, Boehner would need to get Democratic votes to pass a spending plan, as he has done on other must-pass bills.
Salmon said the lawmakers hadn't reached any agreement with Boehner.
Some senators including Republican presidential candidate Ted Cruz of Texas have insisted that the only way to defund Planned Parenthood is to attach the language to must-pass legislation such as the spending measure.
President Obama
President Barack Obama, while presenting a citation to members of the Public Health Service's Commissioned Corps for their work on Ebola in Africa, said, "I hope that Congress chooses to keep our government open and operating so that heroes like this can keep working."
The Obama administration reiterated Thursday that the president would veto any spending legislation that blocks funds for Planned Parenthood.
Conservatives have said they are outraged by undercover videos purporting to show Planned Parenthood officials discussing reimbursement for providing tissue from aborted fetuses to researchers.
The organization has said it doesn't sell fetal tissue for profit, and instead receives the cost of collecting and delivering it. Bloomberg Philanthropies provides financial support for Planned Parenthood.
Eight Republicans joined Democrats in the 47-52 vote to block Thursday's measure that would defund Planned Parenthood, with 60 required to advance it. They were Kelly Ayotte of New Hampshire, Susan Collins of Maine, Dean Heller of Nevada, Tom Cotton of Arkansas, Mark Kirk of Illinois, Lisa Murkowski of Alaska, Rand Paul of Kentucky and Ben Sasse of Nebraska.
'Political Games'
Ayotte said on the Senate floor Tuesday that she was "tired of the political games" and criticized fellow Republicans for trying to defund the group while knowing they can't overcome opposition from Senate Democrats or Obama.
"They can't answer the question, 'what's the end game for success here?'" Ayotte said.
McConnell of Kentucky said earlier this month that while he supports defunding Planned Parenthood, further efforts to take funds from the organization would be "exercises in futility" because Obama wouldn't sign such a measure.
Eleven freshman Republican House members signed a letter this week expressing support for a measure "that will avoid another unnecessary and harmful government shutdown."
Health Centers
The stopgap measure that was blocked Thursday would redirect about $235 million in Medicaid from Planned Parenthood to community health centers for a year.
The new plan would grant the same White House wish list of spending modifications as McConnell's prior amendment.
The spending measure, an amendment to H.J.Res 61, would give the Obama administration much of what it asked for, while saying no to a request to revive the Export-Import Bank.
It would provide funding at an annual rate of $1.017 trillion, including an extra $700 million for fighting wildfires, more than the White House request of $450 million. The bill would set war funding at an annualized rate of $74.7 billion, more than the $58 billion Obama sought.
Before it's here, it's on the Bloomberg Terminal.
LEARN MORE