Scott Walker Campaign Puts on a Happy Face Despite Setbacks
The Wisconsin governor is channeling his resources into Iowa, where his poll numbers have seen a massive decline.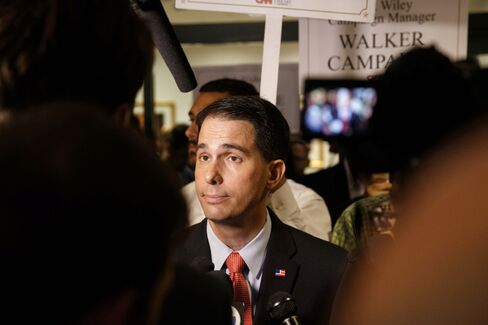 Despite appearances, Wisconsin Governor Scott Walker and his campaign staff are trying to show that they're holding steady in the presidential race, at least for now.
After weeks of plummeting poll numbers, Walker commanded less airtime than any other candidate in Wednesday's Republican debate, while a top donor on Thursday expressed openness to supporting other candidates.
During a Thursday conference call with donors that Bloomberg obtained access to, Walker appeared to stand by his campaign manager, Rick Wiley, who moderated the more than 20-minute discussion. Wiley also heard support from Todd Ricketts, a co-owner of the Chicago Cubs and one of Walker's two national finance chairmen.
"I just want to say thanks to Rick," Ricketts said. "One thing I know is that Rick has worked really hard."
Among reporters and strategists at the debate, there was buzz Wiley could be moved aside amid the troubled campaign.
"I'm not going anywhere," Wiley told the Capital Times of Madison. "The vicious rumor cycle has begun. Reports of my demise are greatly exaggerated."
At the start of the call, Wiley praised Walker's debate performance, even if the objective reviews have been far less flattering.
"The governor got three questions yesterday, which is a pretty ridiculous sum," he said. "While we didn't get the number of questions that we should have received, the governor was also second in the interruptions."
When it came to billionaire Republican front-runner Donald Trump, Wiley said Walker had "knocked him back on his heels."
At the same time, the campaign manager also seemed to discount the importance of debates, with the next one schedule for Oct. 28 in Colorado.
"There's going to be a lot of time between now and the next debate," he said. "We've entered a stage in this campaign when it becomes about organizational muscle."
Wiley said the campaign would be placing greater emphasis on Iowa, a state where Walker was the front-runner until mid-summer. The candidate will be in the state on Saturday and Sunday.
"We are the only campaign—Democrat or Republican—that has rolled out 99 county chairs," he said. "You need that organizational strength in order to deliver that victory."
The campaign's internal polling shows Walker is in third place in the state, behind Trump and Carson, Wiley said. The most recent Quinnipiac University poll in Iowa, however, showed Walker in 9th place in the state at just 3 percent support, well below the 18 percent support he earned in Quinnipiac's July survey.
"We are adjusting the schedule to spend more time in Iowa," Wiley said. "We're going to put more resources in Iowa, meaning more field staff."
Wiley also noted the importance of fundraising ahead of the end of the third quarter in about two weeks.
For his part, Walker said he felt good about his debate showing, even if he was "frustrated with CNN" for only giving him a few questions.
The media had a "pre-destined" story that the debate was going to be about former Hewlett-Packard chief executive Carly Fiorina, Walker said.
"I needed to be more aggressive, which I definitely was," he said. "Now the big key for us is just building off of it. We've gotta have the message, the manpower, and the money."
Walker is at serious risk for having the money slip away.
The Washington Post on Thursday quoted one Walker donor, Stanley S. Hubbard, a Minnesota media mogul, as saying that he plans to stick with Walker for now, while also considering donations to Fiorina, Senator Marco Rubio of Florida, and New Jersey Governor Chris Christie.
"What we need to do is stay in long enough to get more air time," Ricketts said, in a reference either about the debate or fundraising. "I feel very optimistic about our chances as long as we can hang around."
Before it's here, it's on the Bloomberg Terminal.
LEARN MORE