Fundraising Deadline Looms for Republicans Hoping to Engineer the Fall of Trump
Nearly every incentive for the 10 candidates flanking Trump on the debate stage pushes them toward confrontation, spectacle, and aggression.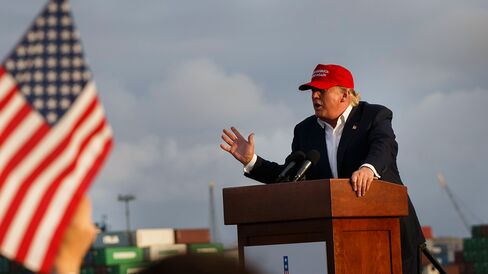 The Summer of Trump will come to an end in one week—at 4:21 a.m. on Sept. 23, to be precise. That's the moment of the fall equinox. A nervous Republican field is hoping the Summer of Trump won't be followed by an Autumn of Trump. Instead, they'd prefer to see the fall of Trump, so that one of their own can at last climb atop the presidential polls that the billionaire presidential candidate has dominated for two months.
There's little sign that's about to happen. Donald Trump has risen steadily in the polls for weeks now, as this chart from Huffington Post makes perfectly clear: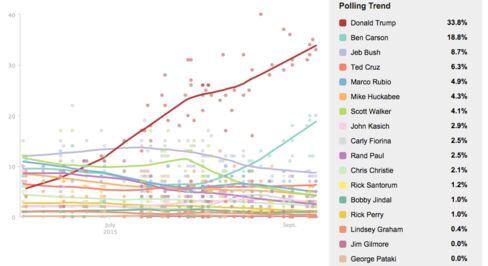 One reason for Trump's rise is that his competitors face a collective-action problem: everyone would love to see Trump attacked and taken down, but most candidates have concluded that the risk of being eviscerated by him outweighs the reward of possibly denting his strength. That's why the candidates on stage with Trump at the Aug. 6 debate in Cleveland were so deferential. (The one exception, Rand Paul, wound up serving as a cautionary tale of the perils of challenging Trump, who, after a pair of attacks from the Kentucky senator, delivered an accurate and stinging put-down: "You're having a hard time tonight." Paul has since faded to insignificance.)
For a whole host of reasons, Wednesday night's debate at the Reagan presidential library in Simi Valley, California, should be a much different affair. First, the idea that Trump will implode on his own looks increasingly far-fetched. Second, as a recent New York Times/CBS News poll illustrates, voters who haven't cottoned to Trump are mainly lining up behind retired neurosurgeon Ben Carson, another non-traditional outsider, rather than former Florida Governor Jeb Bush, Florida Senator Marco Rubio, or Wisconsin Governor Scott Walker. Finally, the quarterly fundraising deadline is two weeks away, which puts enormous pressure on the many underperforming candidates to make enough of a splash in the debate that the money keeps flowing from frustrated donors.
For candidates who don't have a breakthrough moment, a Republican operative told Politico's Mike Allen, money will dry up "and they'll effectively be written off" come the Oct. 15 reporting deadline. Candidates needn't look any further than former Texas Governor Rick Perry's cash-starved and kaput presidential bid to see the fate that awaits them if they can't stand up to Trump. The huge—or is it "yooooge"?—television audience sure to tune in on Wednesday night makes this debate the one event between now and the end of the quarter that is certain to register in the minds of rich GOP financiers.
While many campaign strategists are telling reporters that they're content to wait out Trump and hope that somebody (or some organization) can take him down, nearly every incentive for the 10 candidates flanking Trump on the CNN stage pushes them toward confrontation, spectacle, and aggression.
Who knows? Maybe they'll wither when the cameras roll. But if they don't, the second debate could turn out to be a full-blown, WWE-style battle royale.
https://www.youtube.com/watch?v=BQ1SlUSEYrU
Before it's here, it's on the Bloomberg Terminal.
LEARN MORE