5 Things to Watch For in the Second Republican Debate
With political outsiders dominating in the polls, the establishment candidates are looking for a way to gain traction.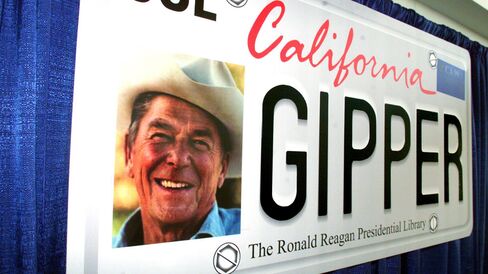 The debate stage for Wednesday evening at the Reagan Library in Simi Valley, California, is set.
Retired neurosurgeon Ben Carson is closing in on billionaire Donald Trump, the front-runner in the Republican presidential race for more than two months. A third political outsider, Carly Fiorina, has claimed her spot in the prime-time lineup, continuing her own rise in the polls. Meanwhile, a variety of ostensibly A-List presidential contenders with actual government experience have slipped to the middle of the pack and will try to regain their footing.
The latest New York Times/CBS poll places Trump atop the GOP field with 27 percent support and Carson close behind with 23 percent, followed far behind by a cluster of candidates that includes former Florida Governor Jeb Bush, former Arkansas Governor Mike Huckabee, and Florida Senator Marco Rubio, each of whom is tied with 6 percent support.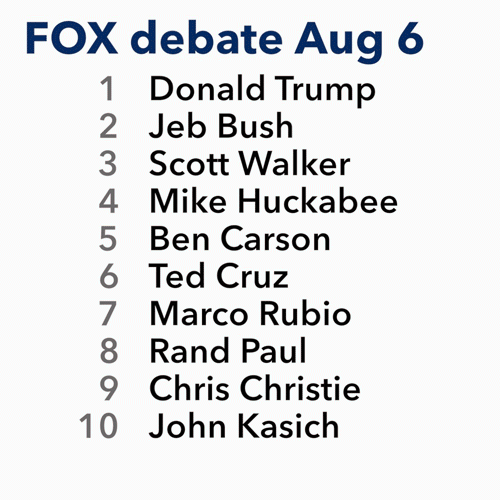 The main debate of the top 11 contenders in the polls will follow a "kids' table" debate of candidates who didn't make the cut.
Here are five things to keep an eye on.
1. Can Donald Trump be stopped?
The long-simmering conventional wisdom that Trump's popularity was a fleeting fad has taken a beating after the New York real estate mogul solidified his lead this summer. The Donald can expect a bloodbath. He's feuding with everyone from Bush to Kentucky Senator Rand Paul (both say he's not a real conservative) and, more recently, political novices Fiorina (after Trump seemingly mocked her appearance) and Carson (after Carson questioned Trump's faith and the Donald fired back). Of course, nobody is better at made-for-TV moments and insults than the former reality TV star, so Republican rivals can attack him at their own peril.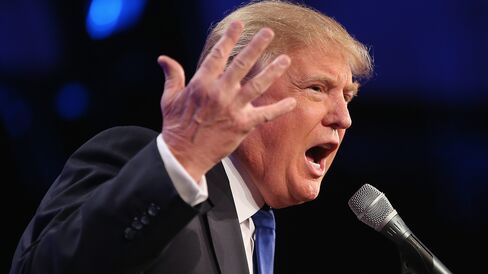 2. Can Ben Carson slide through unscathed?
Carson's jovial and mild-mannered demeanor is part of his charm. Confrontation is outside his comfort zone. Trump appears ready to take on Carson, the first surgeon to separate twins conjoined at the head, recently calling him "perhaps an OK doctor" and questioning whether he has "the energy" to be president. Other Republicans might also look at his booming poll numbers and decide to take him on. But how? Unlike the blustery and churlish Trump, he's not an easy target. The latest CNN poll finds that Carson is the best-liked candidate in the entire field with a whopping 76 percent of Republican voters saying they're either "enthusiastic" or "satisfied" with his candidacy. Perhaps it's his lack of political experience.
3. Does Carly Fiorina have the most to gain?
The former CEO of Hewlett-Packard comes in with high expectations, sharing the stage with top contenders after Republican voters declared her the clear winner at the "kids' table" debate on Aug. 6. With the two other political neophytes pulling a whopping 50 percent of the field in the new CBS/NYT poll, Fiorina, who landed 4 percent, may have an opportunity to ride the anti-establishment wave. Her debate instinct to go for the jugular has been a topic of discussion, and she has defended herself against Trump's attacks on her appearance—"I am proud of every year and every wrinkle," she said recently. A successful showdown with Trump, should she choose to go there, could do wonders for her.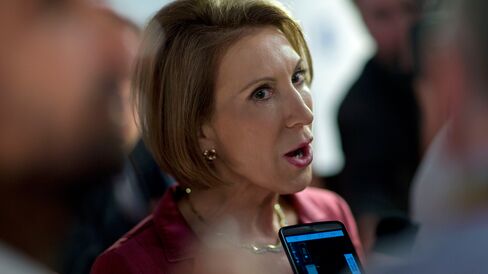 4. Who will endorse a government shutdown?
The debate will be an opportunity for Texas Senator Ted Cruz, who has been inching upward in the polls, to channel the conservative fury at Planned Parenthood and elevate a battle to defund the group at risk of a government shutdown on Oct. 1. Cruz played a leading role spurring the 2013 shutdown over Obamacare, and he became a conservative hero even though it failed—the base blamed congressional Republican leaders and held up Cruz as a fighter. Now a presidential candidate, Cruz is seeking to reignite some of that shutdown mojo as he makes a strong play for evangelical Christian voters.
How will other candidates respond? Rubio and Paul have been less enthused about shutdowns, but they won't want to risk being painted on the wrong side of the base. Wisconsin Governor Scott Walker, seeking to recover from his recent collapse in the polls, has echoed Cruz's criticism of GOP leaders as weak-kneed. Non-congressional candidates have little to lose because they won't have to cast a vote. The result could be a presidential field egging on a shutdown.
5. Can establishment candidates win hearts and minds?
The Trump/Carson surges have stunned establishment favorites—Bush, Rubio, and Walker—and threaten to upend a decades-long trend of Republican voters nominating a candidate popular with donors and other party elites. Expect Bush to play up his experience as Florida governor in delivering for conservatives. Expect Rubio to call for a new leader in a "new American century." Expect Walker to tout his success at crushing public sector unions in Wisconsin. Expect Ohio Governor John Kasich, who has leaped ahead of Bush in recent polls in New Hampshire (a key state for Bush), to try to establish himself as a strong candidate in the minds of party elites and more moderate GOP voters. Expect New Jersey Governor Chris Christie to look for some way, any way to revive his white knight status with bigwigs.
Ultimately, though, can these appeals win over Republican voters who are disgusted with politicians and determined to punish them? Or will the 2016 primary turn Republican politics on its head by busting a longstanding trend? Expect the second debate, and the fallout, to provide some clues as to what's going on in their minds.
Before it's here, it's on the Bloomberg Terminal.
LEARN MORE