Hillary Clinton, Joe Biden to Court Congressional Black Caucus
The vice president will be at the foundation's breakfast, while Clinton will be at the Phoenix Awards dinner.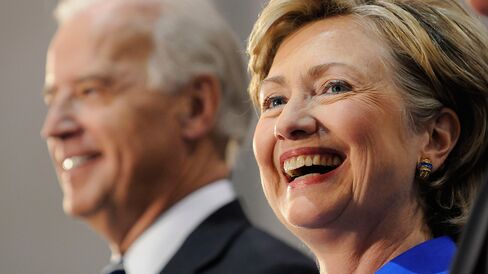 Democratic presidential candidate Hillary Clinton and potential candidate Vice President Joe Biden will both be reaching out to the same key power base on Sunday: the Congressional Black Caucus Foundation.
Clinton and Biden are both scheduled to attend events associated with the group's convention. The vice president will be at the foundation's breakfast, while Clinton will be at the Phoenix Awards dinner.
Neither is slated to address the crowd of thousands expected to gather at D.C.'s Walter E. Washington Convention Center. President Barack Obama is the keynote speaker for the dinner, as he has been every year since taking office, except for 2012, when first lady Michelle Obama spoke while her husband campaigned.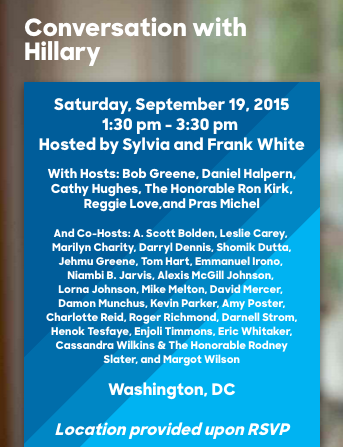 In a show of her strength with African-American elites in Washington, Clinton will attend an afternoon fundraiser hosted by DuSable Capital Management founder Frank White and Sylvia Davis, an intellectual property attorney, according to an invitation obtained by Bloomberg. Other hosts for event include former U.S. Trade Representative Ron Kirk, former Obama body man Reggie Love, and Fugees founding member Pras Michel. Eric Whitaker, a Chicago physician who's been close friends with Obama for years, is among the 25 co-hosts listed on the invitation. Ticket prices begin at $1,000 per person.
Kirk, who told Bloomberg last month he would donate to Biden's campaign if the vice president decides to run, said Tuesday that he's involved with fundraising for Clinton because she's the only candidate currently in the race who he would support. "Vice President Biden isn't in the race. Secretary Clinton is," he said. "I admire them both greatly. But if anyone has earned the right to take his time to make a decision, it's him."
Clinton is scheduled to attend the New Hampshire Democratic Party Convention in Manchester on Saturday morning.
Correction: This story was updated to correct Biden's plans. He's attending the convention's breakfast, not its dinner.
Before it's here, it's on the Bloomberg Terminal.
LEARN MORE