New Jersey's Office Parks Empty as Christie Bolsters Cities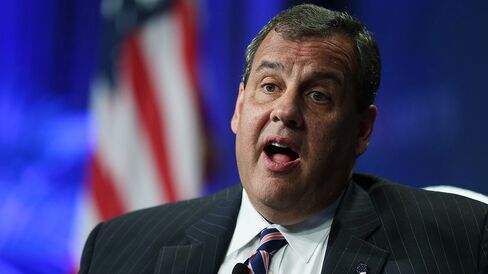 New Jersey Governor Chris Christie is championing cities as the next big employment market, showering them with almost $1 billion in incentives at the expense of his suburban political base.
Amid slumping New Jersey job growth, Christie's administration this year has awarded $1.24 billion in Grow New Jersey tax breaks to companies to expand, with four-fifths directed to such places such as Jersey City or Camden, one of the country's poorest and most crime-ridden cities. Left behind are bedroom communities that rose on such employers as Bell Laboratories, now splintered, and Merck & Co., its Whitehouse Station world headquarters closed.
Young professionals who seek vibrant downtowns over strip malls are rejecting a New Jersey whose subdivisions beckoned fresh-faced World War II and Korea veterans eager to break from city life. For every lawn-tending, retirement-age uncle warning of crime and crowding, a chorus of recent graduates has a retort: good jobs, short commute.
Favoritism "completely skews the marketplace," said Rob Walton, a Hunterdon County freeholder, or commissioner. "We are being taxed in Hunterdon County -- state income and sales tax -- and Trenton gives it out to businesses located elsewhere."
Office vacancies in suburban North Jersey are as much as 27 percent, according to Cushman & Wakefield, a New York real-estate brokerage. They're as low as 14 percent in urban areas, and Manhattan's rate is 8.9 percent.
New York Life Insurance Co. won $33.9 million in incentives this year to move 325 jobs from suburban Parsippany to the Goldman Sachs Group Inc. tower in Jersey City, with access to mass transit.
In Morris County, once a mirrored-glass landscape of pharmaceutical companies, vacancy was 27 percent, and more than a dozen outdated office parks are on the market, said Raymond Trevisan, Chatham-based managing principal of the New Jersey offices of Cushman & Wakefield.
Governor's Stronghold
The hollowing-out is in the heartland of support for Christie, a 53-year-old seeking the Republican presidential nomination.
In 2013, he won a second term by 22 percentage points over Barbara Buono. He carried 19 of 21 counties as Buono held on to Essex and Hudson, among the most urbanized areas. Since April, his favorable rating is down 11 points in prosperous commuter towns and shore areas, his base.
Fifty-three percent of state business leaders expect the economy he oversees to stagnate or worsen in the next year, according to a Sept. 2 poll by the Trenton-based New Jersey Chamber of Commerce.
While the Garden State has regained about 70 percent of jobs lost in the recession, neighboring New York and Pennsylvania have fully recovered. In July, New Jersey lost 13,600 jobs, worst among the 16 U.S. states where employment declined, according to the federal Bureau of Labor Statistics.
"New Jersey is sending a tremendous amount of workers into surrounding metropolitan areas," Ralph Zucker, a redeveloper of the 472-acre vacant Bell Labs property in Holmdel, said by e-mail. "It isn't that New Jersey doesn't have jobs to offer, but rather, it's just not the place people want to work."
Though the suburbs' sliding appeal has many causes -- poor highways and the nation's highest property taxes among them -- Christie is peerless among New Jersey governors for showering cities with taxpayer incentives for jobs. Though Democrat Jon Corzine, governor from 2006 to 2010, created the tax credits to steer developments into urban areas, Christie increased the incentives to a level never seen before in the state.
On Sept. 10, an Economic Development Authority award of a $253 million tax break to EMR Eastern LLC, a metals recycler bound for Camden, put the annual total of awards above $2 billion. That surpasses the 2014 record of $1.9 billion, according to New Jersey Policy Perspective, a Trenton group that researches issues affecting the poor and middle class.
"Christie's administration, to its credit, has tried to eliminate red tape," said Walton, the Hunterdon County commissioner. "They've also used the state treasury to direct businesses to one location over another. They're all partners in this development situation."
The state's Business Action Center, created by Christie's administration to lure and keep employers, "is working to counteract the shift of companies to urban areas," said Linda Coles-Kauffman, a spokeswoman.
The center partners with other state agencies and local governments to pursue new uses for vacant corporate campuses, Kauffman said in an e-mail. It has targeted about 60 sites, mostly in northern and central New Jersey. For example, the former Sanofi-Aventis SA campus in Bridgewater now houses companies including Ashland Inc. and Amneal Pharmaceuticals, she said.
Pearson Decamps
The vacancies can alter even the social fabric in some towns. Mack-Cali Realty Corp. is seeking to build a residential development, including low-income housing, on 47 acres in Upper Saddle River, where annual median household income of $176,801 is 147 percent higher than the state figure.
The former occupant, Pearson Education Inc., received an $83 million tax break to move to Hoboken, one train stop from New York City's West Village.
Pearson spokeswoman Laura Howe said the building, constructed in the 1970s, was almost obsolete, and that a move made financial sense.
"One of the primary factors in looking for a new location was proximity to public transportation," Howe said by e-mail.
Eighty percent of New Jersey office space was built in the 1980s, according to James Hughes, dean of the Bloustein School of Planning and Public Policy at Rutgers University in New Brunswick.
"That was considered leading-edge inventory," Hughes said in an interview. "One of the major reasons New Jersey's economy is growing slowly is that we just had too much of a concentration in suburban office buildings. People just don't want them."
Before it's here, it's on the Bloomberg Terminal.
LEARN MORE