The Not-So-Real McCoy Scammer Tricks Durbin, Duckworth on App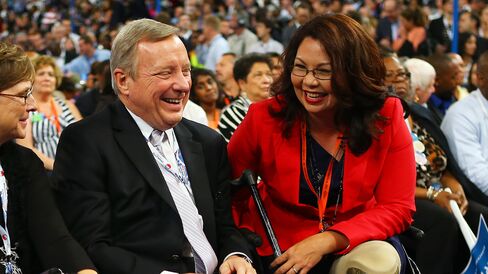 Durbin, Duckworth Provided Letters of Support for Health App

Leventhal Pleaded Guilty to 'Star Trek' Tablet Scam in 2013
Even the best of us can be duped by a con artist, a fact revealed when two federal lawmakers including the No. 2 Democrat in the Senate were tricked into supporting a scheme hatched by an Illinois man awaiting sentencing for fraud.
Congresswoman Tammy Duckworth and U.S. Senator Richard Durbin signed letters of support seeking grant funding from the U.S. Education Department for the MyWings Foundation, a purported charity focused on helping people with disabilities by providing them with tablets and software applications.
What they didn't realize, according to prosecutors in Brooklyn, New York, was that the person seeking money for MyWings was Howard Leventhal, who had pleaded guilty to federal charges for promoting a non-existent device named after the fictional doctor on "Star Trek."
Leventhal had concocted a new fake firm and was looking for someone to give an air of authenticity to it, according to prosecutors.
Ben Marter, a spokesman for Durbin, said Leventhal "used a false name and misrepresented himself to Senator Durbin's staff," to obtain the letter. Sarah Keep, a spokeswoman for Duckworth, said the defendant also contacted that office under false pretenses.
"We hope justice will be served in this case," Keep said.
Guilty Plea
Leventhal, 59, admitted in 2013 to wire fraud for cheating investors in a bogus "home health" computer tablet named after Leonard McCoy, the doctor on starship Enterprise played by DeForest Kelley. Leventhal told investors he had agreements to provide the Canadian government with the device, prosecutors said.
Scheduled to be sentenced next month, Leventhal had his $200,000 bail revoked Friday after prosecutors presented evidence he committed the new fraud by soliciting investment for MyWings and an associated application called Go2Nurse. He had pitched the fake app as "the Uber of home nursing," prosecutors said.
Leventhal sought funding for the fake ventures using a false name, "Edward Ben-Alec," Assistant U.S. Attorney Winston Paes said in a letter filed with the court earlier this month.
While using that name, Leventhal showed the letters of support from the politicians to an almost 80-year-old Boca Raton, Florida, investor and got $25,000. He spent most of the money on restaurants, movies and retailers, Paes said in the letter. MyWings didn't use the letters from the lawmakers to seek grant funding, Paes said.
Lawyer's Statement
In an e-mailed statement Monday, Leventhal's lawyer Steve Zissou said Durbin and Duckworth, both Illinois Democrats, "were kind enough to allow Mr. Leventhal, a constituent, to demonstrate an Internet application that is under development." Duckworth is running for the Senate seat held by Republican Mark Kirk, who also entertained a pitch for Leventhal's app, according to Zissou.
Zissou, suggesting the app is legitimate, said it holds "great promise for some handicapped Americans to more comfortably access the Internet."
The case is U.S. v Leventhal, 1:13-cr-00695, U.S. District Court, Eastern District of New York (Brooklyn).
Before it's here, it's on the Bloomberg Terminal.
LEARN MORE