Martin O'Malley Pushes for Six More Democratic Debates
The Democratic candidate's campaign manager frets that his party has left a void that Donald Trump is filling.
Democratic presidential candidate Martin O'Malley is escalating his war with his party.
His aggressive efforts to convince Democratic National Committee Chair Debbie Wasserman Schultz to expand the number of planned debates having fallen on deaf ears, the former Maryland governor is reaching out to his rivals and planning to join a protest line.
In a Sunday letter to the his counterparts on other Democratic campaigns, O'Malley campaign manager Dave Hamrick asks them to support doubling the current number of party-sanctioned debates from six to 12, with the additional debates to take place on non-holiday season weeknights in the earliest nominating states. That would mean two more debates in Iowa, two more in New Hampshire, one more in South Carolina, and one more in Nevada.
Hamrick attacks the DNC's "unprecedented and undemocratic exclusivity clause" that penalizes candidates who participate in non-sanctioned debates. He frets that "the DNC is allowing the Republican presidential candidates—namely, Donald Trump—to dominate the national debate, and whoever our nominee is will emerge stronger as the result of a vigorous debate process."
To underscore the point, O'Malley plans to participate in a protest Wednesday afternoon in front of the Democratic National Committee headquarters, his spokeswoman Haley Morris said. The protest will take place hours before the Republican presidential candidates appear in their second debate of the campaign season at the Ronald Reagan Presidential Library outside of Los Angeles. The Democrats will hold their first presidential debate on Oct. 13 in Las Vegas.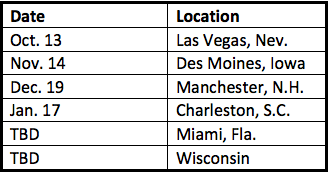 It's a tradition for struggling presidential candidates to demand more debates in search of air time and opportunities to catch up. O'Malley, despite a vigorous campaign schedule in recent months, polls at a mere 3 percent in the latest ABC/Washington Post survey. Former Secretary of State Hillary Clinton leads the field with 56 percent. Vermont Senator Bernie Sanders places second with 28 percent. O'Malley's support falls to 2 percent if Vice President Joe Biden enters the fray.
Although O'Malley's rivals have expressed openness to more debates, Wasserman Schultz has rejected his proposition. "We're having six debates—period," she said last week. Meanwhile, the Republican National Committee has sanctioned nine debates for the 2016 primary. Both party committees have reduced the number from their last contested primaries.
"We can all agree on moderators, locations, dates and times, and hosts," Hamrick writes. "We can discuss format and rules. But let's commit to this: let's commit to more debate."
Before it's here, it's on the Bloomberg Terminal.
LEARN MORE