Iran Deal Opposed by Manchin, Fourth Democrat Against Plan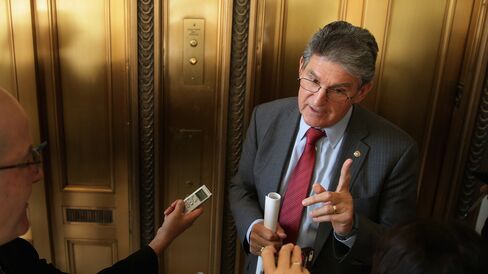 U.S. Senator Joe Manchin of West Virginia said Tuesday he will vote against the nuclear deal with Iran, the fourth Democrat in the chamber to oppose the agreement.
"I do not believe that supporting this deal will prevent Iran from eventually acquiring a nuclear weapon or continuing to be a leading sponsor of terrorism against Americans and our allies around the world," Manchin said in a statement e-mailed by his office.
Manchin is opposing the deal along with Chuck Schumer of New York, Ben Cardin of Maryland and Bob Menendez of New Jersey. In July, Manchin had said he was leaning toward supporting the measure.
President Barack Obama has 38 votes to ultimately protect the Iran deal, more than enough to uphold his veto of any measure of disapproval passed by Congress. Still, Manchin's opposition complicates Democrats' effort to gain the 41 votes needed to keep the 100-member Senate from passing the disapproval resolution.
Four other Senate Democrats and undecided Republican Susan Collins of Maine haven't yet announced their positions. Collins plans to announce Tuesday. Obama would need support from three of them to get 41 votes.
The Senate plans to begin debate Tuesday afternoon on the nuclear agreement. The House is set to start debating the measure Wednesday, and votes in both chambers must be held by a Sept. 17 deadline.
Senate Minority Leader Harry Reid, a Nevada Democrat, said Tuesday he will insist that 60 Senate votes are required to pass a resolution of disapproval.
'No Precedent'
"There is no precedent in recent history for an issue of this magnitude getting consideration in the Senate without having to secure 60 votes," Reid said during a speech before the Carnegie Endowment for International Peace in Washington. "This is not about how any one leader manages the floor -– this is a precedent stretching back decades."
The 435-seat House has more than the 218 votes needed to pass a resolution of disapproval in that chamber.
At least 230 Republicans and 14 Democrats are opposed to the deal. At least 105 of the chamber's Democrats support the agreement, while the rest have yet to announce their position.
Before it's here, it's on the Bloomberg Terminal.
LEARN MORE