Obama Thanks Colin Powell for Supporting Iran Deal
The former U.S. secretary of state gives his approval to the accord reached with Tehran's leadership.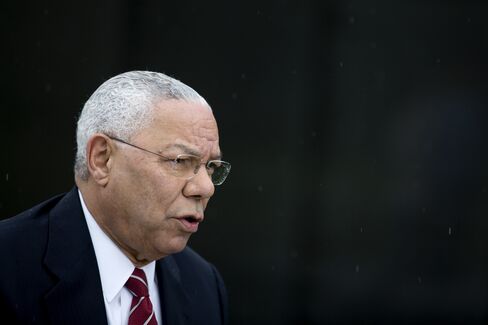 President Obama took a moment on Sunday to thank former Secretary of State Colin Powell for coming out in support of the Iran nuclear deal.
Using his Twitter account, Obama drew further attention to Powell's rationale for supporting the deal that Republicans in Congress and on the presidential campaign trail have repeatedly blasted as being too soft on Iran and potentially catastrophic for Israel.
"Thank you, Colin, for putting your experience and expertise behind this important initiative for our country," Obama tweeted.
Powell, secretary of state during George W. Bush's first term, made his case for nuclear pact Sunday on NBC's Meet the Press. "I think it is a good deal. I've studied very carefully the outline of the deal, and what's in that deal, and I've also carefully looked at the opposition to the deal. And my judgment, after balancing those two sets of information, is that it's a pretty good deal," Powell said.
Specifically, Powell cited as "remarkable changes" the reduction in Iranian centrifuges and stockpile of uranium, as well as Tehran's agreement to place its remaining nuclear facilities under the supervision of the International Atomic Energy Agency.
The agreement reached between Iran and six world powers, including the U.S., in July would ease economic sanctions on Iran in exchange for curbs on the country's nuclear program. Addressing criticism raised by opponents, who contend that Iran could well try to cheat, Powell asserted that the pact did not tie American hands.
"I say, we have a deal, let's see how they implement the deal. If they don't implement it, bail out. None of our options are gone," Powell added.
Last week, Obama secured enough Democratic support in the Senate to ensure that the agreement can go forward. On Sunday, Democratic National Committee Chair Debbie Wasserman Schultz, a Florida congresswoman, became the latest member of Congress to come out in favor of the pact.
Before it's here, it's on the Bloomberg Terminal.
LEARN MORE