St. Louis Voters Rebel at Demand for 'Ball Pork' Stadium Subsidy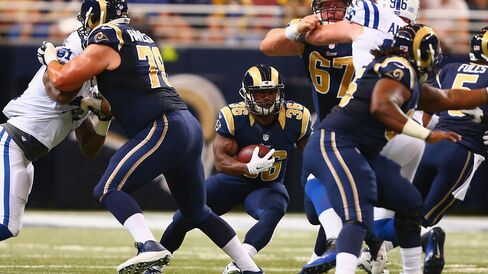 St. Louis citizens thought they could say no when the billionaire owner of the National Football League's Rams wanted taxpayer dollars to build a stadium. Then, a judge last month overturned a 13-year-old law requiring a public vote.
That ruling escalated a battle over a plan backed by Mayor Francis Slay, Missouri's Democratic Governor Jay Nixon and other boosters to help finance a $1 billion riverfront stadium with a mix of previously approved state and local bonds. Republican lawmakers are vowing to block debt payments unless a referendum or legislative vote is allowed.
Fueling the schism is the threat by team chairman and majority owner Stan Kroenke to move the Rams to suburban Los Angeles, where he's already purchased land. Still, that hasn't discouraged efforts by St. Louis, which lost an NFL team to Phoenix three decades ago, to keep the Rams in town.
"Voters think that Kroenke's gone," Slay said in his City Hall office. "They feel like he's made his decision and he is doing everything he can to go to California. I would be irresponsible as a mayor if we throw up our hands and said, 'Well, guess he wants to go someplace else, I guess we're just gonna sit here and let him go.'"
The proposed open-air stadium would sit on old industrial land lining the Mississippi River, across an interstate from the Rams's current home, the 20-year-old Edward Jones Dome.
Beaten Down
The proposal for the $998 million stadium would have the state and city picking up almost 40 percent of the cost, $388 million, through bonding, tax credits and other incentives, according to a July 14 document from the Missouri Development Finance Board.
"This is not a build-it-and-they-will-come situation," Slay said. "There will be no stadium without a team."
In more than two decades of team owners pressuring states and cities with threats to leave, opposition is almost always beaten down. It happened in July in Wisconsin, where the National Basketball Association's Milwaukee Bucks won taxpayer dollars for a new basketball arena. The NFL's Vikings obtained public subsidies for a stadium in Minneapolis two years ago.
Patrick Rishe, who directs the sports-business program at Washington University in St. Louis, said pressure has been building on cities to upgrade stadiums or build new ones.
"Over the last 20-plus years there's been an arms race in terms of who's building the nicest, best facility," Rishe said. "Even though the St. Louis facility is only a little more than two decades old, it's amazing that time has passed it by."
Kroenke could likely afford the modernization without help. His net worth is about $5.6 billion, according to the Bloomberg Billionaires Index.
Last year, he purchased 60 acres in Inglewood, a Los Angeles suburb, fueling speculation that he would build a stadium there for the Rams, which moved to St. Louis from Los Angeles in 1995. He wouldn't be able to move back without the approval of at least 24 of the league's 32 owners.
Kroenke's land buy is part of a complex competition that involves the Oakland Raiders and the San Diego Chargers, which are also considering moves from their home cities to a planned stadium in Carson, about 13 miles (21 kilometers) from Inglewood.
Hand Out
Missouri voters are conservative when it comes to taxes, worthy of the name of a village in the state's western part: Tightwad. In St. Louis, critics argue it is time to stop caving in to sports owners. Voters deserve a voice, they say.
"Another billionaire with his hand out -- it's ball pork," said Jeanette Mott Oxford, who helped draft the overturned ordinance requiring a vote and is pushing the Board of Aldermen to approve a new one.
In Jefferson City, the capital, Republicans who control the legislature promised to block payments on bonds needed to build the stadium unless lawmakers or voters get to vote on it.
"The stadium as projected is dead," declared Republican Senator Rob Schaaf of St. Joseph. "The governor intends to totally go around the legislature and indebt the state for hundreds of millions of dollars."
Nixon dismissed the Republican threats in an Aug. 27 press conference, saying they won't "dramatically affect" progress.
Anti-Tax
Missouri voters rarely open their purses at the ballot box. Last year, they defeated a temporary three-quarter of a cent sales-tax increase for road improvements and bridge repairs. St. Louis voters turned down a $180 million general-obligation bond sale last month for infrastructure improvements. The last such bond approval in St. Louis was in 1999.
"The voters' mood is anti-tax, anti-government schemes," said Scott Charton, a Missouri campaign consultant unaligned in the stadium debate. "Outstate voters are always suspicious of St. Louis and they cling fast to their wallets."
St. Louis, with 318,000 people, has lost roughly half of its population since 1970. Stadium supporters say the distinction of being one of 32 NFL cities gives the city economic strength and distinction.
Viable Market
"The intense popularity of football nationwide elevates you on the national landscape," said Dave Peacock, co-leader of the St. Louis NFL Stadium Task Force, formed to push the plan. "Not having a team in our market doesn't seem to be in the best interests of the league, and not having a team isn't in the best interest of our community."
Slay said he understands the frustration the plan has engendered.
"There are people with a lot of money who own these teams and they're playing one city off another city," Slay said.
Before it's here, it's on the Bloomberg Terminal.
LEARN MORE