Scott Walker Breaks From '11th Commandment' as Poll Numbers Sag
The Wisconsin governor targets Jeb Bush in a new video.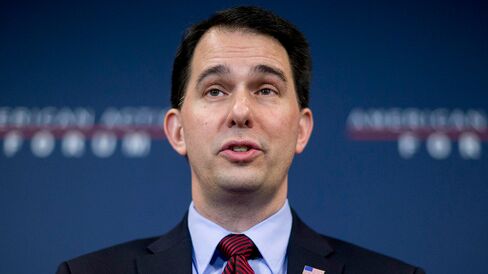 Earlier this summer, Scott Walker repeatedly pledged not to criticize his Republican rivals in his quest for the party's presidential nomination. That was then.
Faced with sagging poll numbers nationally and in key early states, the Wisconsin governor is on the attack. He's launched his most direct hit yet against a competitor with the release of a video this week critical of former Florida Governor Jeb Bush for not more forcefully opposing the nuclear deal with Iran.
The latest move leaves Walker contradicting not only himself, but also his top political hero, Ronald Reagan, who promoted the party's so-called "11th commandment" of not attacking fellow Republicans. Walker suggested to reporters in mid-July that he planned to abide by Reagan's rule, as he invoked voter distaste for intra-party political point-scoring.
"I think they're tired of hearing candidates lash out at other candidates, particularly in the primary process," he said in New Hampshire, on the week he formally announced his presidential bid. "So, I'm going to talk to people about what I'm for."
https://www.youtube.com/watch?v=yD4UqD32Q38
That approach appears to be changing for Walker, as he's seen his poll numbers cut in half in Iowa since late May, following Donald Trump's surge there and nationally. It also comes as the billionaire real estate mogul has benefited from brutally attacking his fellow Republicans, giving credence to the old political adage that negative campaigning works.
"Everyone starts with good intentions and then the campaigns get underway and no battle plan survives contact with the enemy," said R.C. Hammond, who worked as Newt Gingrich's spokesman in the 2012 campaign. "It's the 11th commandment, but no one has ever been excommunicated for breaking it."
In Walker's attack video, Bush is shown saying that he wouldn't "tear up the agreement on the first day" in the Oval Office, as Walker has promised. Though Bush also opposes the deal, Walker is trying to present himself as a tougher critic.
https://www.youtube.com/watch?v=vuX7X_74PZQ&feature=em-uploademail
At another mid-July stop in Iowa, back when he enjoyed the luxury of being the presumptive front-runner in that key state, Walker specifically mentioned Bush as someone he didn't plan to critique. "I'm going to answer questions about my positions, not about Donald Trump's or Jeb Bush's or Marco Rubio or anybody else out there," he told reporters when asked whether he agreed with some of the statements Trump was making at the time.
https://www.youtube.com/watch?v=wm5cKHELIik
Walker's aides say Bush was the first to throw a punch on the Iranian agreement. Just days after Walker's July candidate announcement, Bush appeared dismissive about his suggestion to tear up the agreement on the first day on the job as president, without calling Walker by name.
"That's just a difference out there," Walker said Tuesday on Fox News, when asked about his exchanges with Bush. "That's not an attack, that's just a personal difference."
https://www.youtube.com/watch?v=Dy5yNyKLO14&feature=youtu.be
Walker's defense for going negative is that he's simply offering voters a contrast from Bush.
"If you want a president who is going to wait some time even though they know something is wrong today, then he's probably your candidate," he said. "If you want someone who knows today it's a bad deal and is not gonna wait until the folks in Washington tell you it's alright and, who is going to do what's right immediately on the very first day in office, then I'm your candidate."
AshLee Strong, Walker's campaign spokeswoman, denied that her candidate was breaking his positive campaign pledge.
"Voters want to hear about results and a vision for the future, and that's exactly what Governor Walker is delivering," she said, when asked to comment on his apparent violation of his own positive campaign pledge. "He will continue to offer solutions for tackling our nation's toughest problems moving forward."
Walker, of course, isn't alone in criticizing his fellow Republican candidates. There were heated exchanges between several in the first debate on Aug. 6 and the frequency of such attacks has ramped up since, as the rivals compete for attention and traction in a political summer dominated by Trump.
But it's Walker, the previous Iowa front-runner, who has been hurt the most by the gains made there by Trump and retired neurosurgeon Ben Carson, the latest Bloomberg Politics/Des Moines Register Iowa Poll showed. He's backed by just 8 percent of likely Republican caucus-goers, less than half what he recorded in the last Iowa Poll in late May. The state, which will launch the nomination voting on Feb. 1, is especially critical to Walker's campaign because he comes from a neighboring state and expectations for him had been built up there by his early dominance in polls.
That's placed added pressure on Walker, who has made a concerted effort to try to win over some of Trump's supporters by presenting himself as an outsider, even though he's spent most of his adult life as a politician. The result has been a more aggressive tone on the campaign trail.
"Like every other candidate, it comes to the point where if they want to make an effective impact with voters, they have to go negative," Hammond said.
Before it's here, it's on the Bloomberg Terminal.
LEARN MORE