Donald Trump Tells Jeb Bush to Lead by 'Speaking English in the United States'
The two Republican rivals have escalated their war of words in recent days.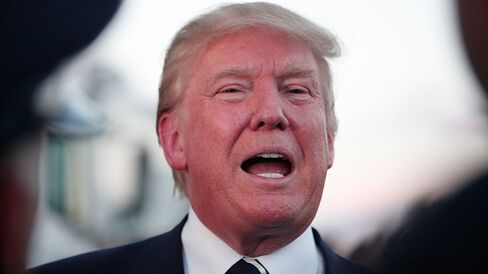 The war of words between Republican presidential candidates Donald Trump and Jeb Bush took another personal turn on Wednesday when Trump admonished his rival for not speaking English on the campaign trail.
"I like Jeb," the billionaire said in an interview with Breitbart News. "He's a nice man. But he should really set the example by speaking English while in the United States."
A day earlier, while campaigning in Miami, Bush criticized Trump in the mother tongue of his wife, Columba, saying, "El hombre no es conservador," the Tampa Bay Times reported. In English, that dig translates to "The man is not conservative," a refrain that Bush has been emphasizing over the past week. On Wednesday, the Bush campaign released a quiz titled "Which candidate are you?" that hit Trump over past statements and support for liberal positions.
https://twitter.com/JebBush/status/639035679712878592
Trump continued to try and brush Bush's criticisms aside on Wednesday.
"You know, Ronald Reagan wasn't a conservative," Trump told Breitbart. "He became a great conservative. By the time I'm finished, people will say I'm a great conservative. By the time I'm finished with the presidency, after eight years of the presidency, people will say I'm a great conservative—far greater than Jeb would ever have the ability to be."
Trump has appealed to the nativist strains of the Republican Party, promising to erect a wall between the U.S. and Mexico and to deport the estimated 11 million undocumented workers believed to be in the country. Bush, who favors creating a pathway to citizenship for those immigrants and has criticized the border wall as not "practical" or "conservative," has kept his line of attack on Trump centered on the billionaire as too liberal for the Republican party.
A 2013 Gallup poll found that 72 percent of Americans surveyed believed it "essential" that immigrants in the U.S. learn to speak English. A separate 2014 survey conducted by the Center for Immigration Studies, however, showed that one-fifth of current U.S. residents speaks a language other than English in the home.
Before it's here, it's on the Bloomberg Terminal.
LEARN MORE