Pro-Bush PAC Targets Iowa Football Fans in First TV Ad Buy
It's the first major advertising blitz from the best-funded super PAC in the presidential field that is backing a particular candidate.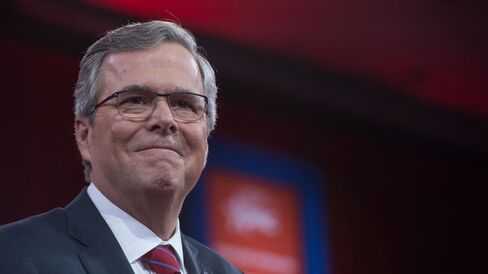 The super PAC backing Jeb Bush's Republican presidential campaign has ordered its first major advertising blitz, targeting Iowa with a seven-figure buy to air TV spots during the final four months of the year.
Right to Rise USA confirmed that it has spent $1.66 million to run ads from Sept. 15 to Dec. 28 in the state, which holds the first presidential nomination contest. It's the first major advertising blitz from the best-funded super PAC in the presidential field that is backing a particular candidate. The group reported raising $103 million in the first six months of the year.
The super PAC's advertisements are scheduled to air on cable networks, including ESPN, ESPN2, Fox News, Hallmark, HGTV, History, TBS and USA. The Los Angeles-based political committee also scheduled air time on the Big Ten Network for Iowa football games from September through November.
The television channels that political groups and candidate choose to advertise is "like a tell in poker," said Ken Goldstein, a professor of politics at the University of San Francisco and a polling and advertising analyst for Bloomberg Politics.
"If you're looking for white males in Iowa, where would you go looking for them in the fall? College football," Goldstein said.
Right to Rise has also requested advertising rates in at least a dozen other states, according to Federal Communication Commission documents, including Ohio, Missouri and Florida, all scheduled to hold primaries on March 15. Indicating that group is taking a long view on the primary race, the committee has also inquired about TV rates in Tennessee, Oregon and South Dakota, which isn't scheduled to hold it's primary until June.
The group is planning to spend at least $10 million on television time in Iowa, New Hampshire and South Carolina, the three early primary states, according to the Associated Press. The first ads will be positive spots about Bush, resembling videos on the group's website that emphasize his record as Florida governor from 1999 to 2007, according to the AP.
Right to Rise has now spent $21.7 million on the race. It's advertising so far has been limited to about $150,000 on digital ads in Iowa, New Hampshire and South Carolina, the states that that hold the first three presidential nominating contests. That spending was on a spot that aimed to portray Bush as more trustworthy than Democratic presidential front-runner Hillary Clinton.
https://www.youtube.com/watch?v=pyS00qbTt5o&feature=youtu.be
In television advertising so far in the Republican primary race, Opportunity and Freedom PAC, which advocates for former Texas Governor Rick Perry's presidential bid, has aired more 3,400 broadcast ads as of Aug. 24, according to data from Kantar Media's CMAG, which tracks political advertising. In the past month, Ben Carson's presidential campaign has run the most ads in the Republican field, with 656 spots, followed by New Day for America, the political committee backing Ohio Governor John Kasich, with 520.
Conservative Solutions Project, a nonprofit group backing Republican Senator Marco Rubio's presidential campaign, aired a $1 million TV, radio and online advertising campaign this summer promoting the Floridian's opposition to the Iranian nuclear deal. A similarly named super PAC backing Rubio has also reserved air time in the three early states, including a buy at the end of the year in South Carolina aimed at viewers who are at least 55 years old.
—Tim Higgins contributed to this report.
Before it's here, it's on the Bloomberg Terminal.
LEARN MORE