Donald Trump Temporarily Banishes Jorge Ramos From Press Conference
The anchor was kicked out after trying to ask an immigration question without being called on.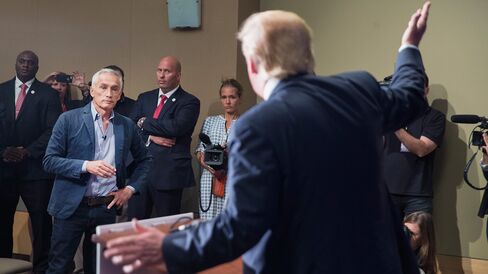 Univision anchor Jorge Ramos was escorted by a security official out of a Donald Trump news conference in Dubuque, Iowa, then returned to press the Republican presidential candidate on his immigration policies.
Ramos first started asking a question about Trump's immigration stance without having been called on, according to video from the event. Trump refused to answer, and told Ramos to "go back to Univision."
"He just stands up and starts screaming," Trump said of Ramos after the newsman was ousted from the room as he sought to ask questions. "He's obviously a very emotional person"
https://www.youtube.com/watch?v=X3mj51qagx0
Ramos returned and questioned the practicality of Trump's plan to build a wall along the U.S.-Mexico border, and to deport the millions of undocumented immigrants. In defending his proposals, Trump said it will be easier to build wall than some of the tall buildings his companies have constructed.
At the news conference, Trump continued his criticism of Fox News anchor Megyn Kelly, who he has attacked since the debate earlier this month.
"She should apologize to me, but I just don't care," he said. Fox News chairman and CEO Roger Ailes on Tuesday supported Kelly in a statement, saying Trump should apologize. Of the network, Trump said at the press conference, "I think they cover me terribly. "
Trump had praised the network a few hours earlier in an interview with Howard Stern, during which he also declined Stern's invitation to rate Kelly's looks on a scale from one to 10.
Before it's here, it's on the Bloomberg Terminal.
LEARN MORE