Hillary Clinton Campaign Goes on Offense Over E-mail Controversy
In a Friday video release and press call, Clinton staffers unveil the candidate's latest defense of her e-mail woes.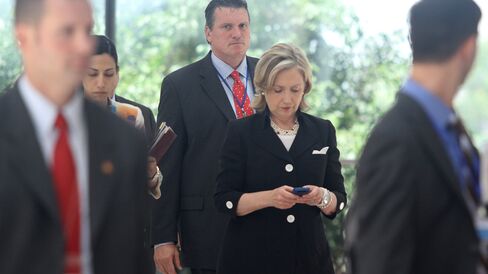 Hillary Clinton's presidential campaign is trying to turn the tables in the controversy over her handling of classified information on her chief Republican investigator.
The Democratic presidential candidate's top spokespeople took the unusual move of calling a Friday afternoon press call to roll out their latest defense of Clinton's decision to use private e-mail servers while she was secretary of state. Their point: South Carolina Representative Trey Gowdy and the panel he chairs that is investigating Clinton have dealt similarly with information that was later found to be classified.
"Trey Gowdy treated e-mails in this case the same way Hillary Clinton did, considering them unclassified and storing them on unclassified systems," Clinton press secretary Brian Fallon said. "We don't see what legs Trey Gowdy has to stand on in his criticisms of Secretary Clinton."
The Clinton campaign says none of the emails she sent or received on that server were marked classified at the time, and that rules at the time allowed her to use a private account. Some of the information that moved on Clinton's private e-mail account later was determined to warrant a classified designation.
Fallon also noted that Gowdy previously complained in a letter that the intelligence community was, in his view, over-classifying information, which the Clinton campaign has cited as one of the reasons for the controversy over her e-mails. "It turns out that Trey Gowdy himself agrees with us," Fallon said.
"We think Chairman Gowdy should have to answer those questions," he said.
Gowdy chairs the House Select Committee on Benghazi, which has led the call for investigating Clinton's use of a private e-mail server, but his panel has been joined in the investigation of the e-mail arrangement by other congressional committees and the FBI, which is now examining Clinton's server. Clinton has not been accused of any wrong-doing.
Gowdy's office said there are no parallels between their handling of e-mails and Clinton's.
"Our system and server for handling classified information in electronic format was subjected to and passed a year of painstaking planning, documentation, and review by numerous security and IT professionals in the Intelligence Community. We didn't put it in the bathroom," Amanda Duvall, a spokeswoman for Gowdy, said in an email. (The reference is to a report that Clinton's servers were kept in a bathroom closet, which is disputed.)
The e-mail controversy has dogged Clinton for months, and some Democrats are nervous that it could damage her campaign. On Tuesday she said her decision to use a private email to conduct business, while intended as a matter of convenience, "didn't turn out to be convenient at all." In an interview this week with Bloomberg's With All Due Respect, Clinton communications director Jennifer Palmieri acknowledged that the ongoing investigations have "turned into a big distraction."
Before the call, Fallon also released a video statement rebutting allegations from critics and reporters about her email "scandal"—scare quotes courtesy of the campaign.
https://www.youtube.com/watch?v=Qot5RRGlOI0
The multiple Friday afternoon defenses highlight a rhetorical problem facing the Clinton campaign. As Palmieri acknowledged on the call, it's a "complicated topic" and that the answers are not conducive to sound bites.
Before it's here, it's on the Bloomberg Terminal.
LEARN MORE