Booker Torn Between Obama and New Jersey Rabbi as He Weighs Iran Vote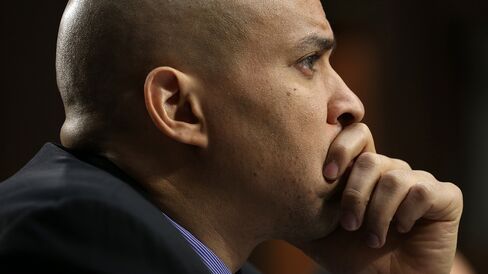 As Cory Booker makes up his mind on the Iran nuclear deal, the New Jersey senator must choose between two close friends and political supporters: President Barack Obama and Rabbi Shmuley Boteach.
Booker may be in the toughest spot of any Senate Democrat as he faces a barrage of advertising, lobbying and personal appeals before congressional votes in mid-September on the deal between Iran and six world powers.
The only black Democrat in the Senate, Booker has close ties to Obama and has supported him on most issues. But he's also close to Jewish leaders and political contributors in his state opposed to the deal Obama's administration negotiated. That includes Boteach, a controversial rabbi he's known since he studied at Oxford University in the U.K. more than 20 years ago.
"This is a tough one, no question about it," said Ben Chouake, the national president of pro-Israel political action committee Norpac, which is pressing Booker to reject the deal. "A lot of his constituents would like him to do one thing, and the administration would like him to do another."
Adding to the pressure on Booker, the only two Senate Democrats who have said so far that they oppose the accord are nearby: Bob Menendez, a Booker mentor and fellow New Jersey senator, and Chuck Schumer from neighboring New York, the third-ranking Democrat in the chamber.
McCaskill's Stance
Obama came closer Thursday to getting the 34 Senate votes he'd need to sustain his promised veto if Congress passes a resolution disapproving of the deal next month. Senator Claire McCaskill, a Missouri Democrat, said in a statement that she would support the Iran deal.
Booker, 46, a practicing Baptist, has long had an affinity for the Jewish community, and the former Newark mayor has cultivated close ties throughout his political career.
His friend Boteach, 48, has raised hackles among more conventional Jewish leaders over the years for his friendship with celebrities such as Michael Jackson and his books on relationships, including one called "Kosher Sex." This year, he apologized after running an ad accusing National Security Advisor Susan Rice of turning a blind eye to genocide when she was an aide to President Bill Clinton.
Although Congress is in recess, Booker has said he'd be back in Washington Thursday to participate in more briefings on Iran after weeks of discussing the deal with constituents in New Jersey.
'High Standard'
"I want to hear all angles on the deal and deeply weigh its short and long-term implications before making a decision," Booker said in a statement. "I am holding this deal to a very high standard."
Booker already has spoken with Obama and met with Secretary of State John Kerry and Energy Secretary Ernest Moniz, who negotiated the deal to curb Iran's nuclear program in exchange for relief from international sanctions.
Boteach, who lives in Englewood, New Jersey, said in an interview Wednesday that he's also had some tough conversations with Booker, reminding him that their friendship is based in "an actual foundation of morality."
"My message to Cory and everyone else is that the United States stands for something and we stand for something better than this deal," said Boteach.
Philadelphia Ads
Booker isn't just hearing from opponents and supporters of the Iran deal in person.
The Philadelphia media market, which covers about one-third of neighboring New Jersey, has been saturated with ads arguing for and against the accord, according to Neil Oxman, a Democratic political consultant who's managed many campaigns in New Jersey. That's adding to the pressure on Booker, as well as senators in Pennsylvania and Delaware who also haven't announced their votes on the accord, he said.
"You can't turn on the TV news, especially, and not see ads from both sides," Oxman said in an interview.
Full-Page Ads
Norpac, based in Englewood Cliffs, New Jersey, gave or bundled donations from individuals to Booker's Senate campaign totaling $158,871 during the 2014 election cycle, the most it provided to any member of Congress, according to the Center for Responsive Politics in Washington.
Norpac also signed onto a full-page ad in the New York Times that ran on Aug. 15, urging Booker to reject the Iran accord and emphasizing that Schumer planned to vote against it.
Chouake of Norpac said he hasn't reminded Booker of the group's past political donations, but a co-sponsor of the ad said such contributions may decline if Booker backs the agreement.
"If he votes in favor of the deal, for any Democrat who votes for this deal, there will be a dramatic reduction in support from the Jewish and Christian Zionist community," Morton Klein, president of the New York-based Zionist Organization of America, said in an interview.
Strong Feelings
Not all Jewish leaders portray Booker's choice as a matter of loyalty.
While "the feelings are very strong on both sides," the Iran agreement shouldn't be viewed as a partisan issue or a litmus test of support for Israel, said Melanie Roth Gorelick, community relations director for the Jewish Federation of Greater MetroWest New Jersey, whose group opposes the deal.
Menendez, a former Senate Foreign Relations Committee chairman, still has some sway with Democrats -- including Booker -- on foreign policy issues even after his indictment on federal corruption charges, said Matt Hale, director of the master's in public administration program at Seton Hall University in New Jersey. Menendez has denied wrongdoing.
Booker "spoke at an event recently where he mentioned how much he learned from people in the Senate, and he mentioned Menendez specifically," Hale said in an interview.
Vote Count
While 24 Senate Democrats and two independents who caucus with them have said that they support the Iran deal, 18 hadn't announced as of Thursday how they'll vote on the agreement. Obama needs to secure at least eight more Senate Democrats to back the deal -- assuming all Republicans in the chamber oppose it -- to have the votes necessary to sustain a veto if Congress passes a resolution disapproving of the deal.
'World United'
"It has become clear to me that the world is united behind this agreement with the exception of the government of Israel," McCaskill said in her statement. "I respect and understand those who oppose it, but I have become convinced that it is more dangerous to Israel, America and our allies to walk away in the face of unified world-wide support."
While Oxman said he doubts Booker will face a Democratic primary challenge in 2020 over his vote on the deal, a political scientist said it could influence his future in other ways.
"He's trying to become an even bigger political figure," said Julian Zelizer, a professor of history and public affairs at Princeton University in New Jersey. That means Booker "is going to want to think twice about going against" Obama, he said.
"They will come down hard on him, and they have the ability to do it," he said.
Before it's here, it's on the Bloomberg Terminal.
LEARN MORE