Carly Fiorina: 'Not Clear' Donald Trump Is a Republican
The two candidates continue their war of words.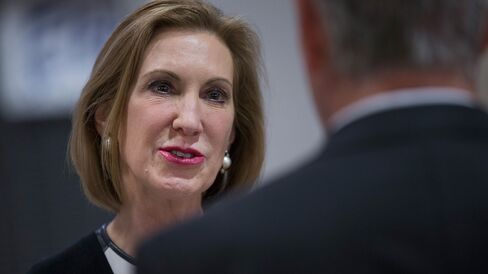 Republican presidential candidate Carly Fiorina isn't convinced of her competitor Donald Trump's loyalty to the GOP.
"It's not clear to me that Donald Trump is a Republican, first of all, based upon his willingness to run a third party bid and the, some of the positions that he's taken," Fiorina said during a Sunday interview on ABC's This Week.
The two candidates have been trading barbs of late.
Last Sunday, Fiorina went after Trump for his comments about Fox News debate moderator Megyn Kelly, which many interpreted as a none-too-subtle reference to Kelly's menstrual cycle.
"Women understood that remark. And yes, it is offensive," she said.
That led Trump to return fire back at Fiorina.
https://twitter.com/realDonaldTrump/status/630455091091374080
At the Iowa State Fair on Saturday, Trump continued to attack, saying while Fiorina is "a very nice woman, she got fired, she did a terrible job at Hewlett-Packard, she lost in a landslide—other than that, she's a very nice woman."
Despite the feud, Fiorina on Sunday acknowledged that support from Trump stems from feelings of frustration with career politicians, which she says are valid.
"I think it's really important, as I go out there and talk, what I hear, what I see, are both men and women who are sick of the professional political class," Fiorina told This Week. "They're sick of the festering problems in Washington, DC. They agree that it's ridiculous that in the smartest and richest country in the world, that we can't get basic things done, like serve our veterans, secure our borders and hold government accountable for being competent."
Before it's here, it's on the Bloomberg Terminal.
LEARN MORE