Joe Arpaio Immigration Lawsuit Against Obama Rejected By Court
But a bigger case looms in 2016.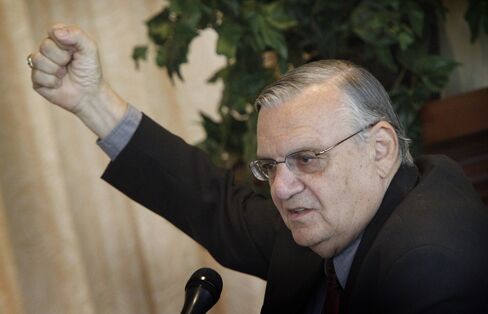 A lawsuit by Arizona sheriff Joe Arpaio against President Barack Obama's immigration policy was unanimously rejected Friday by three-judge panel on the U.S. Court of Appeals for the D.C. Circuit, which threw it out for a lack of standing.
Judge Nina Pillard, an Obama appointee, wrote for the Court that the sheriff, who is celebrated by the right for his get-tough attitude on illegal immigration, failed to show an injury. "His allegations that the policies will cause more crime in Maricopa County are unduly speculative" and his arguments about increased police burdens "contradict acknowledged realities," wrote Pillard, joined by Judges Sri Srinivasan (an Obama appointee) and Janice Rogers Brown (a George W. Bush appointee).
Brown wrote in a separate opinion that Arpaio's "claims on the merits may well raise a constitutionally cogent point." The lawsuit alleges that Obama's 2014 actions to shield more than four million undocumented people from deportation and temporarily let them work in the U.S. are illegal.
While the resounding defeat likely spells doom for Arpaio's lawsuit, a similar case brought by Texas and other states is pending at the Fifth Circuit Court of Appeals that carries major implications for the 2016 election. The Obama administration lost the case in a federal trial court, which halted the new initiatives ordered by the Department of Homeland Security in November 2014, and the Fifth Circuit refused to lift the injunction.
A three-judge panel on the New Orleans-based Fifth Circuit court heard arguments on the merits in July, and two of three appeared unconvinced that the immigration executive actions were lawful. The case could reach the Supreme Court and be decided in the heat of the 2016 election, close observers of the court system say.
The stakes are high and the issue sharply divides the two parties. Hispanic voters, a powerful constituency in 2016 swing states like Florida, Nevada and Colorado, strongly support the actions, according to numerous polls.
Democratic front-runner Hillary Clinton as well as Vermont Senator Bernie Sanders and Martin O'Malley pledge to protect the actions, if not expand them. A ruling against the White House would complicate their plans and change the fate of millions of people in the country.
Republicans broadly believe the actions are illegal—including relatively pro-immigration candidates like Jeb Bush and Florida Senator Marco Rubio. If they lose, Democrats are ready to exploit the issue and paint Republicans on the wrong side of Latino voters.
Before it's here, it's on the Bloomberg Terminal.
LEARN MORE