Former President Jimmy Carter Discloses Cancer Diagnosis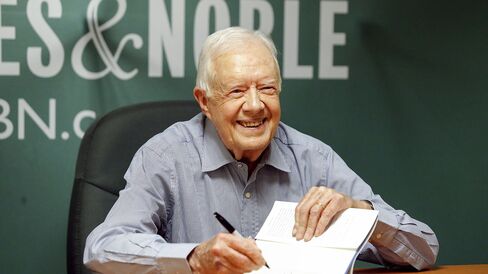 Former U.S. President Jimmy Carter, the second-oldest living former U.S. president, disclosed he has cancer and will undergo treatment.
Carter, 90, said in a statement Wednesday that the cancer was discovered during surgery and is in multiple locations.
"Recent liver surgery revealed that I have cancer that now is in other parts of my body," Carter, the 39th U.S. president, said in a statement released by the Carter Center in Atlanta. "I will be rearranging my schedule as necessary so I can undergo treatment by physicians at Emory Healthcare."
No other details about the diagnosis were given. The Carter Center released a statement on Aug. 3 saying he underwent elective surgery to remove a small mass in his liver. Carter said Wednesday he will release more information as soon as next week "when facts are known."
Deanna Congileo, a spokeswoman for Carter, didn't immediately respond to an e-mail seeking additional information about the diagnosis.
President Barack Obama spoke with Carter Wednesday to wish him "a full and speedy recovery," according to White House spokesman Eric Schultz. Obama said in a statement his "thoughts and prayers" are with Carter and his wife, Rosalynn.
"Jimmy, you're as resilient as they come, and along with the rest of America, we are rooting for you," Obama said in the statement.
Cancer Origin
The cancer may have originated in the liver, or elsewhere, and spread, said Charles Fuchs, head of gastrointestinal cancer at the Dana-Farber Cancer Institute in Boston.
"People assume that when you find cancer, you're automatically finding its origin," he said. "But sometimes the focal point is actually not the origin, it's the area of spread."
Fuchs said that age would not necessarily be a barrier to treatment.
As recently as last month, Carter was speaking publicly as he released his book "A Full Life." In July, he said in an interview with MSNBC that U.S. influence is waning in the Middle East, a region he focused on. As president, he brokered a peace agreement between Egypt and Israel and was in office when Islamic radicals overtook the U.S. embassy in Tehran and took more than 60 Americans hostage.
One Term
Carter, a Democrat, served one term as president from 1977 to 1981, losing his 1980 bid for re-election to Republican Ronald Reagan.
Since leaving the White House, Carter has led the Atlanta-based Carter Center, which works on development and democracy in underserved countries. In May, he cut short an election-monitoring trip to Guyana because he wasn't feeling well.
Carter is one of four living former U.S. presidents, the oldest being George H.W. Bush, the 41st president, at 91.
Before it's here, it's on the Bloomberg Terminal.
LEARN MORE