Christie Takes Aim at Jeb Bush Over Iraq, No-Tax Pledge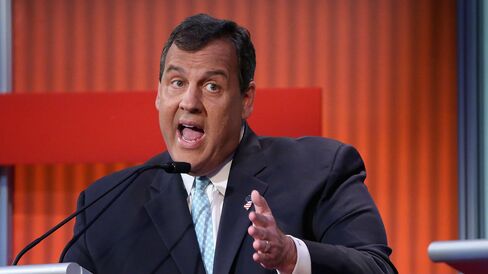 Chris Christie warned that Republicans can't win a nostalgia contest over foreign policy between former Secretary of State Hillary Clinton and Jeb Bush, a day after Bush laid out his plan for quelling Middle East turmoil.
Christie, the 52-year-old New Jersey governor and presidential candidate, told radio host Laura Ingraham on Wednesday that Bush is attempting to "relitigate" the Iraq War. That conflict became the defining issue of his brother George W. Bush's presidency.
During a speech Monday at the Ronald Reagan presidential library, Bush blamed President Barack Obama and Clinton, the Democratic frontrunner, for the rise of Islamic militants in Iraq and Syria. The former Florida governor outlined a role for the U.S. that includes air power to support Iraqi troops, a bigger ground-troop presence and stronger alliances with Egypt and and Saudi Arabia.
Christie said he's trying to justify failed strategies.
"Successful elections are always about tomorrow," Christie said. "Common sense will tell you this is not a fight we want to have. It's not a winning fight for us."
Christie, a former federal prosecutor, also criticized Bush's refusal to sign an anti-tax pledge.
Christie on Wednesday signed the credo of Americans for Tax Reform, the anti-tax increase group founded by Grover Norquist, joining other Republican candidates Marco Rubio, Rand Paul, Ted Cruz, Rick Perry, Carly Fiorina, Rick Santorum, Ben Carson and Mike Huckabee.
Bush's refusal to sign the pledge "doesn't make any sense," Christie said.
Bush told Politico on Monday that he "doesn't sign pledges." He said his record shows his anti-tax credentials, and that he wouldn't accept tax increases as part of a budget accord if elected.
"It's not just your record -- that record has to be backed up by what you'll do in your next job," Christie said.
Allie Brandenburger, a spokeswoman for Bush, said in an e-mail that Bush cut taxes by a cumulative $19 billion as governor and added $8 billion in reserves. She called his economic record "unmatched in the entire 2016 field."
"Governor Bush is the only candidate in the field who has outlined a specific, forward-looking plan for defeating radical Islamic terrorism," she said.
Before it's here, it's on the Bloomberg Terminal.
LEARN MORE