Christie's Jobs Record Shows Post-Recession Gains: Reality Check
Republican Chris Christie who has been governor of New Jersey since January 2010, made assertions on his job market record during Thursday's presidential debate in Cleveland. How does that claim square with the facts?
The Claim: No private-sector jobs had been added in his state on net in the eight years before he entered office. He took credit for 192,000 private-sector jobs that have been gained since he started.
"We have a lot of work to do in New Jersey, but I am darn proud of how we've brought our state back," Christie, 52, said.
The Facts: It's true that on net, no private-sector jobs were gained between January 2002 and January 2010 -- in fact, 187,400 were lost. However, that period included the worst economic downturn since the Great Depression, which erased all the gains made up to 2008.
New Jersey has added 192,000 private jobs since Christie came into office, if you start counting in February 2010. Still, those positions came as the state bounced back from the recession, making it hard to tell how much of the fluctuation was cyclical and how much was driven by policy. The U.S. was adding jobs during that period as the economy rebounded.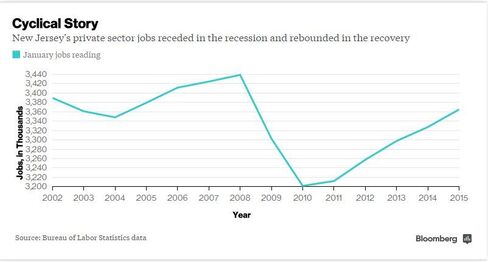 Before it's here, it's on the Bloomberg Terminal.
LEARN MORE