Jeb Bush and His Constellation of LLCs
The former Florida governor has LLCs all over the place, including one that applied for a trademark for his campaign logo, "JEB!"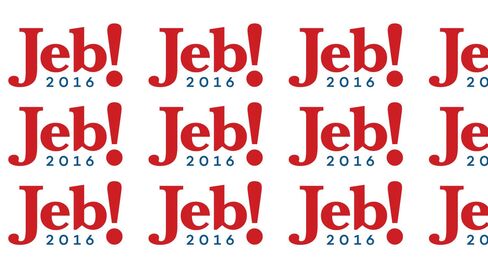 What do BHAG, Bonefish Grande, Altara Investments, Old Rhodes Holdings and Granada Investment Holdings have in common? Jeb Bush.
The former Florida governor's financial disclosure form, released on Tuesday, illustrates his years in the money-making world familiarized him with the limited liability company, a business form that allows for flexibility and asset protection. According to footnote 2 on Bush's 40-page disclosure, BHAG is a Delaware LLC that's based in Miami which has a bank account, a publishing deal for an untitled book and a publicly filed notice of intent to use "JEB!" as a trademark. Bonefish Grande owns up to $500,000 of DocuSign, a company that makes electronic signatures easier.
The financial disclosure is required of all presidential candidates, though many moved up their timetable to comply with a requirement that Fox News, host of Thursday night's first Republican presidential debate imposed. Participants had to have already filed their reports with the Federal Election Commission to participate. Bush's disclosure represented the latest unveiling of his personal holdings and sources of income.
His campaign earlier released his tax returns and said his net worth is about $19 million to $22 million. That's more than 14 times what it was when he left office in early 2007. Bush hasn't disclosed all of his consulting clients.
Bush, 62, exited many of those LLCs, including his own consulting company (and a board membership on the family foundation of Michael Bloomberg, founder and majority owner of Bloomberg LP) as he prepared to run for president. He still has interests in BHAG, Altara and Bonefish Grande, as well as his role as a trustee of the John Ellis Bush Revocable Trust.
He also rolled retirement plans into individual retirement accounts for himself and his wife, Columba. Those may have included amounts that he had in a defined-benefit pension plan at his consulting firm that allowed him to put aside more money than typical wage-earners can. Bush's IRA now has at least $2 million in it.
Before it's here, it's on the Bloomberg Terminal.
LEARN MORE