Gates Foiled by Georgia's Powerful Vidalia Onion Regulators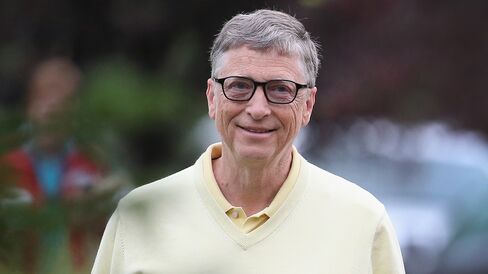 The business acumen of software magnate Bill Gates, which made him the world's richest person, may not apply to onions.
A farm owned by a Gates-related company is on probation in Georgia after neighboring farmers accused it of substituting garden-variety bulbs for renowned Vidalias, the Bordeaux grapes of the onion world.
The farm was disciplined in June for a lesser violation and paid no fine, although it lost onions valued at more than $100,000 when they rotted during the probe, according to state estimates.
"We felt that spoilage that took place was discipline enough," said Gary Black, Georgia's commissioner of agriculture. If it errs again, the farm could forfeit its license, state officials say.
L'Affaire Vidalia left bruised feelings in the region along with questions, including the big one that's been lingering since the Gates company bought what is known as Stanley Farms in October: Why is the richest man on the planet growing onions?
South Georgia rumors to the contrary, it's not linked to Gates's interest in promoting agriculture reform through his Bill & Melinda Gates Foundation in Seattle.
"The investment in the farm is not a foundation investment and doesn't have anything to do with foundation work," which is focused solely on the developing world, said foundation spokesman Christopher Williams.
'Hot Commodity'
More likely, the farmland is just an investment for the Microsoft Corp. co-founder and chairman, whose estimated net worth is about $85 billion, according to the Bloomberg Billionaires Index.
"It's a hot commodity all over the world," billionaire investor Jim Rogers said last month in an interview.
Farm returns are good when equity returns aren't, and big investors have noticed, said Bruce Sherrick, director of the TIAA-CREF Center for Farmland Research at the University of Illinois at Urbana-Champaign. The investor-owners buy enough land to spread out fixed costs and boost production, he said.
Such cross-farm efficiencies appear to have been what got Farmer Gates in trouble in the hyper-vigilant Vidalia onion world.
Gates interests first discovered the water-rich Southeast three years ago, when limited-liability companies using the address of Cascade Investment LLC in Kirkland, Washington, began buying hundreds of acres in Georgia and Florida. One listed Michael Larson, Cascade's fund manager, as its governing person. Gates owns Cascade, a private investment firm.
Georgia Only
Similar firms, also with Cascade contact information, bought the Stanley Vidalia operation last year, paying $6.68 million for one six-acre tract with four metal buildings, and several million more for other nearby parcels. They paid above fair market value, according to the county.
Neither Larson nor Cascade's Robin Orwiler, who filed the Georgia paperwork, returned phone messages. Calls to two members of the Stanley family weren't returned.
By federal law, the squat, sweet-flavored Vidalia onion can be grown and packaged in only one region in Georgia. They "are not just the most famous onions in the world: I think they may be the only famous onions in the world," wrote star chef Bobby Flay in his "Bobby Flay Cooks American" cookbook.
Vidalia farmers, many with corporate pedigrees and most with international experience, have parlayed their onions into a $100 million to $168 million annual market.
"Don't think for a second that this is 'Hee-Haw' days," said Chip Carter, a writer for trade publication Produce News, referring to the TV variety show that depicted dim-witted, straw-chewing farmers.
Onion Stakeout
The events leading to the Gates farm's probation began in April, when locals noticed it was getting onions to market faster than better-equipped competitors, including organic Vidalias that had failed everywhere else.
Then they spotted something extraordinary: a truck carrying yellow onions from outside of Vidalia territory entering the region at the height of the Vidalia season. The onions were from Florida, including from one of Gates's earlier farm acquisitions. The interloping vegetables were unloaded at Stanley's packing house.
Competitors staked out the route, taking videos and iPhone pictures.
"It was an anomaly, and they observed it," said Black, the commissioner. "It's a very small group of people down there."
The result was an ad-hoc night meeting among Black and more than 30 Vidalia farmers who accused Stanley Farms of shipping Florida yellow onions as Vidalias.
The state found organic yellow onions inside Stanley's packing facility that weren't properly segregated from Vidalias as required by law. After reviewing hundreds of shipping documents, it found no evidence that the lesser bulbs had been shipped as Vidalias.
"There are two things you cannot do," Black said. "You cannot pack a yellow onion in a Vidalia onion bag. And you cannot have non-Vidalia yellow onions in the packing facility when Vidalia onions are present."
Other onions can be kept under the same roof as Vidalias only if separated by a seal that only the state can break, he said. The Stanley onions were improperly sealed.
Since the disciplinary action in June, things have quieted in the Vidalia fields. Vigilance will continue, as it always does, said Jason Herndon, chairman of an onion advisory committee.
"If we let issues fall through the cracks," he said, "the Vidalia onion will be just another sweet onion."
Before it's here, it's on the Bloomberg Terminal.
LEARN MORE