Why Wells Fargo's Ex-CEO Gave $100,000 to Jeb Bush PAC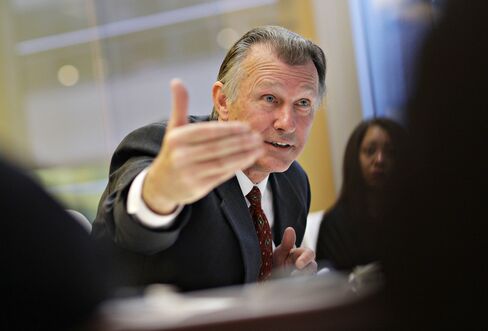 Dick Kovacevich doesn't think his money buys him favors from Jeb Bush. What matters to the former head of Wells Fargo & Co., the most valuable U.S. bank, is having the chance to sway the Republican presidential candidate on financial regulation and other issues that matter to him.
"You can't buy anybody," Kovacevich, 71, said Friday, after a Federal Election Commission filing showed he gave Bush's Right to Rise super-PAC $100,000 in January. "The way you influence a politician is to convince them that a particular policy you think is good is going to improve the economy or solve other problems."
Kovacevich was Wells Fargo's chief executive officer until 2007 and chairman until the end of 2009, after overseeing the takeover of Wachovia Corp. during the financial crisis. He said he "never found it difficult" to get politicians interested in talking. He's met Bush at small gatherings, including one hosted this year by Sequoia Capital partner Tom Stephenson.
He wants to see some bank regulations reversed, especially a Dodd-Frank rule requiring lenders to determine that potential borrowers can repay loans. That scares banks off from lending, he said, and punishes them if things go wrong in a person's life. He also wants more green cards for immigrants with advanced science and tech degrees, plus lower tax rates for corporations and people along with fewer tax loopholes.
"I'm not going to speak for Jeb," Kovacevich said, "but I am satisfied that these are the things someone like a Jeb Bush will change."
'Very Unfortunate'
He said he could give another six-figure sum to a different candidate, naming Florida Senator Marco Rubio and Ohio Governor John Kasich as Republicans with potential. He gave money to Mitt Romney in 2012 and John McCain in 2008.
Right to Rise raised more than $103 million in the first six months of the year, according to the FEC filing. Kovacevich said it's "very unfortunate that money plays such a large role," declining to propose changes to campaign finance. "I haven't thought it through enough. And I don't want to think about it, because it's not going to change."
His $100,000 was small compared with other sums. The $1.5 million Bill Oberndorf has contributed was sparked, he said, by his feeling of obligation to a politician whose record he admires. The co-founder of investment firm SPO Partners & Co. is on the board of the Foundation for Excellence in Education, the nonprofit Bush founded that supports charter schools and ending teacher tenure.
He and Bush were on the corner of Clay and Sansome streets in San Francisco this year when Oberndorf told the former governor he was going to support him.
"I said, 'I'm going to give you $1 million," Oberndorf recalled. Bush turned around and hugged him.
Before it's here, it's on the Bloomberg Terminal.
LEARN MORE