Six-Month Total for Pro-Jeb Bush PAC: $103,167,845.83
The group backing the Republican collects a huge sum from almost 10,000 donors.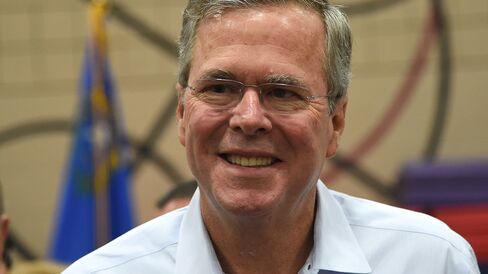 Right to Rise USA, the super-PAC supporting Republican Jeb Bush's presidential campaign, collected more than $103 million in the first six months of the year, including two dozen individuals and corporate groups that contributed at least $1 million. Another 22 gave at least $500,000.
Taken together, these totals shows a deep pool of donors that other Republican super-PACs, which can raise contributions in unlimited amounts, are unlikely to match. These political committees are filing mid-year campaign finance reports today.
A second PAC tied to Bush, called Right to Rise Inc., reported collecting $5.36 million in the first six months of the year. The two PACs, plus the $11.4 million his own campaign collected, brings the six-month total for Bush and his supporters to $120 million. The three groups combined to spend $13.4 million during that time.
Presidential candidates this year, including Bush, are relying on outside groups to supplement traditional functions of a campaign or political committee, including communications, policy development, and research. It's a change in the way that campaign operate, an extension of what Barack Obama started as a candidate in 2008 and continued in 2012. By his 2012 re-election, both he and Republican nominee Mitt Romney were aided by outside groups, formed as either nonprofits, which don't have to report donors, or so-called super political action committees, which report contributors but can raise funds in unlimited amounts.
The Los Angeles-based Right to Rise USA, run by Mike Murphy, a top adviser to Bush's two successful Florida governor campaigns, spent $5.44 million in the first six months of the year. Murphy's company, Revolution Media, earned $407,700 for consulting, travel and media placement, including digital ads aimed at Democrat Hillary Clinton in Iowa, New Hampshire, and South Carolina, state with the first three presidential nominating contests. Revolution Media also collected $149,300 from Right to Rise Inc for political consulting and web service.
In total, Right to Rise USA spent $1.76 million on consulting, more than $240,000 on travel, and $109,500 on research, including $35,000 to R2R Research, LLC, a public opinion firm created to do public opinion research on behalf of the super-PAC. The firm, incorporated earlier this year, is headed by longtime Bush pollster Neil Newhouse, along with Robert Blizzard and Nicole McCleskey. All three are partners at Public Opinion Strategies in Virginia.
The leadership PAC, Right to Rise, Inc., gave $283,800 to various Republicans and state parties, including those in states with early presidential nominating contests. It also spent $479,100 on airfare, $373,400 on political consulting, and $618,000 on payroll and related expenses.
The super-PAC has an executive committee of 13 people who have all raised or donated at least $1 million:
Former Ambassador Al Hoffman
Alex Navab, head of private equities in the Americas for KKR
Freeman Spogli & Co. Chairman Brad Freeman
Craig Duchossois, chief executive officer of Illinois-based Duchossois Group
Eric Tanenblatt, head of global government at Denton LLP
Jeanne Phillips, senior vice president of Hunt Consolidated, Inc.
John Rood, chairman of Vestcor Companies
Marc Stern, chairman of TCW Group, Inc.
Muneer Satter of Satter Investment Management, LLC
Nancy Kinder, president of Kinder Foundation
Ray Hunt, managing director of Hunt Consolodated, Inc.
Steve Lessing, managing director of Barclays
Tom Stephenson, partner at Sequoia Capital
The PAC, whose allies had set out to collect $100 million before the first report, was just shy of the goal with $99.6 million on the second-to-last day of the reporting period. The PAC reported collecting $3.4 million on June 30, the final day, including $1 million from Shahla Ansary. Ansary's husband Hushang, who is chairman of Houston-based Stewart & Stevenson LLC, had already given the PAC $1 million in February.
Other notable donors include Robert McNair, the owner of the Houston Texans football team, who contributed $500,000; Roger Penske, owner of the racing team and CEO of Penske Corp., who gave $250,000; and Dan Quayle, former vice president in the first Bush administration and now chairman of Cerberus Global Investments, who gave $10,000.
Also contributing were Bill Oberndorf, from Oberndorf Enterprises, who gave $1.51 million; California investor Helen Schwab, who gave $1.5 million; and hedge-fund billionaire Julian Robertson, with $1 million. Third Point's Dan Loeb gave $500,000, as did MacAndrews & Forbes chairman Ron Perelman and L Brands founder and chairman Les Wexner. CIT Group CEO John Thain contributed $200,000 and Citadel's Ken Griffin gave $100,000.
(Correction: A previous version of this story misstated when a group identified as Jasper Reserves gave to the pro-Bush super-PAC. The PAC reported the group's contribution on June 29, not June 30.)
—Tim Higgins and Greg Giroux contributed to this report.
Before it's here, it's on the Bloomberg Terminal.
LEARN MORE